EAST RUTHERFORD, NJ - The Giants will look to rebound from last week's loss in Indianapolis when they host the Tennessee Titans Sunday in New Meadowlands Stadium. Both teams are 1-1 after winning their opening games and losing in Week 2. This is Tennessee's first road game of the season. The Giants lead the series, 5-4, but have lost the last four games, including a 24-21 defeat in Nashville in 2006.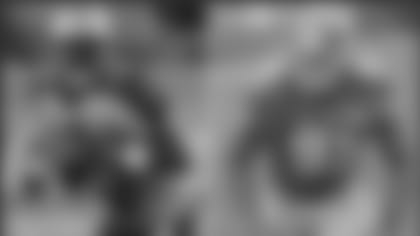 Offense
The Titans are 22nd in the NFL in offense this young season, averaging 291.5 yards a game. They are ninth in rushing (125.5) after finishing second in the league last year with an average of 162.0 yards a game. Tennessee is 26th in passing (166.0) and eighth in scoring, thanks largely to their 38-13 season-opening victory over Oakland.
Quarterback Vince Young was a Pro Bowler in 2009. Young, who is 27-14 as a starter, has excellent arm strength, plus good touch and timing, which makes him a productive passer. He can also beat you with his legs; Young was the Titans' second-leading rusher last season with 281 yards. However, Young was ineffective in last week's 19-11 loss to Pittsburgh and Coach Jeff Fisher replaced him at the start of the fourth quarter with Kerry Collins, the former Giant. Ten years ago, Collins led the Giants to the Super Bowl. He is a classic dropback quarterback with a strong arm and the 16-year veteran makes good decisions on the field.
Running back Chris Johnson is the motor that powers the Titans' offense. Last year, he set an NFL record with 2,509 yards from scrimmage, including 2,006 rushing yards. He led the league with 22 runs of more than 20 yards and seven that were longer than 40 yards. Pittsburgh held him to 34 yards last week, ending his streak of 12 consecutive 100-yard games, the second-longest streak in history behind Barry Sanders' 16. Johnson is both an explosive playmaker and a workhorse, which is why the Titans have just one other running back – Javon Ringer – on their roster. More Johnson stats: since the beginning of the 2009 season, he has averaged 7.4 yards a carry and scored five touchdowns in three-wide receiver sets and averaged 7.8 yards an attempt and scored twice in four-wideout alignments (entering the Pittsburgh game). Johnson also leads the team with nine catches, but they've gained only 27 yards.
Ringer has good quickness and balance and runs hard. He has a 15-yard touchdown this season. Fullback Ahmard Hall is an attacking, physical lead blocker. He takes good angles and sustains his blocks and is also a reliable receiver.
Tennessee's leading receiver is Nate Washington, a savvy veteran who runs good routes. Washington is averaging 17.4 yards on his seven catches and has scored two touchdowns, including a 56-yarder. Justin Gage is big (6-4, 204), strong and athletic and is a solid short and intermediate route runner with good receiving skills. He frequently finds voids in zone defenses. Kenny Britt, the Titan's first-round draft choice in 2009, is the team's best deep threat. Rookie Damian Williams is the fourth receiver.
Productive and versatile tight end Bo Scaife lines up all over the formation. He is consistently productive on screen passes, he has vertical speed and he is a good blocker in the run game. Craig Stevens is the best blocker among the tight ends, a player who can overpower linebackers and handle defensive ends at the line of scrimmage. Jared Cook is the fastest member of the group and a size and speed mismatch for linebackers.
The Titans' offensive linemen are all adept at getting angles on their blocks that enable Johnson to find and run through holes. Left tackle Michael Roos is a six-year pro who has started every game in his career, including every game at left tackle since 2006. A Pro Bowler two years ago, Roos has a strong upper body and uses his hands well. Left guard Leroy Harris is a first-year starter who blocks with power. Center Eugene Amano was the starter at left guard the previous two seasons. He slid over when Kevin Mawae was not re-signed and ultimately retired. Amano has the strength to overpower defensive linemen in the run game. Right guard Jake Scott plays with speed and intelligence. Right tackle David Stewart, 6-7 and 315 pounds, has a strong upper body and a nickname that fits him, "Big Country."
Defense
Tennessee has had the NFL's stingiest defense through the season's first two weeks. The Titans rank first in the NFL in yards allowed (206.5 a game), yards per play (3.4) and passing yards per game (85.5). Tennessee lost to Pittsburgh last week, but the defense did not allow an offensive touchdown and limited the Steelers to just 127 total yards – and 21 net passing yards – despite the visitors owning the ball for 33:40.
The defense has several new faces this season, most notably end Jason Babin and linebacker Will Witherspoon, both of whom were with Philadelphia last season. They lost end Kyle Vanden Bosch, now with Detroit, and linebacker Keith Bulluck, who is a Giant. The defense is a fast, aggressive, physical unit that gets good pressure on the quarterback with its front four, but still likes to blitz.
The Titans generally rotate eight defensive linemen during a game, often moving four in and out at the same time. It's an athletic, physical group that likes to attack the edges of the offensive line. Right end Dave Ball is a high-effort player who frequently chases down runners from the back side. On the left side, Babin has stepped in for last year's starter, William Hayes. Babin plays with uncommon quickness and uses his hands well. Backup Jacob Ford led the team with 5.5 sacks in 2009. He excels at timing the snap count and getting a jump on the tackle.
Left tackle Jason Jones has recovered from a shoulder injury and plays with strength and good lateral quickness. On the right side, Tony Brown is Tennessee's best tackle against the run and he contributed five sacks last season. Jovan Haye started 15 games last season. He is smart and tough and uses his foot speed to get a jump on opposing linemen. Sen'Derrick Marks is a sturdy defender in the center of the line.
With Bulluck gone, the linebackers have taken pride in calling themselves a no-name group. In the middle, Stephen Tulloch had a team and career-high 132 tackles last season. Tulloch is an every-down linebacker who attacks the offensive line and works well in traffic. He played well in the first two games. The Titans have right and left outside linebackers instead of strong and weakside backers. Witherspoon mans the right side, where he displays good instincts against both the run and pass. He leaves the field only in the dime defense. On the left side is Jamie Winborn, an attacker with good awareness. He is removed in the nickel. Colin Allred enters the game in Tennessee's 4-4 package.
Safeties Michael Griffin and Chris Hope were both selected to the Pro Bowl following the 2008 season and both started 16 games last year. Griffin is a playmaker who can do it all, from stopping a back on the line of scrimmage to intercepting a deep pass. Hope has good coverage ability and is active in run support. Vincent Fuller covers the slot receiver in the nickel. He is a smart zone defender who also blitzes with speed.
Cornerback Cortland Finnegan was also a Pro Bowler two seasons ago. He is the Titan's most physical corner, but he also plays with good quickness and speed. Jason McCourty is a fluid athlete with impressive man-to-man coverage ability. Rookie Alterraun Verner is the dime back.
Special Teams
Kicker Rob Bironas is strong-legged and accurate. He hit 27 of 32 field goal attempts last year, including five of six from 50 or more yards – one from 60 yards. Bironas had a successful onside kick last week. Punter Brett Kern has the leg strength to change field position in the Titans' favor. He has also improved as a pooch punter. Rookie seventh-round draft choice Marc Mariani is returning both punts and kickoffs. He has a 10.7-yard average on six punt returns and a 23.9-yard average on seven kickoff returns.