Even after three major knee injuries, it's still about the eyes for Terrell Thomas.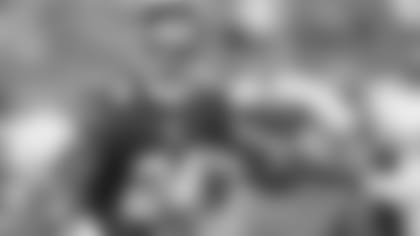 "He's not turning the ball over," Thomas said about Tony Romo. "He has six interceptions off 21 touchdowns, which is a great stat to have. He's getting the ball out quick. He's not getting hit as much. The biggest thing is we've got to capitalize on turnovers, and our offense has to be able to control the ball."
Thomas, the Giants cornerback who missed all of 2011 and 2012 because of season-ending surgeries, made his remarkable return in Week 1 against the Cowboys, recording seven tackles as a starter. Since the opening loss, 11 weeks have passed for Thomas to get his legs back under him.
He's now better equipped for the rematch.
"I'm a lot healthier in my eyes," Thomas said, compared to his first game back. "It's a lot slower. I'm back to seeing the game, so it's slowing down out there. I was kind of reacting. I feel more confident in my knee, so I'm excited about this game plan going into this week."
As Thomas has elevated his game, so has the rest of the defense.
The Giants have not given up more than 20 points in their current four-game win streak, including a 15-7 victory over the Eagles for which Thomas earned NFC Defensive Player of the Week honors.
"More than anything, we've got confidence in the defense," Thomas said. "Everybody is on the same page. We have an identity. We know who we are. We're going to go in there and stop the run, force Romo to pass the ball and hopefully limit the big plays and make some turnovers."
But with an NFC East race heating up, the next test is the biggest.
The Cowboys walk into MetLife Stadium averaging 27.4 points per game, good for fifth in the NFL. They arrive a week after New York held the Packers' Aaron Rodgers-less offense to 13 points and notched three interceptions. Third-string quarterback Scott Tolzien, however, threw for 339 yards, including plays of 20 yards or longer to four different receivers.
The long completions were a concern, but not the yards after them.
[
GO INSIDE THE GIANTS LOCKER ROOM](http://www.giants.com/videos/interviews.html)
"We were in position, we didn't make the plays," Thomas said. "So that's something we get to work on this week, something we get to get better at. I thought we did a great job of tackling and minimizing the big play once they caught the ball, but obviously we want to stop the big play and keep everything in front of us."
They will need to do so this week in a divisional game that could make or break the season for both teams.
Fortunately for the core group of Giants, including Thomas, they have been in this position before.
"It puts us in perfect position because we know how to win these types of games," Thomas said. "We've been in the situation before, and this game is just like last week – it's a must-win. We don't care if it's pretty or ugly. We've just got to get the W. It's going to be a dogfight. They're 5-5, we're 4-6, so this is kind of a must-win for both of us, especially them coming off the bye. So we know they're going to bring everything come Sunday, and we have to be prepared to fight back."