EAST RUTHERFORD, NJ - The Giants will attempt to get back to above .500 when they make their second-ever trip to Reliant Stadium Sunday to face the Houston Texans. A 17-3 victory over Chicago last Sunday evened the Giants' record at 2-2. Houston defeated Oakland, 31-24, to raise its record to 3-1, the best four-game start in franchise history. The Texans are 1-1 against the NFC East, winning in Washington and losing at home to the Dallas Cowboys. The Giants' series with the Texans is tied at 1-1. Houston won in Reliant Stadium as an expansion team in 2002, and the Giants defeated the Texans four years ago in Giants Stadium.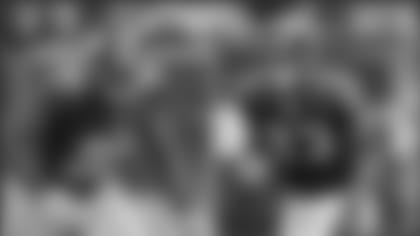 Offense
The Texans have had one of the NFL's most balanced and productive offenses through the first four weeks of the season – one year after finishing the 2009 season first in passing yards and 30th in rushing. Houston is second in the league in total yards per game (415.5) and is first in rushing yards (172.0 a game). The passing game is no slouch, ranking eighth with an average of 243.5 yards a game. The Texans have scored 27 points a game, which is the fourth-best average in the NFL.
Quarterback Matt Schaub, the MVP of last season's Pro Bowl, led the NFL with 4,770 passing yards in 2009. He has thrown at least one touchdown pass in 12 consecutive games. Schaub is poised and polished, he has a quick release and his passes are accurate to all levels of the field. He is also very good at executing play-action passes and bootlegs. His backup is Dan Orlovsky, and the No. 3 quarterback is former Heisman Trophy winner Matt Leinert.
In the running game, Houston uses a zone blocking scheme that enables all three running backs to find a crease and take off.  Second-year pro Arian Foster has flourished in the system. Foster, the AFC Offensive Player of the Month in September, leads the league with 537 rushing yards and 689 yards from scrimmage. He set team records with 33 carries for 231 yards in the season-opening victory over Indianapolis. Foster, who was benched for disciplinary reasons for the first quarter of last week's game, is a patient runner who hits the hole quickly and breaks tackles. He is also a good receiver and blocker. Not bad for a player who wasn't even drafted when he was eligible in 2009. Backup Steve Slaton was the Texans' leading rusher the last two seasons. He is an aggressive one-cut runner who will bull his way inside but has the quick feet to turn the corner. Former Giant Derrick Ward, signed by Houston on Sept. 4, ran for 80 yards, including a 33-yard touchdown, last week in Oakland.
Fullback Vonta Leach is a dominating blocker with leverage and explosion. He is one of the keys to Houston's successful rushing attack. Leach is also a quality receiver.
Four of the Texans' five wide receivers are 6-2 or taller. The best of the group is four-time Pro Bowler Andre Johnson, who missed last week's game with an ankle injury. Johnson led the NFL in receiving yards each of the previous two seasons. His total last year was 1,569 yards. Johnson has rare size, speed and explosiveness. He is particularly dangerous on crossing routes. Since 2006, Johnson has averaged 90.6 yards a game. The other starter is Kevin Walter, who was a Giants seventh-round draft choice in 2003. Walter, who has a team-high 20 catches, is a polished route-runner who uses his 6-3 height to his advantage. He can also hurt defenses deep if they lose track of him. Third receiver Jacoby Jones did not play in the second half at Oakland because of a calf injury. But he is a big, strong wideout who is a favorite target of Schaub's in the red zone. Jones is a dangerous runner after catching the ball. David Anderson – at 5-10, Houston's shortest receiver – played a lot in Oakland because of the injuries to Johnson and Jones. He operates well inside and has good hands. Rookie Dorin Dickerson sees most of his action on special teams.
Tight end Owen Daniels was a Pro Bowler in 2008 and might have been last year had a knee injury not cut short his season. He is now battling a hamstring injury. Daniels is an excellent receiver with vertical speed. He is also a willing and competitive blocker. Backup Joel Dreessen, who leads the Texans with five special teams tackles, is Houston's best blocking tight end. He was Schaub's most targeted receiver at Oakland. Dreessen, like Daniels, lines up all over the formation and is productive at the point of attack. James Casey has had limited snaps.
The offensive line is missing left tackle Duane Brown, the Texans' first round draft choice in 2008, who is serving a four-game suspension for violating the NFL's substance-abuse policy. Rashad Butler is starting in his place. He allowed three sacks to Dallas' DeMarcus Ware in his first start, but Ware causes problems for most tackles. Houston's offensive linemen are clones of one another – athletic, tough and smart. Left guard Wade Smith was a free agent acquisition from Kansas City. Center Chris Myers uses his quickness to position blocks and has good movement skills. Right tackle Eric Winston has 59 consecutive starts and has been the Texans' most consistent linemen. Antoine Caldwell and Mike Brisiel share playing time and alternate starting assignments at right guard.
Defense
While the offense keeps racking up yards and points, the defense has had trouble preventing opposing teams from doing the same. Houston is ranked last among the NFL's 32 teams in total defense, giving up 408.0 yards game. The Texans are good against the run (second in the league, allowing 70.3 yards per game), but that is due in part to their difficulty in stopping the pass. Houston also ranks at the bottom in that category, surrendering 337.8 yards a game through the air. The Texans have allowed 25.5 points per game, placing them 26th in that category.
The defense this week welcomes the return of strongside linebacker Brian Cushing, the 2009 NFL Defensive Rookie of the Year, who missed the first four games because of a league suspension for violating the substance abuse policy. The Texans have an athletic front that pursues relentlessly and a group of linebackers that runs well. But they are missing productive end Connor Barwin, who suffered a season-ending ankle injury in the opener vs. Indianapolis.
The Texans' front seven is manned by tough, competitive players who relentlessly pursue the football. For the second week in a row, the Giants must contend with a premier pass rusher who wears No. 90. Last week it was Chicago's Julius Peppers. Now it's Mario Williams, the No. 1 overall selection in the 2006 NFL Draft. Williams, who leads the team with 5.0 sacks, lines up on both sides of the line. He has size, length and quickness and he rushes the quarterback with both speed and power. The other end is Antonio Smith, who has good quickness at the snap and pursues quarterbacks with a high motor. Adewale Ogunleye, who was signed after Barwin was injured, is strong in the run game and has a good pass rush plan. Jesse Nading subs at both defensive end spots. At tackle, Amobi Okoye is a fourth-year pro at 23 years of age. He has strength, speed and range. Shaun Cody, signed as a free agent from Detroit, is tough and competitive and plays with good leverage. Rookie Earl Mitchell has earned a spot in the tackle rotation. Frank Okam is Houston's biggest defensive tackle at 6-5 and 350 pounds.
The Texans this week welcomed back Cushing, who won a slew of awards and was selected to the Pro Bowl as a rookie last season. An active player with range and intelligence, Cushing lines up on both sides of the defense and is a very good pass rusher. The middle linebacker and defensive leader is two-time Pro Bowler DeMeco Ryans. His smoothness belies an attacking player who is a heavy hitter when he meets the ballcarrier. The other outside backer is Zac Diles, who is equally adept at rushing the quarterback or dropping into coverage. Xavier Adibi filled in capably for Cushing through the first four games. Kevin Bentley backs up Ryans in the middle.
Strong safety Bernard Pollard leads Houston with 41 tackles (27 solo). He plays well against both run and pass and is a particularly big hitter. Pollard has good ball awareness and is an outstanding jumper when it is up for grabs. The other safety is Eugene Wilson, a fluid player who missed the Oakland game with a hamstring injury. Dominique Barber started in his place, but Troy Nolan saw the first extended playing time of his career and responded with two interceptions – the only picks by the Texans this season.
Houston has one of the NFL's youngest starting cornerback tandems in second-year pro Glover Quin and rookie Kareem Jackson, the team's first-round draft choice this year. Quin has good reactions and play speed and closes quickly on the ball. Jackson is a physical press corner with good anticipation. Quin and Jackson aren't strict left or right corners, but instead play both sides. Third corner Brice McCain is smart and efficient in man coverage. Rookie Sherrick McManis comes on when the Texans use a dime defense.
Special Teams
Kicker Neil Rackers, the former Arizona Cardinal, has good leg strength and accuracy. He has made eight of 10 field goal attempts and has four touchbacks. Punter Matt Turk is a 15-year veteran who pooches the ball well and limits return opportunities. Jones is seventh in the NFL with a 10.8-yard punt return average. If he can't play, the job will fall to David Anderson. Slaton is averaging 20.3 yards on 12 kickoff returns.