MIAMI - Last week in Miami, Giants co-owners Steve and Jonathan Tisch continued their efforts to bring the game to the New York/New Jersey metropolitan area for the first time.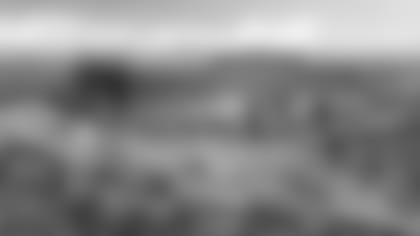 Last week in Miami, Giants co-owners Steve and Jonathan Tisch continued their efforts to bring the game to the New York/New Jersey metropolitan area for the first time.


Jonathan Tisch, the Giants' treasurer, and Jets owner Woody Johnson are the co-chairmen of the committee seeking to bring Super Bowl XLVIII to the New Meadowlands Stadium in 2014. The stadium will become the new home for both teams this year. With a seating capacity of 82,500, the stadium will be the third-largest in the National Football League.
The committee recently received the approval from the NFL owners' Super Bowl Advisory Committee to submit a bid for SB XLVIII. The owners waived the traditional requirement that Super Bowl host regions have a minimum average temperature of 50 degrees or a climate-controlled indoor stadium. No Super Bowl has ever been played outdoors in cold weather.
"It's our sense that it's a very realistic chance for many compelling reasons," Jonathan Tisch said. "The Super Bowl should be in New York. We're asking to do it once, we're asking to put it on a new stage, we will have a stadium that is probably the most technologically advanced in the league. You've got two of the greatest franchises in the history of the NFL as your hosts. And there are so many venues between New Jersey and New York that can be used for the fan experience. We have two brand new facilities that will be used for training in the week leading up to the game.
"It is the only big event that has not been in the New York area. We're the media capital of the world, we're the financial capital of the world. There are so many compelling reasons to hold it there. We know, because we've done so many other similar kinds of events, that we would put it on a stage that would make it a really compelling couple of weeks in the tri-state region, but especially in New Jersey and New York."
"It's important for the new stadium, it's important for the NFL, and I think it's really, really important for the fans that are in the tri-state area to have a Super Bowl in their backyard," Steve Tisch said. "It's a great opportunity for football fans to watch a Super Bowl and attend a Super Bowl that will be played in the traditional venues that football started in."
By "traditional" he means championship games played in the elements. And a football game in Northern New Jersey in February could certainly be played in all kinds of interesting conditions. But Tisch and Co. are prepared to deal with that.
"Other than weather, I can't see any reason not to do it in New York," Jonathan Tisch said. "And we can also do everything to ensure that the fans are comfortable if it's an inclement day.
"We've got plans to account for bad weather. Obviously, it could happen. But some of the greatest games in the history of football have been played in inclement weather. We've got crews that will clean snow, we've got all kinds of equipment that we're looking at that would ensure that the fans are warm and that they are safe. We can't predict the weather, but we can tell every fan and the owners that New York City and New Jersey will do everything to make this a successful event."
Steve Tisch is also adamant that weather need not be the decisive factor in voting yes or no on the bid.
"If my memory is correct, we got a lot of rain in this city (Miami) three years ago and the game was played in the rain," he said. "I remember two years ago in our conference championship game, which we went to Green Bay to play, the temperature at game time was minus-23 degrees. It did not deter one Green Bay fan or one Giant fan from – and there were many Giants fans at that game – from attending the game. I think it will go down as one of the most memorable championship games in history.
"The tens of thousands of people who are in Miami this year, who were in Tampa last year and will be in Dallas next year – they're coming to have fun, they're coming to watch a great football game, they're coming to root for their home team. And they also come with a tremendous understanding and tolerance of the elements. It's cloudy and overcast today. It's weather. It will pass. And I think the bigger issue is a Super Bowl in the New York-New Jersey would be phenomenal."
Goodell can't support one region's bid over another, but he did offer encouragement to the proposal initiated by the Giants and Jets.
"I have to remain neutral on many issues," Goodell said. "But this was something that was brought to our Super Bowl advisory committee. For a New York Super Bowl bid to go forward, they had to make an exception to our weather (rule). I sat in on that conversation and participated in it. I think there are real benefits to the league considering this as an option.
"The idea of playing in the elements – that's the way the game of football is played. I think being able to do that and celebrate the game of football in the number one market will have tremendous benefits to the league moving forward. I think they will put together a very impressive bid, one that will demonstrate the value of playing in New York. But they'll be competing against some great cities. It will be an interesting vote, but I'll stand on the sidelines."
The committee's proposal is due to the league by the end of April and will be discussed at the owners meeting in May.
"The thing we have to make clear to the other 30 owners is that we're not asking to be in a rotation," Steve Tisch said. "This is a one-time only opportunity. Part of it is because of the new stadium and when our stadium goes online, how impressive that venue is going to be. We would love for the other 30 owners to acknowledge that the New Meadowlands Stadium is hopefully one of the finest venues in the NFL if not in all of professional sports."
"Certainly, the owners are anxious to see our proposal for a Super Bowl in New York," Jonathan Tisch said. "And there are some who are probably hesitant doing it in an outdoor stadium that doesn't have a roof to protect against bad climate. But there are so many reasons to do it in New York, it's our hope and our expectation that the owners will acknowledge that for a one-time event, it could be very special to have the Super Bowl in New York in 2014."
If you'd like to submit a question or comment to Michael, click here.