Tom Coughlin invoked his late mother, Ernie Accorsi mentioned his late mentor, and Justin Tuck cited some of his less-renowned teammates today as they discussed their impending induction into the Giants' Ring of Honor on separate conference calls.
Coughlin, who won two Super Bowls in his 12 seasons as head coach; Accorsi, the general manager from 1998-2006 who was instrumental in hiring Coughlin and traded for Eli Manning; and Tuck, a two-time Pro Bowler who was on the two recent championship teams, will become the newest Ring of Honor members Monday night in a ceremony at halftime of the Giants' game vs. the Cincinnati Bengals.
Their inclusion will bring to 42 the number who have received the franchise's highest honor.
Today each discussed a variety of topics, none more poignant than their thoughts about joining the other immortal figures in Giants history.
"It is a great honor," said Coughlin, who is working this season for the NFL as a Senior Advisor to Football Operations. "I am very appreciative of the fact that the New York Giants have chosen to add my family name to the Ring of Honor. … To have the family name along with the (41) great names of what is recognized as the finest Giants of all-time is of real significance to me. I think back to my mother, God bless her, when I was named the head coach of the New York Giants (in 2004), she was very sick at the time. And I had an opportunity to get up to central New York to see her on occasion, and I can remember her saying, 'Thank God for the Giants.' That is kind of the way I think she would feel today and the way that our family will feel, because we will have a great representation on Monday Night and we will look forward along with Ernie and Justin to being recognized as most recent members of that prestigious group."
Coughlin, the head coach when the Giants won Super Bowls XLII and XLVI, was the wide receivers coach when the Giants won Super Bowl XXV in 1990, the last of his three seasons as an assistant here. He is well-versed in the franchise's storied history. More recently, when he was head coach, one of his players for 10 seasons was Chris Snee, a two-time champion, four-time Pro Bowler, 2015 Ring of Honor inductee – and Coughlin's son-in-law, married to his daughter, Kate.
"I took a look at those (42) names, (and) 25 of those people that are on that list, I have known personally," Coughlin said. "And for me also to keep this in the family is a wonderful thing because, as you know, Chris Snee was inducted in 2015, so it is another something in addition to two Super Bowls. Having … Kate being involved, (wife) Judy being involved and calling this certainly something that our family can be certainly proud of."
Accorsi called his inclusion in the Ring of Honor "not something I ever really thought was possible." He joins his close friend and predecessor, George Young, who died in 2001, as the only general managers in the Ring. In 1994, Young hired Accorsi to be his assistant GM.
"It means a lot to me and it means even more that I'll be up there with George Young," Accorsi said. "Without George Young, I'd never come to New York. He brought me here and I have a great feeling of respect and gratitude for George."
Giants fans will always be indebted to Accorsi for pulling off the 2004 draft day trade with the San Diego Chargers that delivered Manning, the two-time Super Bowl MVP who holds almost all of the team's passing records.
"There were three quarterbacks up there (including Philip Rivers, for whom Manning was traded), so we could have had a shot at one of the other ones besides Eli," Accorsi said. "If we didn't make the trade, I felt fairly confident that we would have been able to get Ben Roethlisberger, but you never know. When we picked Eli, we picked him to win championships. That's what you hope for and to see it happen, of course, just makes you feel great. I remember my son was a coach, he coached Virginia and Maryland, and he sat with me at that first Super Bowl. And I said, 'Well, if he is what we thought he was going to be, he's going to do it right now.' Because you never know, because you're never going to get that position again, and he did it. He had some help, but he did it."
Accorsi is not currently close to Manning, but, "after both Super Bowls, Eli and Archie (Manning) called me the next morning, and that was very meaningful for me."
Tuck will be the fifth defensive end inducted into the Ring of Honor. Two of the previous four, Hall of Famer Michael Strahan and Osi Umenyiora, are former teammates and close friends.
"The first thing I think of is, 'How did Justin Tuck get up on the level with all those great names up there?'" Tuck said. "The first thing I think of is all the great players and coaches that helped me along the way. When I see Justin Tuck in the Ring of Honor, the first thing I'll always think about is all of those faces. All of those guys that went to battle every Sunday with me and helped me along the way. It's a tremendous honor. I'm very thankful to be thought of in the perspective of the Giant greats, considering the company that I'll be immortalized with. I never thought of it growing up, that you'd walk in the stadium and see Justin Tuck's name up there. I'm still at a loss of words for it. I know that that night will obviously bring a lot of emotions and a lot of thoughts, considering the fact that I might be one of the only people that didn't think I'd ever be up there. Obviously, very humbled and thankful."
Strahan, Umenyiora and Tuck were stars. But Tuck wanted to recognize some teammates who didn't receive as much acclaim, but whom he considered invaluable to the cause.
"What I'll always think of when I look up in those rafters is guys like Dave Tollefson, Corey Webster, Rich Seubert," he said. "You don't make plays in football by yourself. You could be the best athlete in the world. You have 10 guys that create opportunities for you to do what you do. You're just another guy. I'll always look at Justin Tuck in those rafters and think of all the other names of guys that helped me along the way. That's what I mean by I don't necessarily deserve to be up there."
But on Monday he'll rightfully be there, along with the GM who drafted him and his coach.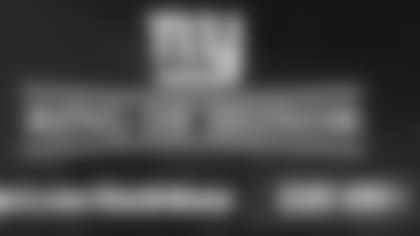 ](http://www.giants.com/roh/roh.html)