Six sacks vs. Philadelphia **

Date: September 30, 2007
Location: Giants Stadium
Opponent: Philadelphia Eagles
Part of a 12-sack performance by the defense, defensive end Osi Umenyiora set a Giants record with six of them on Eagles quarterback Donovan McNabb in a 16-3 victory for the Giants. While netting losses totaling 38 yards, Umenyiora also forced two fumbles on the sacks. The six sacks were one shy of the NFL single-game record set in 1990 by Hall of Fame linebacker Derrick Thomas of the Kansas City Chiefs.
Three players have recorded six sacks in a single outing in league history: Umenyiora, Thomas again in 1998, and 49ers defensive end Fred Dean in 1983.
2. Strip, sack, scoop and score.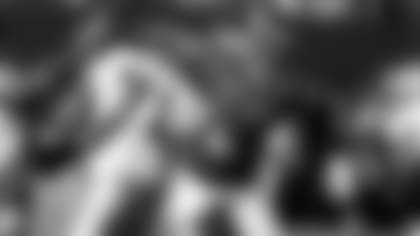 Date: October 21, 2007
Location: Giants Stadium
Opponent: San Francisco 49ers
The master of the strip-sack, Umenyiora put an exclamation point on his patented move against the 49ers in the Giants' 2007 championship season. In the third quarter, Umenyiora sacked Trent Dilfer and forced a fumble, scooping it up and returning it 75 yards for a touchdown on the way to a 33-15 victory.
3. Two blocked punts and a sack in rookie finale.
Date: December 28, 2003
Location: Giants Stadium
Opponent: Carolina Panthers
After being selected by the Giants in the second round (46th overall) of the 2003 draft, the product of Troy University ended his rookie season with a bang. Umenyiora, like many Giants greats before him, earned his stripes on special teams, which included blocking two punts by Todd Sauerbrun in the regular-season finale against the Panthers.
Umenyiora also had a strip-sack on Jake Delhomme that teammate Keith Washington recovered for a touchdown.
*4. The comeback begins. *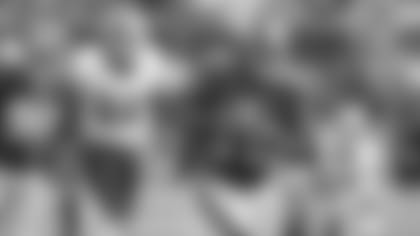 Date: September 13, 2009
Location: Giants Stadium
Opponent: Washington Redskins
Tearing the lateral meniscus in his left knee during a preseason game against the Jets in 2008, Umenyiora missed the entire encore season to Super Bowl XLII. But Umenyiora returned in style for the 2009 opener against Washington. In the second quarter, Umenyiora sacked Jason Campbell and forced a fumble, again scooping and scoring for a 37-yard touchdown.
Date: January 15, 2012
Location: Lambeau Field
Opponent: Green Bay Packers
In a postseason rematch of the legendary 2007 NFC Championship Game, Umenyiora came through with two sacks and a forced fumble on Green bay quarterback Aaron Rodgers. Both came in the second half as the Giants went on to win the divisional round matchup 37-20 and clinch a spot in the NFC Championship Game, which they ultimately won en route to the franchise's fourth Lombardi Trophy.
In 10 postseason games, Umenyiora recorded 5.5 sacks, tied with longtime friend and teammate Justin Tuck for fourth in franchise history.