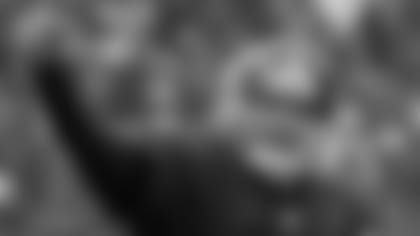 Number 2: QB Kerry CollinsIn five seasons with the New York Giants, Kerry Collins became one of the most productive passers in franchise history, leading the team to the 2000 NFC Championship and a berth in Super Bowl XXXV as well as a 2002 NFC Wild Card Playoff berth.
The first-ever draft choice by the Panthers – and the fifth overall selection of the 1995 draft -- Collins played in Carolina and New Orleans before then-general manager Ernie Accorsi signed him as a free agent on Feb. 19, 1999 to play for New York, where he spent the most successful years of his career. After backing up Kent Graham early in his first Giants season, Collins moved up and started 67 consecutive games before an ankle injury forced him to miss the final three games of the 2003 season. Overall, he started 68 of the 71 games he played for the Giants.
One of his best performances in a Giants uniform came in the 2000 NFC Championship Game when he completed 28 of 39 passes for 381 yards and five touchdowns in New York's 41-0 rout of the Minnesota Vikings.
At the time of his release from the Giants in 2004 – soon after the Giants acquired Eli Manning – Collins was third in franchise history with 1,447 completions and second and third on the single-season list with 335 in 2002 and 327 in 2001. Recently passed by Manning, Collins completed 58.51 percent of his passes (1,447 of 2,473) as a Giant, which was the highest percentage in franchise history among quarterbacks that have thrown more than 1,000 passes.
Collins currently ranks third in passes completed (1,447), fourth in passing yards (16,875), and fourth in passes attempted (2,473) among Giants quarterbacks. At the time of his retirement in 2011, Collins finished ninth in NFL history in both pass attempts (6,163) and completions (3,439), 11th in passing yards (40,441), and 29th with 206 touchdown passes.
"Kerry Collins played his heart out for the Giants and took us to the Super Bowl," Accorsi said when Collins was released. "His performance in the NFC Championship Game against Minnesota was one of the greatest in the history of this franchise. For that, all of us are grateful to him. More importantly, we are grateful for the class with which he conducted himself."