EAST RUTHERFORD, NJ - Kareem McKenzie worked in relative anonymity this summer. While each of his four partners on the Giants' starting offensive line were in the news for one reason or another, McKenzie had lined up every day and every practice at right tackle until Aug. 28, when a migraine headache forced him to miss a preseason game in Baltimore. He soon returned to practice.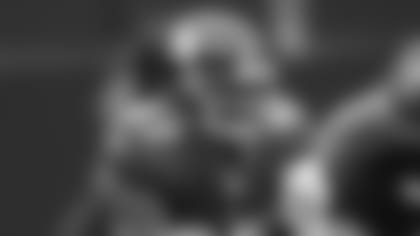 McKenzie is on a mission and neither the return of the headaches that have plagued him periodically or linemates moving in and out of the lineup was going to distract him. He did not meet the high standards he sets for himself on and off the field the previous two years and vows to make amends in 2010. But the change in McKenzie involves far than simply improving his blocking. He has become a more spiritual man who savors every moment on and off the field.
"Every day that I experience collectively - whether it is football, off the field or whatever - I just have a better sense of enjoyment of life as a whole," McKenzie said this week. "I enjoy every day. Every day, without fail, is just better and better. And I enjoy it and I love to come in here. I love to work out. I just enjoy the process.
"I'm having some of the greatest fun I've had in quite awhile, quite awhile. Attending to a lot of things spiritually, mentally and physically - more importantly spiritually - has given me a greater focus and a more determined view of what my life is about and what my purpose is."
McKenzie traveled a long and reflective journey to reach this point. He plunged to his nadir on Nov. 13, 2008, when he was arrested in Little Falls, N.J. for driving under the influence. His blood alcohol level was reportedly above the legal limit of .08. McKenzie has never publicly discussed the arrest in detail. In a recent interview he called it, "the incident that I had that happened off the field which I don't like to mention."
The arrest deeply pained McKenzie, who takes tremendous pride in being a good citizen and good teammate. He is a hard worker and a good player and a man who gives of himself constantly and generously in the community. McKenzie hosts an annual three-day football camp which is free of charge to the youngsters in his hometown of Willingboro, N.J.
McKenzie also called the incident a "monumental blowup," an out-of-character statement for someone who rarely engages in overstatement.
"The way in which I carry myself and the way in which I try to live my life is why I determined it that way," he said. "Other people viewing it could say it's not that big, but it's me that we're talking about here. This is how I view it. To the best of my knowledge, my opinion is the one that matters the most."
The arrest and his aftermath, he said, constantly weighed on his mind.
"It did because there were a lot of things I had to deal with off the field in terms of the NFL to really put that behind me," McKenzie said. "That really didn't happen until possibly even into training camp last year. There was really no peace of mind."
He has it now, because of the changes he's made in his life and the hard work he's put in for months to prepare for the Giants' season opener on Sunday against Carolina, the first game in the New Meadowlands Stadium.
"It's been a long time coming, and it's something we as a team have been more than patient enough in preparation for," McKenzie said. "We're going to go out there and show we're improved."
McKenzie would like to erase the 2009 season from his memory bank. The Giants lost eight of their last 11 games and finished out of the playoffs for the first time since 2004, the year before McKenzie joined the team as a free agent. McKenzie played at a level he considered beneath his potential. And to add injury to insult he missed four games. When he sat out the Oct. 25 loss to Arizona, it ended a streak of 38 consecutive starts for the quintet of David Diehl, Rich Seubert, Shaun O'Hara, Chris Snee and McKenzie, the longest such run by an offensive line since the 1970 merger. McKenzie also missed the final three games with a knee injury.
"(I am) completely and wholeheartedly just disgusted with last year," McKenzie said. "That was by far the worst I've had professionally as a football player. I didn't play as well. This goes back to two years ago where a lot of off-the-field things really just weighed down on me and took their collective toll on me mentally and just didn't give me any sense of peace and/or enjoyment - a chance to really just enjoy peace and quiet. There was always something of a nature that was just nagging at me or just keeping my mind completely befuddled with different things that really gave me no opportunity to concentrate on what I needed to do on the field.
"It's a terrible feeling (to miss games) because the amount of work that you put into a season as a whole to go out there and to play 16 games and to have that taken away from you and be forced to sit on the sideline and just watch other guys perform - it's almost like you're being robbed of your livelihood because you're not able to go out there and perform. And that's what we're in. We're in the performance business. We go out there every Sunday and we perform and entertain people and we look for that repayment of an actual victory, and it didn't end up that way for us - for myself especially. So without a doubt, it was definitely disappointing."
Injuries are inevitable in the NFL, but McKenzie speaks as if he believes he could have avoided them.
"If you have the ability to go ahead and have a clear head and be able to go to work and do your job and not be weighed down mentally with other things that collectively just tear you down, you definitely can prevent them," he said. "You can. If you don't have a peace of mind, if you don't have a clear head, you can't think straight at times. You can't function."
So McKenzie set out to ensure he would be at his healthiest this season, both physically and emotionally. It's safe to say no Giants player spent more time in the Timex Performance Center this offseason than the 10-year veteran. "It's my summer condo," he said.
The jokes mask his steely determination to be a major cog in the team's improvement and to further distance himself from the 2008 incident.
"This year, I had the opportunity to go ahead and put everything in its respective place and just focus on me," McKenzie said. "And if I needed to take a day off, I took a day off. Or if I wanted to go ahead and come in seven days or work out twice a day, that's what I did. I had the freedom to do so.
"The best way to combat that (what occurred last year) was to come in here and put as much time as possible into the weight room, into the classroom and make sure that I gave myself the best opportunity to be successful. If I can go ahead and do my job, then I increase my productivity and am able to go ahead and improve one facet of the side of the ball to help everyone improve. I feel as though we all can improve and perform better and encourage one another to do better."
So while Snee, O'Hara and Seubert missed two preseason games apiece with injuries and Diehl shuttled between tackle and guard, McKenzie lined up day after day and play after play at right tackle, where he can find both personal redemption and professional success.
"I feel great about the line," McKenzie said. "To say 'okay, well they're getting older,' well, it depends on the individual and how hard they work. You really can't try and judge an individual by their age or their inabilities as we don't perceive them. You have to actually go out there and see how they work and how they perform. It's a long season, 16 weeks, 17 weeks and you play one game at a time. That's all I'm going to play. Prepare for each and every week, and do our best to go ahead and improve."
In addition to being physically prepared to withstand the rigors of the long NFL season, McKenzie is in the best frame of mind of his career. For that, he credits his greater spirituality, which stemmed from the hard look McKenzie took at himself after the arrest.
"When you have such a monumental blowup in your life as I did, to have something of that nature that never in your wildest dreams you would have ever imagined happening, it definitely will change you," he said. "If anything, God will get your attention and He definitely got mine."
His family, McKenzie said, has been "very supportive. They've noticed the change within me. It's definitely a blessing."
He has also found people outside his inner circle are very understanding.
"People are more forgiving than you would think, especially when they know you as an individual and not what you're perceived persona is as an individual," McKenzie said. "If they know you as a person that's just Kareem McKenzie, not Kareem McKenzie of the New York Giants, then they're definitely forgiving."
Typically, McKenzie has turned an unpleasant incident into a positive lesson. When he speaks to youngsters he doesn't wait for them to ask what happened. McKenzie brings it up before they do.
"It's something that they definitely need to learn from, because it's better to go ahead and hear it from the horse's mouth rather than the speculation and/or the newspaper articles and try and wonder what happened," he said. "I openly talk about it at times when it serves a purpose rather than dredge up things. If it's something that can be used as a learning tool, I do use it. But for the most part, I've put it behind me."
And he's moving forward. The new and improved McKenzie is bullish on the prospects this season for the Giants, the offensive line and himself.
"I'm definitely on a mission," he said. "How great is that mission? I don't know yet. We'll have to wait and see."
One thing is clear. McKenzie has again found joy in playing football.
"More so now than ever," he said.