EAST RUTHERFORD, NJ - Few days on the calendar get Tom Coughlin as energized and excited as the opening of training camp. Coughlin simply loves to coach his football team and the start of camp enables him to sequester the players at the University at Albany and begin preparing for his seventh season as the Giants head coach.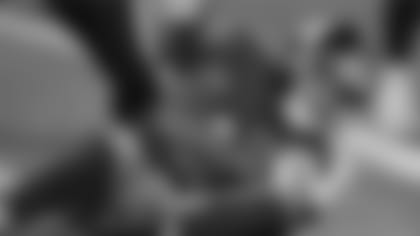 Coughlin's laser-like focus was part of his makeup when he first coached as a graduate assistant at Syracuse in 1969 and it has not waned in a 42-year career. But even Coughlin concedes this year is a little different. If possible, he is even more eager to start, simply because of how last season finished.
The Giants, in case anyone needs reminding, lost their final two games in 2009 to Carolina and Minnesota by a combined 85-16. That completed a season in which the Giants' 5-0 start disintegrated into an 8-8 finish and left the team out of the playoffs for the first time since 2004. The players have had to live with and answer questions about those defeats for almost seven months. So has Coughlin. He quickly answered "absolutely" when asked recently if he still had a bad taste in his mouth.
He and the team can make that disappointing ending a distant memory with a successful 2010 season. And it all starts Sunday, when the players will report and practice for the first time.
"On a day when you are sore and you are tired and your will is being tested – if you are committed and are willing to sacrifice and pay the price to change the feeling, as I say, 'Take back our pride and our honor,' then so be it," Coughlin said. "That is the purpose that it served. It is not to be forgotten."
This will be a milestone season in Giants history no matter what the final record is. After 34 years in Giants Stadium, the team has moved a few yards north to the New Meadowlands Stadium, a state-of-the-art venue that is the finest stadium in the NFL. The Giants will host the first regular season game there on Sept. 12 vs. Carolina. Coughlin looks forward to striding the sideline on the new turf, but his thought process has no room for club seats, video boards or fan amenities.
"I go back to that great quote about 'Talk less and do more,'" Coughlin said. "So let's stop talking about it and let's do something about it. It is a matter of record. The excitement about the new campaign, the new stadium – all of that stuff. Let's just go play in the parking lot. I don't care where it is. Right out here is fine. Wherever the games are going to be, let's play them and let's do it."
Coughlin is wasting no time getting his players up to speed. In previous years, he held the camp-opening conditioning test the day the players reported, then practiced for the first time the following day. On Sunday, the conditioning test will be at 10 a.m., with the first workout scheduled for 3:10. The Giants will hold double sessions seven times and have single practices on five days before returning to New Jersey for the preseason opener on Aug. 16 vs. the Jets (two days are reserved for only meetings and conditioning).
"We have two weeks," Coughlin said. "Like I told them before we left (after the spring workouts), 'The way our camp is set up again, it is not a long training camp. But when you come in here you have to prepare yourself and focus. If our team is going to be the kind of team we all say we want it to be, it is going to take two weeks of total dedication to one cause. Come out of this camp the best football team we can possibly be. And guess what? The first time you get a hang nail, stay out of the training room. Stay out of the damn training room and get your butt out on the field and play through it. And let's see who the tough people are.'"
Coughlin believes if they demonstrate suitable toughness in training camp, they will develop the intensity and determination necessary to succeed in the long slog of the NFL season.
"What are you going to do in the fourth quarter? That is what I want to know," Coughlin said. "Because all of these games are played tooth and nail and now it is the fourth quarter and it is going to be decided by who has defined their individual power of the will. Who has done it? Because it's you or that guy over there. And if you haven't paid enough of a price, which is what we all know that is what training camp is – it isn't easy now. At the end of the day you are going twice, you are tired, you're sore, you're frustrated, you are right on the edge. That's when it heats up. All of that other stuff, it is all a bunch of crap. What are you going to do now, when you don't have much left in your tank? That's when it becomes an opportunity for you to improve yourself, because it is all about mental toughness. Before they left I said to them, 'Make sure you run twice a day the last 10 days before practice – train your mind. Train your mind as well as your body.'"
The Giants team that begins training camp has undergone some significant change since January. After allowing 427 points last season, they have a new defensive coordinator in Perry Fewell and a new defensive line coach in Robert Nunn. Mike Sullivan is the new quarterbacks coach and Sean Ryan has taken Sullivan's former job mentoring the wide receivers.
The Giants will look to new sources for leadership after the offseason departures of linebacker Antonio Pierce (released, then retired) and Jeff Feagles (retired). Each was a captain the previous three seasons, a Super Bowl champion and a Giants Pro Bowler. Feagles, of course, was also the most prolific punter in NFL history, one who never missed a game in a 22-year career. Also gone are former contributors like defensive tackle Fred Robbins, linebacker Danny Clark and cornerback Kevin Dockery.
The new arrivals include safeties Antrel Rolle and Deon Grant and linebacker Keith Bulluck, who signed on Saturday night. The Giants' draft class was headlined by defensive linemen Jason Pierre-Paul and Linval Joseph.
The result is a roster that should provide the kind of competition in every position group that Coughlin and general manager Jerry Reese crave.
"If it is competitive and fair, then the best comes forward," Coughlin said. "The position that I'm taking with all of these things is, 'It will be settled on the field.' And every player's ability will be used to the betterment of our team."
Alas, the Giants lost two players for the season in June. Domenik Hixon, their premier kickoff and punt returner, tore a knee ligament in a minicamp practice. Ten days later, safety Chad Jones, the third round draft choice, suffered serious injuries to his left ankle and leg in an auto accident in New Orleans. Offensive lineman Kevin Boothe is not expected back on the field before September after undergoing surgery for a torn pectoral muscle.
Coughlin will talk about the number of jobs that are open, but let's be realistic and say quarterback is not among them. Eli Manning returns for his seventh season with 87 consecutive regular season starts (the third-longest streak among NFL quarterbacks, behind only Brett Favre and Peyton Manning) and looking to build on his finest statistical season. Manning finished the 2009 season with 317 completions in 509 attempts (62.3 percent) for 4,021 yards, 27 touchdowns, 14 interceptions and a passer rating of 93.1. The completions, percentage, yards, touchdowns and rating were all career highs. Manning is 50-37 as a regular season starter. Jim Sorgi, formerly of Indianapolis, has replaced David Carr as Manning's backup. Rhett Bomar, a fifth-round draft choice in 2009, is the third quarterback on the roster.
The Giants rushed for 681 fewer yards in 2009 than they did the previous season, in part because Brandon Jacobs and Ahmad Bradshaw played hurt all year. Following the season, Jacobs had surgery on his knee and Bradshaw on both feet and an ankle. Both say they feel much better and vow to post better numbers. D.J. Ware remains a promising third option and Gartrell Johnson and Andre Brown, who missed his rookie season after rupturing an Achilles tendon in training camp, will vie for playing time. Madison Hedgecock returns at fullback.
Entering camp a year ago, no position group faced greater scrutiny and was more lightly regarded than the wide receivers. But during the season, no collection of players performed more admirably and continued improvement is expected this year. Steve Smith shattered the franchise record with 107 catches (25 more than Amani Toomer had in setting the previous mark). Mario Manningham added 57 receptions and Hakeem Nicks' 790 yards yards tied for first among all NFL rookies with Minnesota's Percy Harvin. Ramses Barden, who caught only one pass as a rookie in 2009, could play a larger role this year. Derek Hagan is a reliable veteran and Sinorice Moss continues to compete.
Kevin Boss is a solid, dependable tight end who is a much-improved blocker and a sure-handed receiver who caught 42 passes last season. Behind Boss are inexperienced players, including second-year pros Bear Pascoe and Scott Chandler and rookie free agent Jake Ballard.
The offensive line returns intact, but might not stay that way. Center Shaun O'Hara, guards Chris Snee and Rich Seubert and tackles David Diehl and Kareem McKenzie started 38 consecutive regular season games together - the longest streak by five offensive linemen since the 1970 merger – until McKenzie missed the Oct. 25 home game vs. Arizona with a groin injury. McKenzie sat out the season's final three games with an injured knee and Seubert missed out the final two games with a knee injury. O'Hara, Snee and Diehl started all 16 games and all played on the NFC Pro Bowl team, the first time the Giants had three players from the same position group selected to the Pro Bowl since 1962. But in minicamp, offensive coordinator Kevin Gilbride said inserting second-year pro William Beatty at tackle and shifting Diehl to guard "is definitely an option. Whether that will happen or not remains to be seen." And will be determined in camp.
If everyone can stay healthy, the defensive line could be the deepest unit on the team, particularly with the additions of Pierre-Paul and Joseph. But that was the popular mantra a year ago before injuries forced Jay Alford to miss the entire season, Chris Canty half of it and Justin Tuck to play most of the year with a weakened and sore shoulder. Coughlin and Fewell envision a front with Barry Cofield, Canty, Alford and Joseph rotating at tackle and Tuck, Osi Umenyiora, Mathias Kiwanuka, Dave Tollefson and Pierre-Paul contributing on the outside.
The linebackers will have a new look without Pierce and Clark. Bulluck will compete in the middle, assuming his surgically-repaired left knee continues to progress and he quickly grasps the playbook. A savvy veteran who led the Tennessee Titans in tackles six times in eight years, he will deliver production and leadership to the middle of the defense. Michael Boley had injury problems early in his first Giants season, but he rebounded with a strong second half on the weak side and will return to that position. The new strongside starter is promising second-year pro Clint Sintim. The second-line players will provide quality depth and outstanding play on special teams. That group includes Bryan Kehl, Jonathan Goff, Gerris Wilkinson, Chase Blackburn, Zak DeOssie and rookie Phillip Dillard.
Right cornerback Terrell Thomas was arguably the Giants best and most consistent defensive player in 2009. Corey Webster, who missed the last three games with a knee injury, is a fixture on the left side. Former first round draft choice Aaron Ross and second-year pro Bruce Johnson are talented players who should be on the field often against multiple-receiver sets. Rolle and Grant are proven players who have sharply upgraded the Giants' skill level at safety. A healthy return by Kenny Phillips would provide another booster shot at the position. Phillips played just two games last season before undergoing surgery for an arthritic condition in his knee. He expects to be ready for the season opener. Jones might have had a chance to contribute as a rookie. Michael Johnson can provide additional depth.
The Giants' special teams will look vastly different this season without Feagles and Hixon. Feagles owns every NFL career punting record and was also the best directional punter in the league and was a superb holder for Lawrence Tynes. Matt Dodge, the seventh-round draft choice from East Carolina, will get the first shot to replace Feagles at both jobs. Tynes had his finest season, converting 27 of 32 field goal attempts and finishing fifth in the NFL in scoring with a career-high 126 points. Without Hixon, Coughlin and special teams coordinator Tom Quinn will audition several candidates to return kickoffs and punts. "You obviously look to who you have," Quinn said. "And we do have a lot of talented guys that can do that." They include Ross, Manningham, Bradshaw, Webster and Moss.
Those questions, and many more, will be answered beginning Sunday. ](http://www.nyg2010.com/)**
If you'd like to submit a question or comment to Michael, click here.