EAST RUTHERFORD, N.J. –** The Giants' defensive resurgence continues to result in individual accolades for members of that unit.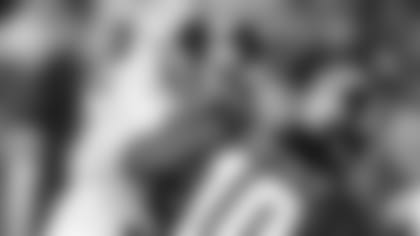 Know Your Opponent: Chargers Justin Tuck today was named the NFC Defensive Player of the Week, the third Giant to win the award in the team's last five games. Terrell Thomas and Jason Pierre-Paul were the other honorees.
The nine-year veteran had a career-high 4.0 sacks of Robert Griffin III, all in the second half of the Giants' come-from-behind 24-17 victory Sunday night in Washington.
Tuck sacked RG3 for an eight-yard loss late in the third quarter, added sacks of three and seven yards on the Redskins' first possession of the fourth quarter and finished with another three-yarder on the next Washington series.
Tuck's 4.0 sacks tied for the third-highest total in team history. Osi Umenyiora had 6.0 sacks vs. Philadelphia on Sept. 30, 2007. Linebacker Pepper Johnson had 4.5 at Tampa Bay on Nov. 24, 1991. Hall of Famer Lawrence Taylor twice had 4.0 sacks in a game (Sept. 23, 1984 vs. Tampa Bay and Oct. 12, 1986 vs. Philadelphia) and Michael Strahan did it once (Oct. 14, 2001 at St. Louis). Tuck's previous career high was 3.0 sacks of Michel Vick in Philadelphia on Nov. 21, 2010. This was Tuck's first multiple-sack game since Nov. 4, 2012, when he twice sacked Pittsburgh's Ben Roethlisberger.
The four sacks in Washington increased Tuck's season total to a team-leading 6.5, his highest total since he had 11.5 in 2010.
This is Tuck's second Player of the Week Award. He was honored in Week 1 of the 2009 season, when he had five tackles and 1.5 sacks, also against Washington.
Thomas received the award in Week 8, following the Giants' 15-7 victory in Philadelphia. The cornerback was credited with 11 tackles and had a sack and a forced fumble that was recovered by Jacquian Williams. Pierre-Paul was honored two weeks ago after intercepting a pass and returning it 24 yards for a touchdown in a victory over Green Bay.
This is the Giants' 39th NFC Defensive Player of the Week Award since it was instituted in 1984.