EAST RUTHERFORD, NJ - The Giants didn't just turn the page today, they ripped it out of the book, crumpled it up and threw it in the trash.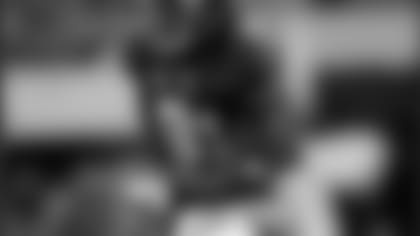 Like all Wednesdays during the NFL season, it was the start of the new work week. For the Giants, it was their first detailed look at their next opponent, the Green Bay Packers, and their first practice for the game Sunday in Lambeau Field. The Giants will clinch an NFC wild card playoff berth with a victory over the Packers.
Left mostly unsaid was that the attention on the Packers and the upcoming game enabled them to officially put to rest their disappointing loss three days ago to the Philadelphia Eagles. Because the details of the loss were so unusual and disappointing – the Giants led, 31-10, before allowing four touchdowns in the final 7:28 – it was only natural to wonder if the hangover from that defeat would linger into the new week.
Not only did the Giants say it hasn't, their quick turn to focus on the Packers, positive attitude and upbeat practice backed up their words.
"(This was) just like every Wednesday," quarterback Eli Manning said. "The last game is over with, whether you win, lose, or tie. Now you go onto the next week and prepare. That's how football players are trained. You've been doing this for long enough, you understand that Wednesday is a new week and you have a new game to prepare for."
"I know what kind of guys we have in this locker room," linebacker Michael Boley said. "I know we've faced a lot of adversity so far this season, and we've bounced back from it pretty well. So there was no doubt about the guys coming here with their heads held up high. What happened before today, happened before today. We can only move forward from here. So from here on out, it's all about Green Bay."
Asked if that was a more difficult task this week, Boley said, "Nope. Coming off of last week, it was kind one of those things where you get knocked off the horse, you want to get back on - pretty much just kind of pick up the pieces. We left one out there, and right now it's pretty much all about getting back to where we want to be."
Center Shaun O'Hara, an 11-year veteran and seven-year Giant, said today was a pretty typical Wednesday.
"I don't think anything has changed from today's preparation and today's energy from last week," O'Hara said. "I think guys are excited. Guys understand what's at stake. Obviously everybody is sore – hopefully less tired than the week before because we played Monday night. But this is an exciting time of the year and this is why you work so hard all year long to just have an opportunity to play to get into the playoffs. There are a lot of teams right now that are playing for nothing but personal pride.
"Even if we had won last week, we'd still have to come in and win this game, too. So really nothing has changed."
"We've lost games before and we've won games before," guard Rich Seubert said. "And if you're going to dwell on what happened last week and let it affect the way you prepare the following week, you're not going to be good – win or lose. So we've had some big wins, and we've had some big losses. This is my 10th year, and this isn't the first time this has happened to me. The beautiful thing is destiny is still in our hands. We go win, we're in the playoffs. We have a chance, and a lot of other teams in this league are sitting home trying to figure out what they want to do in two weeks when they're going to be done. So that's no fun, either. I've been there before, and as long as you have a chance – we don't need five teams to lose. We've just got to go win a football game."
The day began, as all Wednesdays do, with Tom Coughlin conducting a team meeting at which he introduces the next opponent.
"I think they're a little quiet, but I think they'll be alright," Coughlin said. "They'll come around. They responded well in my meeting. There's a bunch of new stuff which happens on a Wednesday that they really have to focus in on the learning, so that's the stage they are in right now."
Coughlin was asked if he had to "snap them out of it," presumably meaning the players' doldrums after the Philadelphia loss.
"There is no snapping out," Coughlin said. "They responded very well. I give them a 'Good Morning, Men' and they (don't) give me (much), and then I give it to them again, and they jump up and down. They were fine with that."
Defensive tackle Barry Cofield said the Giants had a good reason for being quiet.
"We get in here at seven in the morning," Cofield said. "So I think it's always quiet and slow. I think we've got great leadership. We've got a veteran team and a lot of guys on this team have experienced a lot of success. So I think everyone is excited about this atmosphere – a big game, a 4 o'clock game. I mean, there's a lot riding on this game, and it's exciting and I think guys are in the right frame of mind."
That was evidenced at practice, which, by all accounts, was crisp, productive and lively. Coughlin had the big doors opened in the field house at the Timex Performance Center to let some cool air in.
The forecast is for temperatures in the lows 20s on Sunday in Lambeau.
"Heat wave," said Coughlin, whose face turned famously red in the minus-23 wind chill during the Giants' NFC Championship Game victory in Green Bay three years ago.
The conditions apparently brought out the best in the Giants today.
"I felt like I'd have a good idea of how we would respond by the way we came out today, and I loved the way we practiced," Cofield said. "It might be hard to believe, but I honestly didn't think about Philly one time on that field. I was just focused on practicing, executing. We've got a great game plan, and I think as hard as it is to believe, I think guys actually have managed to move on. And we realize that if we win, we're in. You could clinch second to last game of the season, I mean, that's big. So we've got a big game, a big opponent and a lot riding on it. So I think it makes it easier to move on."
"I thought today we had a great practice - great energy, great enthusiasm, and so it was a good start for getting ready for Green Bay," Manning said. "They're a good defense, they're a good team. We have to make sure we're the best and well prepared, and then go in there with a great plan and go execute it."
*Coughlin said defensive end Dave Tollefson will be out "a while" because of the sprained medial collateral ligament he suffered in the loss Sunday to the Philadelphia Eagles.
The team will likely wait to see how Tollefson progresses before determining whether to place him on injured reserve. He will certainly lobby against it if the possibility of that transaction is mentioned to him.
"Hey, I'm here to play, man," Tollefson said. "I'm ready to go. My mom is disappointed in me that I'm not playing. So I don't want to disappoint mom, so I've got to get ready to play every week."
Tollefson's mother, Debi Crocker, is well-known among the Giants for her emotional and, uh, profane pep talks, often delivered via speaker phone. She was in the stadium Sunday when Tollefson got hurt.
"When I went to the locker room to get an X-ray, she was waiting down there when I came out, and she's like, 'What are you doing?'" Tollefson said. "I'm like, 'Mom, I'm hurt.' She's like, 'I don't give a (darn). Get it taped up and get the hell in there. I didn't fly here from California to watch you ride the pine.' I'm like, 'Mom, I don't want to hear it.' So I love mom. If you guys (reporters) give her a call and ask her, she'll probably be saying I should be playing this week."
"I was on the StairMaster today, so that's got to be good, right?" Tollefson said. "I think it'd be a little easier if we had won last week to kind of say, 'Man, I've got a little more time to get better.' But we're behind the eight ball now. So as soon as I can run, I'm going to go. I don't know when that's going to be. Hopefully I can start running next week.
"The main concern is with the MCL injury and that I don't injure another ligament in my knee. Can you play with an injured MCL? Yeah, but it leaves other ligaments susceptible to injury. So we're kind of making sure that doesn't happen."
Tollefson has 10 tackles (including five solo, one for a loss and a half-sack) and has been one of the Giants' best special teams players. His 13 special teams tackles (nine solo) are second on the team to Chase Blackburn's 14. He also has forced fumbles on both defense and special teams.
Tollefson said sitting out the end of the game against the Eagles was no fun.
"Oh man, worst feeling in the world," he said. "It's the first time this ever happened to me. I'm here to play. I'm not here to not play. As stupid as that sounds, it was ridiculous."
*Left tackle David Diehl did not practice today because of an illness. Wide receiver Mario Manningham (heel) and defensive end Osi Umenyiora (knee) were limited. O'Hara (foot), offensive lineman Shawn Andrews (back) and wide receiver Devin Thomas (hamstring) all practiced fully.
*Wide receiver Steve Smith had microfracture surgery yesterday to repair the articular cartilage injury in his left knee. Smith will be on crutches for six weeks and faces a lengthy rehabilitation. The fourth-year pro caught 48 passes for 529 yards and three touchdowns in nine games this season.
*Green Bay quarterback Aaron Rodgers practiced fully after missing the Packers' loss last week in New England with a concussion.
"I'm feeling really good," Rodgers said. "I've been cleared to play and it's nice to get back on the practice field with the guys today. It's definitely tough to miss a game this late in the season, but it's almost just as tough just not to be able to be around the guys and be in the huddle and those are the things that I missed last week and I'm glad that I'm feeling better and I'm back out there."