EAST RUTHERFORD, NJ - Tom Coughlin doesn't need the NFL's weekly statistics to illuminate the Giants' turnover plague this season, but the supporting numbers are there nonetheless.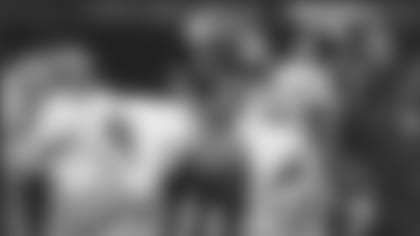 The Giants have 15 giveaways, tying them with the San Francisco 49ers for the league's second-highest total, one behind the Carolina Panthers. Remarkably, the Giants have more turnovers in five games this year than they had the entire 2008 season (13). The Giants have lost seven fumbles, as have two other teams. Only San Diego (nine) has lost more. Eli Manning has thrown eight interceptions, more than half his 2009 total of 14 and a number exceeded only by the 49ers' Alex Smith (nine).
Despite those pitfalls, the Giants have won their last two games and will carry a 3-2 record into their home game Sunday against the Detroit Lions. But Coughlin knows his team is playing with fire in trying to win while being so careless with the football. So at a news conference this week, Coughlin didn't mask his impatience at fixing the problem.
"It's got to stop," he said.
That will be difficult this week. The Lions are tied (with the Chicago Bears) for first in the NFL with 14 takeaways – seven interceptions and seven fumble recoveries. Chicago recovered three Giants fumbles two weeks ago.
"I think they're a good defense," offensive coordinator Kevin Gilbride said of the Lions. "They've got a very, very good front, their corners are good players, they play hard – very aggressive – so I think that we certainly are going to have our hands full. Anything that we give them will aid and abet their cause and hurt us. But it's not like it's something that isn't preached or discussed and it's not something that the guys are trying to do - it's just happening."
Manning was quick to support Coughlin's contention that the giveaways must cease. Perhaps half of his interceptions have been tipped passes that his intended receiver could have caught. Others were the result of poor decisions, such as his left-handed flip inside the five-yard line against Tennessee on Sept. 26. Last week in Houston, he threw picks on consecutive third-quarter series, but the turnovers didn't derail the Giants on their way to a 34-10 victory.
Were those bad decisions or poor throws?
"Every one has its own reasoning," Manning said. "The ones in the Houston game were just bad decisions, and bad throws mixed with it. (That's) usually a bad combination.
"You just learn from each one. You can't get worried about them now. They happen, you try to learn from the ones that occur, and just play better football."
Gilbride also suggested Manning needs to pull back on some plays.
"I think it's a matter of just maybe trying to get more out of the play than is there and that usually is the cause," Gilbride said. "Whether it's the runs with the running backs or the quarterback throwing the ball – they're trying to get more out of something that wasn't available to them. That's when you're opening yourself up to those kinds of developments. On both of them (the interceptions in Houston) he got flushed out of the pocket, he's scrambling, it's a tight window – we probably would have been better served just throwing the ball away and punt the ball under those circumstances."
Manning has also lost four fumbles this season. Running back Ahmad Bradshaw has lost three, all of them in the second half inside the opponent's 20-yard line.
"(The Lions) do a nice job of turnovers," Bradshaw said. "We just have to be careful on the offensive side of the ball, and defensively we've got to be the ones to get the turnovers. You've got to be careful when you need that extra yard. It's got to be at the right time. Defenses now are taught to strip the ball these days. So it's like a natural thing, so just got to be more careful."
The Giants' offense is ranked fifth in the NFL, but no one had to guess what Manning was referring to this week when he said there's room for improvement.
"The turnovers," he said. "I think that's the number one thing. (It's been) just some bad plays. We're still having some moments during the game where we're just playing bad football. You're not going to score every drive, you're not always going to get everything perfect and you're going to have some drives where you've got to punt or things don't feel as you want. But we can't afford to have the turnovers and just the phase where we just look sloppy. The good thing is that we usually bounce back out of it and we can get things back on the right track, but we've just got to avoid those slow moments."
All coaches and quarterbacks recite the importance of avoiding turnovers, but the record shows it's more than just an old cliché. Since Manning became the starter in 2004, the Giants are 24-8 in games in which he has not thrown an interception. They are 29-31 when he did.
Coughlin admitted this week that preaching about avoiding turnovers can be a double-edged sword. If a quarterback's primary focus is not throwing an interception instead of making a play, it can suppress his aggressiveness, which is not what a coach wants to do.
"You don't want to take that aspect away from him," Coughlin said. "He's always trying to make a play. He's always trying to make something even if it's something out of nothing. I stress with Eli and with any of them is to be aware of the circumstances, know the situation, don't put your team in jeopardy. You don't have to. Throw it away. We'll have a next play. We'd rather have that be the consequence. Just get rid of the ball rather than go down or whatever, but give us another play, let us line up or punt – we'll punt the ball. We're fine with that. The circumstances of the game do the dictating and I think that he's very, very competitive, highly into what he's trying to do, has great faith in the guys that he's working with, but there are occasions when you just have to realize that it's not going to happen, so let's protect the ball."
"It's something you talk about and there comes a point where you're emphasizing it so much that you're actually contributing to the cause and that's what we've got to be careful of," Gilbride said. "But certainly, whether it's the fumbles the game before with the running backs or his picks last game – the problem is that you're moving the ball, doing a lot of good things but it kind of stops you from finishing a drive or takes away from what otherwise would have been an outstanding performance, and that's the thing that's disappointing."
Despite the turnovers, the Giants' offense has done a lot of good work this season. Only four teams average more than their 378.0 yards a game. They're ninth in the NFL with 247.8 passing yards a game. Bradshaw is fourth in the NFL with 449 rushing yards. Hakeem Nicks leads all wide receivers with six touchdown catches. Manning is in the top 10 among all quarterbacks with a 64.4 completion percentage.
"You look at the good and the bad, and it's a combination," Manning said. "So we did a lot of good things, and we've just got to eliminate some of the bad plays."
*Kicker Lawrence Tynes was added to the injury report as questionable after Coughlin said he "evidently" sprained his left (plant) ankle in practice. Tynes was immediately sent into the trainer's room after suffering the injury.
"He did this in the summer one time and was able to…within a short amount of time, he was able to come back and kick," Coughlin said.
Rookie punter Matt Dodge could be used on kickoffs if Tynes' ankle is sore on Sunday.
"Dodge has done that," Coughlin said. "He's kicked off. We have some flexibility there."
"I'm ready if asked," Dodge said. "We work on it a little bit. Not enough to feel the utmost confidence."
Dodge said he kicked one extra point and tried one field goal at East Carolina.
*Center Shaun O'Hara (ankle/Achilles) and linebacker Keith Bulluck (toe) practiced on a limited basis and are listed as questionable for the Detroit game. Coughlin would not definitely say if O'Hara or Bulluck will play Sunday.
*Running back D.J. Ware was limited and is questionable with a groin injury.
*Safety Kenny Phillips (knee, limited practice) and defensive end Osi Umenyiora (knee, full practice) are probable.
*Five players have been declared out: defensive end Mathias Kiwanuka (neck), fullback Madison Hedgecock (hamstring), wide receiver Victor Cruz (hamstring), defensive back Brian Jackson (neck) and tackle Will Beatty (foot surgery).
*The two left tackles in Sunday's game – Detroit's Jeff Backus and the Giants' David Diehl – have the longest starting streaks among active offensive tackles. Backus has started 149 consecutive games since he was selected by the Lions on the first round of the 2002 NFL Draft. Diehl has started 117 in a row since he was chosen on the third round in 2003.
*Manning needs 54 passing yards to reach 20,000 for his career.
*The Giants' defense is first in the NFL on first down, allowing only 3.60 yards per play. Detroit's offense is averaging a league-low 3.71 yards on first down. The Giants' offense is third, gaining 6.32 yards on first down.
*This season, former Giants wide receiver Amani Toomer has traded in his football cleats for a pair of running shoes. The Giants' all-time receiving leader will become the first former football star in more than 15 years to lace up for a marathon when he competes in this year's ING New York City Marathon as a member of Team Timex on Nov. 7. Toomer is training with Timex's new GPS watch and has run more than 20 miles in a workout and has dropped almost 40 pounds during his training. As an added element, Timex has arranged for Toomer to start the race in last place, and he will donate $1 to New York Road Runners' youth programs for every runner he passes on his way to the finish line. To celebrate this achievement, Toomer will be at the Giants' game Sunday vs. Detroit to participate in the pre-game coin toss with two kids from the New York Road Runners Youth Program. Toomer was one of the 30 Giants legends inducted into the franchise's Ring of Honor on Oct. 3.