EAST RUTHERFORD, N.J. (AP) -- Eli Manning lost the game, the football four times and the latest of his three meetings with his older brother Peyton, but not his sense of humor.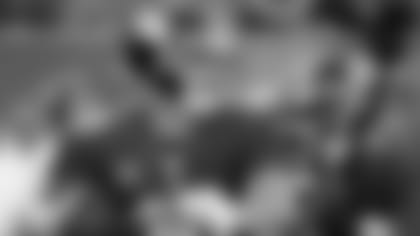 Soon after Manning showered and dressed following the Giants' 41-23 loss to the Denver Broncos, a reporter said to Manning that it's hard to imagine he has seven interceptions in the Giants' first two games.
"That's never a goal," Manning said. "Before the season I like to set goals, keeping interceptions in the single digits. I kind of have to start over here."
So does the rest of the team. The Giants are 0-2 for the first time since 2007. In the losses to Dallas and Denver, their points allowed (77) are greater than their rushing yards (73). Against Denver, they converted only one of 11 third down opportunities.
The buildup before the game was all about the third career meeting between Eli and Peyton Manning, the only pair of brothers to oppose each other as starting quarterbacks in NFL history. By Sunday evening that storyline was little more than a footnote, because the Giants haven't been able to run the ball, keep turning it over and have a problem stopping the other team from scoring.
But they still have 14 games remaining, beginning next week in Carolina, and that's where their focus is.
"I think we'll bounce back and I thought there were some good things," Eli Manning said. "The first half I thought we had a lot of opportunities. I think that's where we did some really good things. We just didn't get touchdowns. We got field goals and in the second half. …When we got down a couple of scores and tried to press, it could go either way. You could make some plays, hopefully, and also make some mistakes. We were in a bind. The offense, we have to get a little more balanced. We have to run the ball better and we have to eliminate the turnovers. I think we'll keep fighting and get back on track. I know everybody in our division lost today, so the way we can look at it, we're one game back in the division. We've got to get back to winning some games."
To do that, they must improve in several areas, including the ground game and taking care of the football.
"We're disappointed, frustrated, and I can understand how some of the players feel," coach Tom Coughlin said. "The whole point is, we have to hang in there. We have 14 games to go, we've been 0-2 before, we've dug ourselves into a hole before, and been able to fight our way out of it, and we did it with 'team.' But the performance level has to come up."
That has started with Manning for the last 10 Giants seasons. This year has brought a decidedly schizophrenic performance. His 812 passing yards is the highest two-game total of his career. Manning has thrown five touchdown passes. But his seven interceptions are also the most he's tossed in any two-game span. And the picks have hurt the Giants.
His first interception Sunday cost the Giants points and the halftime lead. Trailing 10-9, the Giants had a first down at the Denver 28-yard line with 16 seconds remaining. They were in field goal range. But Nicks ran one way, Manning threw another and the pass was intercepted in the end zone by Dominique Rodgers-Cromartie.
"Just a bad decision by me," Manning said. "I was really just trying to kind of … throw the ball away, where we wouldn't get an intentional grounding, but we would get it close. It was unfortunate that I threw it in a spot where their guy could make a play."
Manning was picked off three times in the fourth quarter. The first interception – on the opening play of the quarter, was bizarre. Manning's pass to Rueben Randle hit off the back of cornerback Tony Carter's foot and was grabbed by another corner, Chris Harris.
"It was just a play that we thought we should've made, but we didn't," Coughlin said. "On a slant, the first indication that trouble is there, was that the defender's arm was reaching in towards the ball as the receiver was doing the same thing. It wasn't clean, the ball gets knocked down. When you see it bounce up in heavy traffic, that's not a good sign."
That turnover led to Peyton Manning's 11-yard touchdown pass to Julius Thomas, which gave Denver a 31-16 lead. Roughly two minutes later, Trindon Holliday returned a punt 81 yards for a touchdown, putting the game out of reach. On the Giants' next possession, Manning was intercepted by safety Rahim Moore. His last pass of the night was picked off by Carter.
"The last one was on me," Manning said. "Rueben did the right thing, he ran the right route, and I threw the wrong route."
It was that kind of game. Afterward, Manning still had to answer questions about not only his interceptions and the state of the Giants, but losing to his brother, which the Giants also did in 2006 and 2010, when Peyton played for the Indianapolis Colts..
He said he talked to Peyton briefly before the game.
"We just chatted for 10 minutes," Manning said. "Nothing specific, just brotherly talk. Not a whole lot of interaction."
Early in the game, Peyton joined Brett Favre and Dan Marino as the only quarterbacks in history to pass for 60,000 yards. Asked if Peyton will tease him about his 3-0 against him, Eli said, "I don't think so. I think this is something that we're both passionate about. What we're doing is our job. It's my concern to this team and getting back to winning right now."
"It's a strange feeling," Peyton said. "It's not like beating another team. It's not quite as enjoyable as it would be, if you were beating somebody else."
Eli insisted the day was not more disappointing because the defeat was in the family.
"It's all team-related," Manning said. "You want to go out there and play well, so you're frustrated that you lost another game. We had some opportunities early on. Their offense started clicking and making some plays. We had turnovers and we just couldn't catch any breaks. We just really want to get back to where we're playing better football offensively and get back on track."
Much of that rests on Eli's broads shoulders.