EAST RUTHERFORD, NJ - A coaching career that has spanned more than 40 years didn't preclude Tom Coughlin from a new football experience today. For the first time since he started wearing a whistle around his neck, Coughlin had only one quarterback available for practice.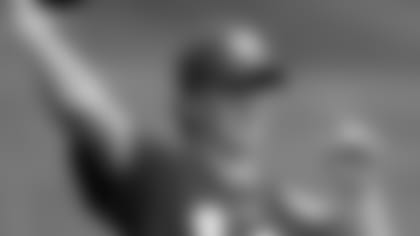 That quarterback, Rhett Bomar, took every practice snap and seems on track to start the Giants' preseason game Saturday night against the Pittsburgh Steelers, their first home game in the New Meadowlands Stadium.
Starter Eli Manning will not play because of the 12 stitches he received in his forehead to repair the gash he suffered in Monday's victory over the Jets. Manning is not seriously hurt, but he cannot wear a helmet. Since the NFL mandates that all players wear one, Manning will miss the Pittsburgh game.
Manning was at practice today wearing a Giants cap and even participated in some individual drills. But he spent most of the workout standing behind the offense and helping Bomar.
No. 2 quarterback Jim Sorgi did wear a helmet, but not shoulder pads. He has a sore shoulder and did not work. Because team doctors had not yet examined Sorgi, Coughlin was not prepared to say if the veteran backup would play vs. the Steelers.
Asked if Sorgi's injury could be more serious, Coughlin said, "I don't think so, but what do I know? I'm not projecting anything; I'm just waiting to hear what the doctors have to say."
Coughlin told reporters "you could" see another quarterback here tomorrow.
So how did Coughlin feel about having just one quarterback in practice?
Was it a one-time proposition?
"We'll have to wait and see," Coughlin said.
Bomar said he's never before been the only quarterback healthy enough to take snaps at a practice. But he was happy to get the work.
"It's good for me. It's good to get a lot of reps like that," he said. "I'm not tired. I have no complaints about going all the time. For a guy in my situation, a young guy, the more reps you can get the better. So I have no complaints at all."
Coughlin was asked what he saw today from Bomar.
"A full day of practice," said Coughlin, who couldn't help but laughing along with the reporters. "He needed to get all those snaps in and there were some good and some bad, but he hung in there alright."
Bomar is normally the third quarterback, which means he seldom gets more than several consecutive snaps in practice. He'll throw two or three passes, hand the ball off a couple of times, then step aside for Manning and Sorgi. But today, he stood tall in the huddle all afternoon.
"It was just boom-boom-boom, back-to-back-to-back, play-play-play," Bomar said. "I was kind of up and down a little bit, but I'll try to improve on that and just watch the tape and go from there. It's a great opportunity for me. Just got to go out there and just be smart and understand what we're doing as an offense and just go from there and make plays."
But will that put too much of a strain on Bomar's arm?
"Well, that's a concern," Coughlin said. "It's a very short week, we've got two days of work and we're in that dilemma. I have been cutting down snaps, which I think that if you really looked hard you could see that it shows up on the offensive side of the ball. I don't want to cut too much out, yet I want to make sure there's enough left for Rhett. So I think this was a good day for him, I don't think it was too much and he'll have to do the same tomorrow, I'm sure."
Bomar played the final two offensive series against the Jets (plus a one-play kneel down). He completed six of seven passes for 67 yards, including a five-yard touchdown to Victor Cruz, a score set up by Bomar's 23-yard run on third-and-17. Bomar looked more confident and decisive than he did last year, when he played sparingly in the preseason and spent all but the final week of the regular season on the practice squad.
"I was getting playing time the other night and felt good about it – I felt comfortable," Bomar said. "I just have to build from there and kind of keep improving."
He'll have more opportunities to do that until Manning returns, which will be as soon as he can wear a helmet without risk of opening his stitches. Manning can wear a cap without discomfort.
"It doesn't bother me," Manning said. "It's kind of high enough where if you wear a helmet, the helmet kind of hits you lower in the forehead so it wouldn't be right on the stitches, kind of where sometimes when you take your helmet off you've got a red spot in the middle forehead area, its above that so I don't think it will be too painful to wear a helmet, but we're just being safe right now."
Manning, who underwent a battery of tests, said he is feeling fine and has no pain in his head or neck.
"I physically feel fine, I threw some balls today, running around, I know what's going on and I'm all there so it's just a matter of getting the helmet on."
Manning will miss a game for the first time since sitting out the final two preseason games in 2005 with a sprained throwing elbow. He suffered the injury when he was hit by Julius Peppers, then with Carolina.
Other than his capped head, everything seems normal with Manning - and his teammates. In a show of solidarity that was not at all serious, offensive linemen David Diehl, Shaun O'Hara and Rich Seubert all arrived at lunch today with bandages on their upper left foreheads, the same spot where Manning was gashed.
"I wouldn't expect anything less," Manning said. "You have to keep it fun."
"He's going to be okay," O'Hara said. "He's looking for some blood donors. Rich and I got tested today, and we're not a match. But we think he'll be okay."
Manning was hurt during an unusual sequence of events on a play in the second quarter of the Giants' victory over the Jets. A play was called for Brandon Jacobs to run up the middle. After reading the defense, Manning decided to throw to Ramses Barden instead. But he didn't communicate that to the 264-pound Jacobs, who collided hard with the quarterback, forcing his helmet to slide up on his head. The helmet popped off when Manning was hit hard from behind by linebacker Calvin Pace. Manning said his head then hit the facemask of safety Jim Leonhard.
Manning continued to put the onus on himself for the injury.
"It's my fault, everything that happened," he said. "It's not a play we run all the time. It kind of slipped my mind that Brandon would be coming right up the gut, and you think that the worst thing that happens is that he might run into you, or something goes bad and you don't think about everything happening the way it did, and you get a cut on your head. But it's preseason and you learn from your mistakes and it's a good lesson to learn."
With blood dripping from his laceration, Manning was quickly attended to by the Giants' medical staff. He was stitched up, examined and sent home.
"It could have been worse; it was more me kind of hitting Leonhard," Manning said. "He didn't come in and hit me. (I) could've taken something in the nose or broken something. So yeah, anytime you lose your helmet a lot of bad things can happen so I came out pretty okay, considering."
Yesterday, he was tested at the Hospital for Special Surgery in Manhattan. He had what he called "the concussion test" today.
"I haven't heard the results; felt like I did pretty good with it, though," he said.
Manning admitted he wondered initially how badly he was hurt.
"If it's something on your arm, you kind of look down and see what's going on," he said. "If it's on your head you don't know how deep it is or how big the cut is, so you get a little worried. But I ran to the sideline and they finally just said it's a cut. I knew I felt fine and I wasn't in a whole lot of pain, so that's always a good sign."
Manning, a seven-year veteran, said he will not fall far behind if he missed a week of practice and a game. He expects to be playing well before the Sept. 12 regular season opener vs. Carolina.
"I'll try to get in everything I can do," he said. "Just get my mental reps and I should be able to continue to throw routes to my receivers and work on the timing with them and just kind of taking it day by day and I'll just keep working and do everything I can."
"There is a question about what he can do with a hat on rather than a helmet," Coughlin said. "I'm not going to rush that and if the doctor says it's okay for him to throw then maybe he'll do some throwing, but he's definitely not going to put the helmet on."
If nothing else, Manning has a unique memory of the first football game played in the New Meadowlands Stadium.
"I'll have a special memory that I'll always be able to look at, I have a feeling," Manning said.
*Chase Blackburn was as upbeat today as any player can be after suffering a knee injury. That's because he hurt his medial collateral ligament instead of the anterior cruciate ligament. The latter would have required season-ending surgery. He can rehab the former and return sometime – he hopes – early in the season.
"I definitely felt a pop, but as soon as they were on the field they examined it and they said it's probably not an ACL," Blackburn said. "That's all you want to hear when you're out there. You know there's something wrong, but you don't want to hear it's an ACL.
"In a couple weeks, I'll be good to go. It feels pretty good. I mean a little swollen, still a little loose, but that's part of it. They said in 10 days it should start tightening up here and start to come back a little bit. So we'll go do more rehab at that point."
*Linebacker Gerris Wilkinson, who led the team with six solo tackles Monday night, took some snaps with the first team.
"It was earned by the way he played the other night," Coughlin said. "He had some physical tackles, he did well on special teams, and he did well in the open field tackling a back in the backfield. So you want to be able to encourage the guys that do that."
*Wide receivers Steve Smith and Sinorice Moss, tight ends Kevin Boss and Travis Beckum and cornerback Corey Webster returned to practice.
*Guard Chris Snee (knee), safety Michael Johnson (back), wide receiver Ramses Barden (back) and fullback Jerome Johnson did not practice.
"(Snee) actually feels better today than he has for awhile," Coughlin said. "We're not going to rush him back but it's good to see him with a smile on his face, so he's on his way."
*Linebacker Jonathan Goff intercepted two passes, one on a tipped ball.
*Former Giants captain and middle linebacker Antonio Pierce watched practice. He is now an NFL analyst for ESPN.
*Giants PSL holders purchased 5,100 tickets in the first hour of the individual game sale today, the first day a limited number of individual game tickets for the Giants' eight 2010 regular season games went on sale at ticketmaster.com. 2010 is the team's inaugural season in its new home, the New Meadowlands Stadium.
The presale for current PSL holders will continue tomorrow. That presale will be followed by an opportunity for wait list members and former season ticket holders to purchase the available seats on Friday, August 20 and Saturday, August 21. Any remaining seats after the presale will be available for purchase by the general public starting on Monday, August 23.
Individual game tickets are $25 higher than the PSL holder price per game ticket and the range of prices available is from $110-$725.
These individual game tickets are available because the team released single seat locations, tickets that have been held back to insure compliance with the Americans With Disabilities Act regulations, and those tickets that were held to address issues that may have arisen during the process of assigning seats in the new stadium. Typically more tickets are held back for those purposes in year one of a new facility than in year two, and many of those seats that have been held will be sold as PSLs in the future.
Current PSL holders, wait list members and former season ticket holders are being made aware of this opportunity via email from the team.
All transactions are online only at ticketmaster.com.
*Tickets are available for the first Giants Kickoff Luncheon to be held in the New Meadowlands Stadium. The charitable event will be held on Wednesday, September 1, 2010 from noon to 2 p.m. in the Gridiron Club, located between the Pepsi and Verizon gates at the New Meadowlands Stadium.
In addition to introducing the 2010 Giants, the team will honor Amani Toomer with the Giants Alumni Man of the Year Award.
Hackensack University Medical Center and the Giants have begun a partnership that gives fans a unique opportunity to support one of the nation's healthcare leaders while showing support for New York's favorite team. All proceeds from the luncheon and raffle will be donated to a very special program: the Touchdown Fund: Score for Kids, Cardiac and Cancer launched earlier this year by the Medical Center and the Giants and focusing on three core areas of healthcare.
Giants fans can join Head Coach Tom Coughlin and the entire team and the raffle will include a grand prize trip to Super Bowl XLV in Dallas (including round trip airfare and hotel accommodations for four nights).
For more information, call 201-996-3722.
*Today's attendance of 2,280 raised the camp total to 36,620.
--- ](http://www.nyg2010.com/)**