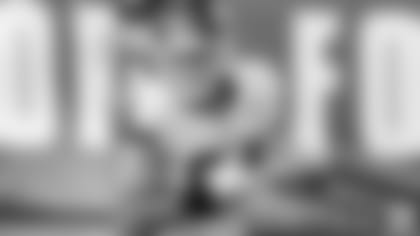 For every road game this season, Giants.com will catch up with members of the team for a travel Q&A. This week, get to know tight end Rhett Ellison and running back Paul Perkins' travel habits:
Q: What are the must haves in your carry-on bag when you're flying?
Perkins: Headphones. You got to charge up the headphones to make sure you can watch movies and listen to music.
Ellison: Yeah headphones, your iPad and NormaTecs. Always got to travel with NormaTecs.
Ellison: The boots that you put on your legs for recovery
Q: Who do you guys usually sit next to on the plane?
Ellison: I usually sit next to Orleans (Darkwa) or Shane (Smith) and they're both good people to sit next to.
Perkins: I usually sit next to Kalif (Raymond) and Kerry Wynn.
Q: Who's your least favorite teammate to sit next to?
Ellison: That's a trap. I don't know. I haven't really sat next to anybody I haven't liked.
Q: What's the longest flight you've ever been on?
Ellison: New Zealand. It was like 13 hours, it was rough. I left from Minnesota, but we transferred in LA so if you add that, that's another four hours.
Ellison: I got family down there.
Perkins: When we went to London last year. Six or seven hours I think.
Q: What's your routine when you get to the team hotel?
Perkins: Eat. Go out with a couple of the guys, find food, scavenge.
Ellison: Well it depends. Some places like these west coast games, we don't have time so we just eat at the hotel. But if you have time, you get to go out to a restaurant.
Want more Giants LifeStyle? Click here