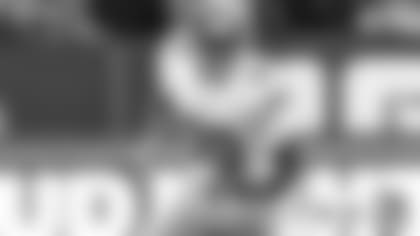 For every road game this season, Giants.com will catch up with a member of the team for a travel Q&A. This week, get to know tight end Jerell Adams' travel habits:
Q: What are the must-haves in your carry-on bag when you're on a road trip?
A: My tablet, my notebook because that is where I keep my notes and plays, and extra clothes to change into.
Q: What do you like to do on the road?
A: Listen to music. I like to listen to old school music. It depends on the type of mood I'm in. I'm kind of a little self-pumped. I really don't like listening to rah-rah music to get me hyped because I feel like if I get too hyped, I'm going to mess up. So, I try to stay calm. I also try look at funny stuff too.
Q: Who's your favorite teammate to sit next to?
A: Well, I don't sit next to anybody because I have a seat by myself. So, I don't know. The rookies double up.
Q: What's the longest trip you've ever been on?
A: Probably to London last year when we played the Rams.
Q: What's your routine when you get to the team hotel?
A: First thing first, lay down in bed. Then I look out the window and see what type of view I have. Then I hit the tight ends up or some of the guys and see where they want to eat.
Want more Giants LifeStyle? Click here