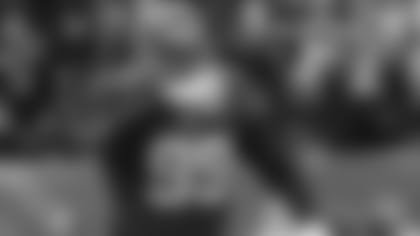 For every road game this season, Giants.com will catch up with members of the team for a travel Q&A. This week, get to know defensive teammates Robert Thomas and B.J. Goodson's travel habits:
Q: What are the must haves in your carry-on bag when you're flying?
Thomas: Both iPads. You need your game iPad and your personal iPad or laptop if you're a laptop guy. Headphones are a must.
Q: What do you do on your laptop/iPad?
Thomas: I'm picking music, I'm looking at social media. Just chillen.
Goodson: All four phones, you need your own wash and stuff because sometimes you don't know what the hotel has. Body wash, deodorant, all the normal everyday things that you need.
Thomas: I mean now I feel like he's trying to make me sound like I'm dirty or something like I don't bring those. Those are givens. They come in the travel bag.
Q: Who's your favorite teammate to sit next to on the plane?
Thomas: If I could, I would want to sit next to B.J (Goodson).
Q: Who do you usually sit next to?
Thomas: Usually I sit next to Curtis (Grant).
Goodson: I just really like to sleep on the plane initially. Once we get up in the air, I like to ease my mind, take a quick nap. It can be 10-15 minutes.* *
Q: So you don't have a favorite teammate to sit next to? Are you more of a loner?
Goodson: I honestly am a kind of, just a little bit, a loner. But it don't even matter. You could put me next to anybody. I sit next to DT (Darian Thompson), I have Bobby (Hart) in front of me.
Thomas: That's a pretty funny group too though.
Goodson: Yeah, when we get up there we're clowning, but most of the time everybody falls asleep anyway.
Q: Who is your least favorite teammate to sit next to?
Goodson: I get along with everybody.
Thomas: Yeah, everybody is pretty cool.
Q: What's the longest flight you've ever been on?
Thomas: Yeah, London by far.
Thomas: Was it six? It felt like so much longer didn't it?
Goodson: It was six or seven then.
Q: What is your routine when you get to the hotel?
Thomas: First unpack, just get everything out and about so I don't have to look for it. Take off my shoes. Just relax man. Make your room, your room.
Goodson: When we get in, I kind of do the same thing. Then I hit the guys up and go out. That's when we actually get to know each other a little bit better. That's important for team bonding so getting to know each other and further our relationships more than just football. I think that's important. That's what I try to do each away game.
Want more Giants LifeStyle? Click here