EAST RUTHERFORD, NJ - The Giants still have confidence, faith and determination on their side in the wake of four consecutive losses. Oddly enough, they also have history.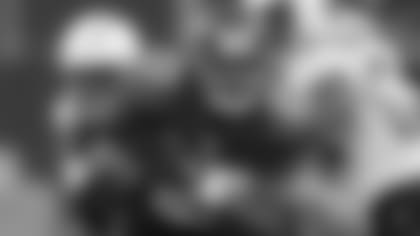 The last team to open a season with five consecutive victories followed by four straight defeats was the 1989 Los Angeles Rams. They lost just one more game to finish 11-5 and beat Philadelphia and the Giants on the road in the first two rounds of the playoffs before falling to eventual Super Bowl champion San Francisco in the NFC Championship Game.
The Giants believe they can engineer a similar turnaround and ultimately make this a successful and rewarding season. They came away with enough positives from their last-minute 21-20 loss yesterday to San Diego to believe the arrow is again pointing up. The coaches will self-scout and analyze what's happened and the players will work Wednesday, then get a four-day bye week break before beginning preparation for the Atlanta Falcons on Nov. 22.
"We did some good things," Coach Tom Coughlin said on a conference call today. "We all know the circumstances. We did have an opportunity to put the game away and we didn't get that done. And that will certainly be something which is difficult to deal with today and going forward. What I'm telling our team is that I did like the way in which we played. I think the energy was back. The enthusiasm was back. The physical play was back. We have a seven-game schedule in front of us and have an opportunity to do something about that."
The positives included owning the ball for a whopping 37:47, a defensive effort that limited the Chargers to 34 rushing yards and a splendid game by Eli Manning, who completed 76 percent of his passes (25 of 33) for 215 yards, two touchdowns and no interceptions.
But it all went for naught for several reasons, most notably the Giants' inability to kick a field goal on their first possession or score a touchdown when they had a first-and-goal at the four late in the game – either of which would have effectively clinched the game – and allowing the Chargers to drive 80 yards in the final two minutes. Philip Rivers' third touchdown pass of the game, an 18-yarder to Vincent Jackson with 21 seconds remaining, tagged the Giants with a dispiriting defeat.
That kind of loss can sap a team of its faith, particularly when it is preceded by three other defeats. But the Giants insist that is not an issue.
"I think confidence can vary day to day and can vary week to week," center Shaun O'Hara said. "Anytime you lose a football game your confidence takes a little bit of a hit. This team has a lot of faith, and I think faith will always outlast confidence. We have faith that we are a good offensive line. We have faith that we have good running backs and good receivers, and we have faith that we have good coaches. We have proven that we could be champions with this group. We have faith in our team and the way we go about things. We have faith in our preparation and we have faith in this organization. That, to me, is what's important, the fact that we believe in each other. We will get through this; we have gotten through tough times before. The only way you can prove your mettle is to go out there and remain faithful in each other and the process."
"We still have a lot of confidence," Manning said. "We felt that this past game we got back to playing our style of football. We didn't win the game and we are disappointed about that. It was frustrating, because we felt we ran the ball on offense, we threw the ball successfully, we moved the ball, we controlled the time of possession. We did good things.
"Defensively, they played well and had stops. The only time they really scored besides the last drive was when they had great field position. We got back to playing our style of football and it is something that we can definitely build on and give us some confidence going into the second half of the season. We've learned the past few years that it is really most important to be playing your best at the end of the season. We have gotten ourselves in some sort of a bind - not a bind, but we are not in the exact position we want to be at 5-4, but it's not an awful position. We still have a lot of divisional games to play and those will be tough, but we have a chance. In this league, you talk about giving yourself a chance to win games in the fourth quarter. We have done that. This past week, obviously, we didn't come out victorious. But when it comes to getting in the playoffs and those things, you have to give yourself a shot. We are still in good contention, we've just got to have a great second half of the season."
That presents a huge challenge. The next four teams on the schedule are Atlanta, Denver, Dallas and Philadelphia, which have a combined record of 22-9 (.710). That percentage could grow higher with the Broncos playing tonight and all four teams in action next week. And the Giants have to travel to Colorado to face the Broncos on Thanksgiving night, their longest trip of the season on the shortest week.
"We definitely have our work cut out for us," O'Hara said. "This game is constantly changing. You can never assume anything, you can never guarantee anything. We are going to come back after this bye week and focus on winning one game. That's the way we would prepare and be our mentality if we were sitting here at 9-0. We are going to have the same mentality sitting here at 5-4, and we still have a lot to play for. Having a winning record at the halfway point of the season gives you a chance, and that's all this team really needs."
The last three games on the schedule include a Monday night meeting with the Redskins in Washington, a home game against improving Carolina and the second consecutive season-ending game in Minnesota, where the Vikings are 7-1.
It is a daunting slate. But the feeling in the locker room is that it's all about the Giants. If they continue to improve as they did yesterday and play close to their capability, the schedule – and the victories - will take care of themselves.
"Nobody has their head down," linebacker Antonio Pierce said. "Obviously, we don't feel as though we are playing the best ball, but no one is losing confidence as far as their ability to go out there and make plays. When you are on a four-game losing streak, as we are, you just have to win a game. Even when we were winning and making mistakes you still feel better and your confidence stays good. You can't really walk around smiling like everything is good - we are on a four-game losing streak. I think our guys know what we've got. After this bye week we have a seven-game stretch where we have to win a lot of those games to put ourselves in the position to get into the playoffs."
"I think we still have the utmost confidence in ourselves," defensive end Osi Umenyiora said. "Obviously, that was a game that we lost but we should have won. I don't think that did anything to dampen our confidence, we just have to find a way to win those games. We still think we are one of the best teams in the NFL. We just have to have to go out there and prove it from here on out."
*Coughlin was asked early in his conference call whether he had any observations after watching the game tape.
"Yeah, we should have won," Coughlin said.
Coughlin shared some of what he told the players today.
"I'm not exonerating anyone of anything, including me," Coughlin said. "I'm saying that I'm at fault and I should have been able to find a way for us to win. And that is just the way I feel about it. No one is going to feel any worse than I do. And as I go through it, I'm not looking to blame anyone. I'm trying to make corrections so that we don't have to see that again."
*Coughlin was asked about the game-winning touchdown pass to Jackson, who was covered by Corey Webster.
"It was a man-under two-deep call and they ran a – they had done the same thing earlier in the game and we just didn't do a good job of covering them," Coughlin said. "They ran the number two receiver straight up the field, which kind of held the safety in check over the top of two defenders and they broke the angle off pretty sharply where the safety probably couldn't have been a big factor anyway. It was a very good play on their part."
*Terrell Thomas' interception gave the Giants a first-and-goal at the four-yard line with 3:14 remaining. Brandon Jacobs ran the ball to the one, but a holding penalty called on Chris Snee moved the ball back to the 14. After a pass to Hakeem Nicks failed to gain a yard, the Giants ran Jacobs twice and returned to the four. But instead of scoring the touchdown that would have given them a 10-point lead, the Giants settled for a field goal and a six-point advantage, which gave the Chargers a chance to come back and win.
"You have a sense at that point in time if the game is there to be won and a touchdown would have done that," Coughlin said. "I just think that when you talk about the ball going into the end zone - I don't know that a ball would go in there, but if it was to be a throw, it would probably be underneath. And then the run after the catch part of it. The first play was a go-screen, which had been a momentum changing play for us earlier, if you remember, to Hakeem, where he gained 28 yards. And so the first play was that play.  It wasn't a pressure defense or anything of that nature. They did get a couple of guys up – it was little or no gain.  But there isn't any question that scoring a touchdown there would have made a huge difference."
*The Giants are 28th in the NFL scoring touchdowns from inside the 20-yard line (15 of 36, 41.7 percent on the second-highest number of opportunities in the league) and last in the corresponding defense (22 of 29, 75.9 percent). So it's no secret what the Giants will work on during the bye week.
"You talked about red zone – yes, that is going to be the number one focus for the defense," Coughlin said. "And the number one focus is the green zone for the offense.  Matter of fact, we will have an opportunity to look at that self scout. The coaches are looking at that right now and we will be able to look with the team at that."
*Michael Boley played the entire game at weakside linebacker after missing four games following arthroscopic knee surgery, and defensive lineman Chris Canty returned after sitting out seven games with a calf injury.
"I thought they were rusty," Coughlin said. "I'm glad to get them in there. They came out of the game fine. It is a plus to have them on the field and available for game day. They are both outstanding players. They will help us going forward. We just have to get more reps for them so that they can get back in the kind of form they want to be in."
*Linebacker Gerris Wilkinson, the Giants' leading special teams tackler, underwent surgery this morning to repair a dislocated right wrist. Normal recovery time for the surgery is six to eight weeks. The operation was performed by Dr. Robert Hotchkiss at the Hospital for Special Surgery in Manhattan.
Wilkinson, a fourth-year pro, has a team-high 12 special teams tackles (seven solo), including one yesterday.
If you'd like to submit a question or comment to Michael, click here.