EAST RUTHERFORD, NJ - Offensive linemen prefer to toil in anonymity, but the Giants' blockers have been in the news the last two days.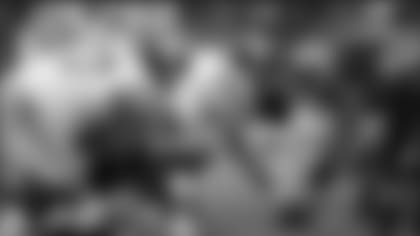 Shaun O'Hara's foot injury prompted the Giants to reshuffle 60 percent of their line for their game yesterday in Seattle. The new group – which included Rich Seubert at center, David Diehl at left guard and Shawn Andrews at left tackle – distinguished itself in the Giants' 41-7 rout of the Seahawks. The Giants gained 487 yards and scored touchdowns on five consecutive possessions in the first half.
Today, the news on the line was both uncertain and unpleasant. On a conference call, Coach Tom Coughlin did not have an update on O'Hara, the two-time Pro Bowl center who has missed four games this season with injuries. Nor did he have a prognosis for Diehl, who injured his hip blocking on an extra point in the second quarter. The extent of the injury and Diehl's availability for the home game Sunday against the Dallas Cowboys – and new head coach Jason Garrett – is unknown.
The Diehl saga is newsworthy not only because he's a versatile starting lineman, but because he has never missed a game in his eight-year career, playing in all 128 regular season games and seven postseason games.
"At first, I thought it was an ankle or a knee - he got kind of bowled over backwards," Coughlin said of Diehl. "It's in the isolated areas up in the hip area. Exactly what it is, I'm not sure. We're waiting to find out."
The announcement Coughlin did make was unpleasant. Adam Koets, a versatile fourth-year pro who started three games for O'Hara earlier this year and filled in at two positions yesterday (center and as an extra lineman/tight end) tore his anterior cruciate ligament and will miss the rest of the season. His place on the roster is expected to be taken by Kevin Boothe, who has been on the physically unable to perform list the entire season.
"We are disappointed in the loss of Adam Koets, who hurt his ACL," Coughlin said. "Adam was running out to the right sideline right in front of our bench and all of the sudden went down. Apparently it caught his shoe, his cleat, and he just twisted the wrong way. When we got to him, the doctors were just in the process of evaluating him but he told me he felt good and I didn't think it was anything. Naturally, with all the different types of MRIs, etc., the ACL was shown to be an issue."
The Giants' line will soldier on, perhaps with the new combination that acquitted itself well in Seattle. Eli Manning was never sacked and no lineman was flagged for a false start penalty, which is an impressive achievement in a noise factory like Qwest Field. The Giants rushed for 197 yards and owned the ball for 42:34, including 13 minutes on one drive in the fourth quarter.
"We had guys play different spots, and the thing that we can do is move around," Seubert said. "We all know what we're doing at different positions, so that makes us versatile. Whatever the coaches want us to do, we're going to go in and do it, and we're going to give it all we've got."
"I thought that the group played well together," Coughlin said. "Certainly these things are pretty much week-to-week depending on who is available and who isn't, but I certainly did like the way in which our group yesterday played."
Seubert made his second regular season start at center and first since Dec. 17, 2006. Diehl started at guard for the first time since Dec. 24, 2006. He moved to left tackle the following week had stayed there until yesterday. Coughlin said both Boothe and Chris Snee can play center if necessary.
Perhaps the biggest revelation was Andrews. He made his first start for the Giants, first ever at left tackle and first in the NFL since Sept. 15, 2008, when he played for Philadelphia at Dallas. He suffered a back injury that night that forced him to miss the rest of the 2008 season and all of 2009. The Giants signed him on Aug. 20 of this year.
The players were informed last week that the line would have a different look for the Seahawks (except on the right side, where Snee remained at guard and Kareem McKenzie played tackle.
"I can't lie, I don't think I've ever been as jittery," Andrews said. "The whole week I was. (Saturday) night I slept about four hours and the rest of the five hours was just tossing and turning and thinking about plays in my mind, going over it and over it. I never played here (in Seattle) and everybody's talking about the 12th man and the crowd's going to be so loud. And then watching film on (Seahawks defensive end) Chris Clemons – I've seen him play, but I've never seen Chris get off the ball the way he does this year. And he's been playing some good football. I took that into account with what I had to do and there was so much offense. It's a lot to know. I guess it's part of the reason I didn't sleep well (Saturday) night and really, this week.
"For the most part it paid off. I didn't play a perfect game, but I take pride in not letting the quarterback get hit. There are some things to work on. But, overall, we played great. We executed. We made it happen."
Coughlin, never one to offer praise without justification, was impressed with Andrews, who had never played left tackle in a game at any level before yesterday (he was a right tackle in college at Arkansas and a two-time Pro Bowl right guard with the Eagles).
"Shawn played well at left tackle," Coughlin said. "He did a good job and was energetic and enthusiastic about playing and for a guy that has played 17, 18, 19 snaps, he played 79 yesterday and responded very well."
Andrews was emotional after the Seattle game. His brother, Stacy, is the Seahawks' starting right guard. More than that, he had been accused in Philadelphia of losing his enthusiasm and desire to play football. He insists that wasn't true, that the real issue was the back injury that required two surgeries and extensive rehabilitation.
"We (he and Stacy) talked after the game," Andrews said. "Seeing my brother here and he's happy and him being happy for me and proud of me and that bond that we have and have had over the last eight or nine years, it almost brought me to tears, the whole atmosphere and the whole setup. I'm so grateful."
Andrews had played in every game on special teams and as an extra lineman or tight end and as a blocker on placekicks (he even started two games). But to start at left tackle and help the Giants earn their fifth consecutive victory was a huge step in his comeback.
"I had a blast, man," Andrews said. "I just think back to overcoming adversity and being out of the game for as long as I was and everybody kind of writing Shawn Andrews off and questioning my passion for the sport. It really meant a lot. And playing against my brother's team – it couldn't have happened better. I was almost in tears after the game. It's been a long road"
Andrews didn't expect that road to lead him to left tackle. But he is a talented, athletic player who can line up at several positions and the coaches thought enough of him to have him protect Manning's blind side.
"I did (feel at home at left tackle)," Andrews said. "I really did. It's been a while. It really felt good. I was a little concerned about the four hours of sleep. But I said, 'It's here now. This is what I worked for. This is what I put in the work and time for at Select Physical Therapy out in Culver City, California.' And everybody writing me off.
"I had some flashes out there. I didn't play a perfect game, but I don't think anybody plays a perfect game. I still have some things to work on. I guess we all do. But keeping the guys off the quarterback…we have some improvement to do. We're just going to enjoy this week and prepare for next week. We have a big one coming up."
Will Andrews still be at left tackle when the Cowboys come to town?
"I have no idea," he said. "They haven't told me anything. They brought me in here to play football. When I sat down with Coach Coughlin at training camp I said, 'Whatever you need from me, Coach.' I try to do it to the best of my ability and get it done.
"I hope this ride lasts forever. I don't know when it's going to end. I'm not wearing a watch. I'm just enjoying it. I'm proud and grateful to be a G-man."
*The Giants beat the Cowboys in Dallas two weeks ago, but when they host them on Sunday the visitors will have a new coach on the sideline. Wade Phillips was fired today and replaced by offensive coordinator Jason Garrett, who was Kerry Collins' backup quarterback with the Giants from 2000-03. Dallas lost its fifth consecutive game last night in Green Bay, 45-7, and is 1-7.
"I feel very badly for Wade, to be honest with you," Coughlin said. "It's a highly competitive business that we're in, and we want to win and we want to win every game. That's the nature of our profession. No one wants to see a coach dismissed or have his family go through what they're going through, so from a professional standpoint and someone that's one of the 32, we extend our best to Wade and his family.
"Our preparation, which begins this afternoon, this will be taken consideration, but as far as us looking at the tape and studying again the Dallas team and knowing it's a divisional game, they should know very well the talent level of their team. We'll be focused on this as a divisional game at home."
*This will be the first time the Giants will face a head coach making his NFL debut in the middle of a season since Nov. 21, 1994, when Houston's (now Tennessee's) Jeff Fisher took over the Oilers prior to a Monday night game against the Giants in the Astrodome. The Giants won, 13-10.
The last head coach to debut against the Giants was Washington's Jim Zorn on Sept. 4, 2008. The Giants, then defending Super Bowl champions, won 16-7.
*Wide receiver Hakeem Nicks has an ankle sprain, but Coughlin said it doesn't appear to be serious.
*Coughlin liked the work Will Blackmon did in his first game as the Giants' punt and kickoff returner. He averaged 9.7 yards on three punt returns with a long of 22 and brought back his only kickoff return 17 yards.
"He had the one really good punt return," Coughlin said. "He showed courage in coming up and not letting the ball bounce, utilizing the fair catch sometimes and other times not and the one opportunity that he had on kickoff return, we again didn't do a very good job of giving him a place to go and that continues to be a little concern for me, but I thought Will did a really good job for a guy coming right off the street, just made healthy. He showed the competitive aspect of him as an individual and really the courage to step right in there when his team needed him as the returner."