EAST RUTHERFORD, NJ - The Giants might have looked like they needed a major reconstruction after their loss to the Dallas Cowboys yesterday, but the players said today that some touch up work should be enough to get them back on the right track.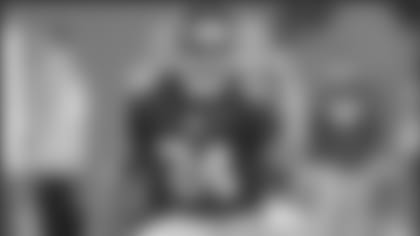 Assuming, of course, they have enough people to handle the job.
The players and coaches today poured over the tape of the 33-20 loss to Dallas that ended their five-game winning streak. And while they were unhappy about the penalties, turnovers and numerous big plays allowed, the Giants said the game was an aberration that will not derail them from pursuing their goals.
"It's very simple to explain," defensive tackle Chris Canty said. "They came out with a higher intensity level, greater focus, and we made mistakes. We had some lapses. They took advantage of our mistakes, and we didn't take advantage of opportunities they presented and as a result, they won the ball game."
"I was more frustrated yesterday," quarterback Eli Manning said. "You see the film and you see a lot of missed opportunities. You can look at it both ways. You're doing a lot of good things, and if we don't hurt ourselves – you can't jump offside on the two-yard line. Because of that, we get an interception and they go 101 yards. That's a 14-point swing. There are a few other things down in the red zone, just not productive early in the game.
"It's hard to come back from some of those plays. We fought back, hung in there, kept competing and going down, and hoping in the second half being down twenty points that we'd score and get back things. It's kind of tight going back down 20 but we kept fighting, and we had some chances. That holding call (on Kevin Boothe, which nullified a fourth-quarter touchdown), if that doesn't get called, then we're down by six with seven minutes left in the game. We kind of feel like we're going to win this game, but a couple bad plays here and there hurt us."
Tom Coughlin was as stoic and determined as ever in assessing the damage and looking forward to the next challenge, which will be Sunday night against the Eagles in Philadelphia with the NFC East lead on the line.
"We do have things to straighten around, but that's nothing different than following up any loss, to be honest with you," Coughlin said. "If you're asking from a standpoint of making sure what our personnel situations are, yeah, there's a little bit up in the air about that. As I told the players, (on) Wednesday, we'll be right back at it."
Unfortunately for the Giants, more than just their pride and won-lost record were wounded. Wide receiver Ramses Barden, given his first real chance to contribute in his two years with the team, fractured his ankle and suffered "significant" ligament damage, according to Coughlin. He said it is "unlikely right now" that Barden will return this season. Before he was hurt, Barden caught a career-high three passes for 32 yards, including a 26-yarder on third-and-nine.
Steve Smith is already sidelined with a partially torn pectoral muscle, so the Giants are down to three healthy wide receivers in Hakeem Nicks, Mario Manningham and rookie free agent Duke Calhoun.
"We need those three to stay healthy," Manning said. "Hakeem is playing great, Mario played well in the game. He's got some explosiveness and some playing experience, but we're moving him around. Obviously, Duke Calhoun is talented and he's a guy who we have been giving him playing time these last couple of weeks because he's earned that job and that privilege to get in there. A lot of it has been on running plays, so he's a rookie getting his feet wet a little bit. He can run routes, he's fast, he's got good hands, and he's going to be thrown to the wolves a little bit. He's got to step up and he has to play well for us."
Coughlin said it was "extremely" disappointing to lose Barden, and not simply because it further depletes the wide receiver corps.
"Let's think of the player first, okay?" Coughlin said. "He had gained some confidence, he was making a strong contribution, as far as I could tell yesterday, he did a pretty good job on kickoff return, blocking from that front, the spot he manned. What Ramses needed to do was play, get out there and play, get the ball down in the green zone, throw it up high – just like the one he didn't come down with – but put him in that situation, put him out there against really outstanding competition, let him compete, let him perform, let him play. That's exactly what was going to happen and it's unfortunate that he will not be able to continue."
The Giants will now turn to Calhoun, who was not among the 255 players selected in this year's NFL Draft, but who impressed enough as a free agent to make the roster. He was inactive for the first three games before seeing his first action on special teams. Calhoun doesn't have a catch this season, but he played receiver yesterday and might become a target for Manning's passes.
"He has to be," Coughlin said. "We've brought him along little by little every week and we used him in the four-wide package thinking that was going to be the extent of it yesterday. Little did anybody know he would be the third wide before long. He has great energy, he has great stamina. If you remember back to preseason, he had at least one outstanding game. I think you saw late in the game when he came down and made that real nice crack block on the safety on the third or fourth run before the end of the game. He's physical, he's tough, he's got the experience factor working against him, he's got an awful lot to learn and he's got to learn fast."
Coughlin is counting on the same for the rest of the players – to learn from their mistakes so they are not repeated Sunday night in Lincoln Financial Field. The Giants, after all, are still 6-3, they remain atop the division (they will share the lead if Philadelphia wins in Washington tonight) and they are one game behind Atlanta for the best record in the NFC.
A lot of football is left to be played and the Giants have a great deal to play for. But to a man, they know they must cut down on the turnovers that have plagued them all season, the penalties that ruin scoring opportunities and the defensive lapses that contribute to their opponents' success.
"We've got to re-establish who we are, sink our feet into the sand a little bit and come out swinging," said the ever-determined Coughlin. "We've got a lot of issues that have to be straightened out. Just stop and think about 480 yards, taking the 50 yards on the Nicks throw, and (we score) 20 points? It doesn't add up. I think that you have to understand, a big part of our thoughts were to turn the ball over and score by virtue of that. The previous two (Dallas) ballgames, 42 points had come off of turnovers for the opposition and that didn't happen either. Obviously, we never got the quarterback out of a rhythm like we planned on doing. They did a good job on some of their formations, they blocked it up pretty good and got the ball thrown down field and kept the risk of the inside stuff, a lot of inside balls – they didn't throw them. They did a good job with it.
"But we've got to re-establish who we are. We've got to clean up these penalties, the missed assignments – all of that stuff has got to get cleaned up. Regardless of how we figure the chemistry of the groups on either side of the ball or with special teams, that's all got to get cleaned up and cleaned up fast."
After reviewing what went wrong, the players are convinced they will get it done.
"As football players, you never want to lose your confidence," Manning said. "That's something that's always very important. Sometimes you can say that and you can say, 'Hey, they caught the breaks and they beat us,' so you don't lose your confidence, but there is also a point of making corrections. They made some plays and Dallas did some good things, but we made too many bad pass plays with penalties, mental mistakes, and those will lose football games. So, we have to eliminate those, make corrections, be hard on ourselves, and fix those things."
"What we saw on film is very correctable," defensive end Justin Tuck said. "So we've just got to come back and have a great week of practice this week. I think that's going to be easy to do, because we know the quality of the opponent that we have in Philadelphia. And we've got to go down there for a Sunday night game, and it's another in-division game and there's going to be a lot riding on this football game. So I think our job is just to put this behind us and kind of start anew."
*Coughlin after reviewing the tape of the holding call on Kevin Boothe, which the lineman insisted after the game should not have been called: "I didn't see one."
*The coach did not have any good news to report on the injury front. Asked about Smith, who missed the Dallas game after partially tearing his pectoral muscle in practice on Thursday, Coughlin said, "(nothing) significant to report."
Two more Pro Bowlers, offensive linemen Shaun O'Hara (foot) and David Diehl (hamstring/hip) also sat out yesterday. Asked if there was any word on either player, Coughlin said, "Not the word we want to hear. Both guys are feeling better, but how that figures into our plans for this week, I'm not sure."