EAST RUTHERFORD, NJ - Eli Manning is the Giants' quarterback, offensive captain and highly-respected team leader, but his solo addresses to the entire team are as rare as dinosaur sightings. But a Triceratops just might walk through your neighborhood tomorrow, because this morning, Manning spoke to the Giants in the wake of their dispiriting 38-31 loss to the Philadelphia Eagles yesterday.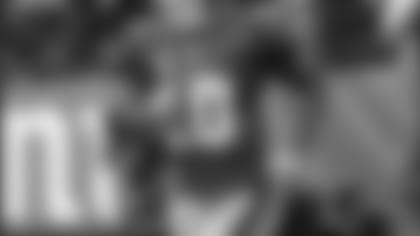 Manning's message was to be tough, stick together, stay positive and to focus on the fact that the Giants still control their postseason destiny. Now 9-5, the Giants can clinch their fifth playoff berth in six seasons if they win Sunday in Green Bay against the 8-6 Packers.
"I just wanted to have a little team meeting," Manning said. "I didn't know if anybody else was going to talk, but I wanted to say a few words. I went up to coach (Tom Coughlin) and asked if I could beat (him) to the punch a little bit and address the team before (he) came in."
Coughlin enthusiastically endorsed the idea.
"We don't have many of those kinds of sessions," Coughlin said. "I wasn't surprised at all that he asked if it was okay if he did it. Not at all. I was pleased that he would do that and from what I understand he did the majority, if not all, of the talking. It wasn't very long. It was very concise from what I understand and was very positive. It was about how we all win, we all lose, we're in it together, we've got an awful lot at stake, there are many, many teams in this league that would like to be in the position that we're in and we've got to have a great week."
Manning described his message as, "just team stuff. Just talking about the situation we're in and now is the time not to get down and get in a panic. There were a lot of things about our current situation, and we just have to keep excelling and getting better."
Based on the overwhelmingly positive reviews, Manning might want to think about addressing the team on a regular basis.
"Eli doesn't get emotional," center Shaun O'Hara said. "He's very straightforward, and you know what, it was a good opportunity for all of us to get on the same page, but I thought it was a great stand up opportunity for him to really take this team to the next level.
"Eli, he's been great for this team, and I think everybody appreciates his leadership on the field and the way that he plays. But today he was probably as vocal as he's ever been, and I think everybody appreciated what he did and I think we're looking forward to responding."
"He got a couple cheers from the entire group, just because it was kind of out of his character," said Justin Tuck, the defensive end and captain. "But you could just tell how much it meant to him. Just the look on his face told you how much he was kind of hurt by this game and how much he wants to come back and win this on Sunday."
Tuck said it was the first time Manning has stood before the team as a solo act.
"He and I have done it together once, but he called this all on his own," Tuck said. "And that's the first time I've seen it from him. He actually got some hand claps because it's so out of character for him. He wasn't loud and rah rah-ing, but you could just tell by the look on his face that he was definitely into what he was doing. He was definitely serious and everything he was saying was coming from the heart and very meaningful to him."
"It's big," cornerback Terrell Thomas said of Manning's address. "Honestly, what he said everybody was feeling, but it was great that it was said. We control our own destiny. We've got to prepare this week, and that's the biggest thing – get the sour taste out of your mouth. Get ready, prepare. Don't change it up. Don't go in a slump. Come in tomorrow, watch your film, get back to your regular program, come in Wednesday with a great attitude, prepare, have a great week of practice, and it's going to be a tough game."
Can it possibly be tougher than the Eagles game? The Giants led, 31-10, midway through the fourth quarter before surrendering 28 consecutive points that left them with a shocking defeat. DeSean Jackson scored the deciding points on a 65-yard punt return as time expired, the first last-play, game-winning punt return in NFL history.
Many of the post-mortems have focused on rookie punter Matt Dodge, who kicked the ball to Jackson and not out of bounds as ordered. Television cameras caught Coughlin delivering an animated lecture to Dodge immediately after the play. But the coach and players were strong today in their support of Dodge, who, to his credit, again stood at his locker and fielded questions from the media.
"You've got to move on," Coughlin said. "That's over. You can't do anything about it. I said that you've got to figure out how to do the things that I ask you to do and he is no more to blame than me or anybody else.
"He's a young guy and he's forced to do this under fire and all of the things that can happen in the course of a 16-game schedule and a rookie – any rookie, but in this case a rookie punter – it's not easy, but he's going to have to learn from it."
The players said it was unfair to blame Dodge for the defeat.
"I'll say time and time again, it should have never come down to Matt having to kick the ball out of bounds," safety Antrel Rolle said. "He's a young guy, he's a rookie with a ton of pressure on him. Matt knows we hold him accountable, and he's done a good job for us. Also, there are times when he's done a bad job, as well as everyone else who has been on this team. That blame is not going to go on him, and I'll do my best to make sure that it doesn't go on him. I've said it before that the blame goes on the defense. Our offense put up 31 points and we didn't hold them as a defense. That's the bottom line. Coach Coughlin can sit here and say that he put the blame on himself but I don't buy that. We're all men out there on the field and we'll take responsibility for ourselves because Coach Coughlin does not play the game for us."
"I have all the faith in Dodge," Thomas said. "Everybody wants to point the finger at him. I guess that's the scapegoat, but it's not his fault. It should have never been that situation. Defense should have shut them down right there, offense runs the clock out. Or the offense should have scored or run the clock out, kick a field goal, we win. Regardless of if it was a muffed kick, he kicked it 60 yards, he kicked it out of bounds, there are 10 other guys out there that should have made that tackle. So it's not just his fault. He had an outstanding game yesterday, and he's still a rookie. But we love him. He's very talented. He's our teammate. We'll protect him. But it's not his fault at all."
Dodge has had an uneven rookie year. Early in the season, he twice the dropped the ball on his approach to punt. He has boomed some long punts as his 45.3-yard gross average (eighth in the NFL) indicates. But Dodge's net average of 34.6 yards is 29th. Despite that, the youngster does not lack for confidence.
"It's good," he said. "I'm still here, obviously. I came in and my locker was still here. So that was good. I'm a confident guy, regardless. Football doesn't define me. I know it's my job and everything, and I didn't get it done. But I still walked out with my head high. I had family here, loving on me, and I actually had my pastor from back home here last night. So it was good. I had a lot of support."
Dodge is no different from the other Giants players and coaches. Everyone has to rise above their disappointment and set their sights on Green Bay and the playoff prize that will be theirs if they win.
The Giants were just a few minutes away from taking the lead in the NFC East and getting the inside track on a first-round bye. Now they are in the wild card scramble and now must regroup quickly against a Packers team that is just as desperate as they are.
"They lost (in New England), disappointed just like us, and their playoff hopes are on the line, too," Thomas said. "So I can't wait to play Sunday. They're a great team. It's going to be cold. It's going to be fun. It's going to be physical, and it's another chance for us to get ourselves into these playoffs."
"You just get back to work," Manning said. "I think you just man up for mistakes and you take responsibility. You put it behind you and look forward to the situation and say 'Hey, we have another big game' and that's fun. This is fun, this is good times. You try to look at the positives from yesterday. For 52 minutes, both sides of the ball played great football. We did a lot of good things and we let it slip away, but hey, we're still a good team, we have good players, and we have to make sure we keep that mindset in our preparation and everything going on to make sure we stay at our best.
"We're still in a good position. We're in a position a lot of other people would like to be in. Whether we won last week or not, we're still going to have to go out and win again in Green Bay and that's still our goal. We have to have a great week of preparation and focus and make sure we continue to do things well and find a way to get a win against a good team."
One of the game's biggest plays was the Eagles' successful onside kick after they had closed the gap to 31-17 on Michael Vick's 65-yard touchdown pass to Brent Celek. The Giants did not have their hands team – receivers and defensive backs – on the field because Coughlin wanted to set up a return.
"That it's my decision whether or not we put the hands team out there," Coughlin said. "You can go either way on the strategy of it with seven and a half minutes and all three timeouts, but I do know this team very well and the guy (kicker David Akers) is an excellent onsides placement kicker. He kicked the ball perfectly – 11 yards exactly. We decided not to put the hands team out there, but rather to make our people aware of it. We were aware of it, we didn't react very well and had we reacted well with the way in which we were aligned, we still may not have been able to do anything about it. The ball was kicked that well.
"That's my call and if there was anything – hindsight is 20/20 … but the situation that I would say, rather than strategy, would have just been momentum, just to stop the momentum. I think that after a team scores in two plays, goes 65 yards, we miss a tackle, the guy runs into the end zone, it's still 31-17 so there is plenty of work that has to be done and we're chipping away at the time, not as fast as you would like to, but the sense of the momentum of the play and draining some of that versus our decision to have some decent field position to work with offensively to try to do something about it."
Chase Blackburn, one of the players on the return team, said the Eagles used a little deception by having one of their players leave the field just prior to the kick.
"The 11th guy and they ran him off the field and then everyone was kind of recounting," Blackburn said, "and we were all looking at the sidelines and you just forget about the (onside kick) alert. I think that's kind of what happened."
"We're alert for an onside kick. We weren't going to put our hands team out there to sacrifice the field position because it was still (7½) minutes (remaining) in the game. We still wanted to get field position out of it, out of our kickoff return. So we didn't want to put our hands team out there and do all that. In hindsight, I wish we would have cheated up the front line. I should have done that. I shouldn't have allowed them – you try to game plan just like when it's fourth-and-five or less on a punt, you're talking, you're trying to talk them out of a fake or trying to get them to jump. So I mean, that should have been something that I should have told them. I've been in the situation before. I should have told them to scoot up right to the 40-yard-line, try to discourage it right away so they wouldn't have even thought that they could get it."
Coughlin said the 10-man alignment, "should not have been any kind of distraction, but it looked like they were looking. It was well disguised."
*Coughlin on the loss: "I'd say it's the worst one that I want to remember."
Asked what he did last night, Coughlin said, "I sat in a room with the lights out for about two and a half hours. It's not funny. It's not the way it's supposed to be."
*Defensive end/special teams standout Dave Tollefson suffered an MCL sprained. Coughlin did not offer a prognosis.