EAST RUTHERFORD, NJ - One week after losing a game they wanted to throw out, the Giants last night won a game that was a throwback.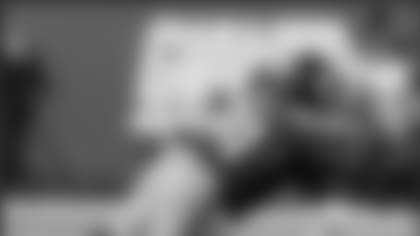 The results were vastly different, but the aftermath must be the same. The Giants have to put the last game behind them and focus on a difficult upcoming opponent.
They succeeded last week, setting aside the negativity brought on by their loss to Tennessee and rebounding with a dominating performance against the Chicago Bears in a 17-3 victory. The Giants, roundly criticized for their mistake-ridden, ineffective effort in a 19-point loss to the Titans, improved in all three phases. The catalyst was a superb defensive effort that held the Bears to 110 yards, six first downs, no third down conversions and 10 sacks. On offense, the running game churned out 189 yards and both touchdowns. And though the special teams missed a field goal, the coverage teams made the Bears' dangerous returners all but invisible.
Stout defense, strong rushing attack, solid special teams – that's been the formula for many Giants success over the years. After the Tennessee loss, the Giants went back to basics to return to the win column.
"I think that we're finally getting back to some semblance of what we know is Giant football," tackle Kareem McKenzie said. "We've still got a ways to go. It's obviously only game four of the season and it was a good overall effort for the team as a whole, and still we can improve. There's some relief to (the victory), but obviously it's only the beginning. It's something to where we have to go ahead and get back to work. We have to go after it again."
"You've got to stay focused," linebacker Jonathan Goff said. "You've got to come out every week. You've got to keep a level head about it."
The Giants will return to action Sunday in Houston, where the Giants will visit a Texans team that is 3-1 and coming off a 31-24 victory at Oakland.
"I think going down to Houston next week we are going to be kind of riding high on confidence," defensive end Justin Tuck said. "But we can't just think that we're going to show up and we're going to recreate what we had last night. It still has to be a great week of practice. There still has to be great focus in the meeting rooms, and the sense of togetherness has to continue to grow because the Houston Texans are a great football team. They have an outstanding running attack with an outstanding wide receiver and an outstanding quarterback. So they're going to be at home and their crowd is going to be into it and their defense is playing well too. So we've got a huge challenge before us, and we're going to have to play better than we did last night to come out with a win down there."
It will difficult to duplicate last night's 10 sacks (nine in the first half). But the Giants will look to harass Matt Schaub as they did Jay Cutler, who was taken down on each of the nine first-half sacks and suffered a concussion that left him unable to play in the second half. His backup, Todd Collins, was knocked out the game on a hit by Michael Boley late in the fourth quarter.
"Sometimes things work out your way," said Tuck, who, like fellow defensive end Osi Umenyiora, led the charge with three sacks. "But I was telling guys, you just continue to be consistent. I've had games where we were unblockable and probably didn't have two or three sacks in the game. Then you have games like last night where everything is working together - our secondary, our linebackers, our D-Line. Everything was working together. I think that's why we were able to have that much success."
All four starting defensive linemen participated in the sack-fest. In addition to the three apiece for Tuck and Umenyiora, Barry Cofield had 1.5 and Chris Canty one. Cornerback Aaron Ross had one and Goff chipped in with a half.
The Giants weren't doing anything elaborate to make Cutler's night miserable.
"A lot of our rushes were four-man rushes,' Tuck said. "I think the secondary did a good job of re-routing receivers and giving us that extra second that we needed. So many times as a defensive end, you get so close to the quarterback and then he throws the ball away. Last night, they just didn't have anywhere to throw the ball. Our rush hit a pay day last night."
So did the rushing attack. But unlike the pass rush, which was at its lethal best in the first half, the ground game didn't get going until the second half, when the Giants rushed for 142 of their 189 yards. But that's a positive sign to the Giants, because it indicates they stuck with the run and wore down their opponent as the game progressed – again, as so many Giants teams have done in the past. And they did it against a Chicago run defense that was ranked first in the NFL, allowing only 39.7 yards a game and 2.1 yards per carry entering the game.
"A lot of times you just keep working at it, working at it, working at it – and eventually you establish something," Coach Tom Coughlin said. "So, I think that kind of was the way the offensive run game went.
"Toward the end of the game, we caught them a couple of times in some charges and some blitzes, which we blocked very well and the holes were better. Breakout runs were like that. There was some contact, but the runners have got to run through arms in those cases and they did. But, just like in all situations, there are a lot of runs that are real hazy, real cloudy – the other colored shirts are all over the place, but you've just got to keep fighting and battling and sometimes you would get a block from the receiver corps, which would help get us an extra yard or two, but it's tough yardage. It's not easy yardage."
"You continue to pound on the team even though it's always a challenge when people are saying that they're the number one rush defense in the league," tackle David Diehl said. "I think all of us took that as a personal challenge and I think that's what you do as an athlete and a competitor. Someone saying that these are the number one guys, you raise your level of play. You raise your expectations. I think it's just the way we prepared and the way we approached this week is that doing some of the good things last week and hurting ourselves and doing things that break the consistency of the game, with too many ups and downs. We need to do it all the way, all together. If something does happen, regroup, learn from it, and don't let it affect the way you're playing. I think that's what you saw yesterday. You didn't see the ups and downs, you saw something bad happen and then we adjusted from it and moved forward. I think that happened in the first half and especially at halftime, we all said that in the second half, we're going to go pound it and do whatever it takes to control this team and this game, especially the way the defense was playing. We were able to play that grind football and be able to pound the rock."
They pounded the Chicago quarterbacks. They pounded the Bears defense with their run game. They pounded their way to a 2-2 record and will fly to Texas with renewed confidence and optimism.
"I really liked our approach to the game," Coughlin said. "I thought our guys had fun playing the game. I thought that in all cases we got better as the game went along. I thought that the sideline was good. The defensive guys were cheering for the offense and vice versa and everyone was helping the special teams, the young punter (Matt Dodge), cheering when (Gerris) Wilkinson made the big hit – half of them were on the field – they were excited for people and they enjoyed watching each other perform and perform well so those are good things and they've got to obviously continue."
*The Giants learned late Friday afternoon that Mathias Kiwanuka, who had four of the team's six sacks at the point, would miss the Chicago gave with a bulging cervical disc. That caused the Giants to alter some of their defensive plans.
"There were a couple of packages that were pretty unique to Kiwi," Coughlin said. "In some cases where we wanted to make sure that the package stayed alive, we reduced the inventory and just taught one or two things with another individual, (Clint) Sintim, for example, and we had to make sure that from a flexibility standpoint, we did have four available ends, but in the case of if it was going to be three, how were they going to align and Tuck may have had to go over to the other side…that's basically how the adjustments were made. Don't forget that was Friday at four o'clock."
Coughlin said Kiwanuka was being examined by the Giants doctors today and will get a second opinion tomorrow.
*Coughlin said Bradshaw has a sore ankle that will be examined tomorrow.
*Fullback Madison Hedgecock has a hamstring injury, the severity of which Coughlin declined to discuss. Since Hedgecock is the only fullback on the roster, the Giants could be looking for a replacement if he is sidelined for an extended time period. But Coughlin said the Giants have a potential replacement on the roster in tight end Bear Pascoe, who filled in at fullback last night.
"Bear Pascoe did an outstanding job for a guy that really didn't have many snaps last week," Coughlin said. "The thing I really like about the kid, he's such a hundred percenter, but he never panics. This is like the second game out of four where we've taken him and literally – you're going to be this guy on the field, and even a couple of times where we wanted play calls that involved a little bit more than your average fullback play and asked if he could understand it and knew what he had to do from that position. Yeah. So, I was encouraged by that. That's a long way around answering. I don't know yet what exactly we're going to do there."
Pascoe was signed off the practice squad after Kevin Boss suffered a concussion in the season opener. He impressed Coughlin during training camp when he was the only one of the five tight ends on the roster healthy enough to practice.
"It's just knowing your assignment and getting it done," Pascoe said.
That's no easy task, considering Pascoe takes no snaps at fullback with the starting offense in practice. Pascoe does get some work at the position with the scout team. But he played a pretty strong fullback when called upon.
"I knew what to do," Pascoe said. "I was studying fullback all week along with tight end. It's part of the game. Hey, when you're number's called, you just step in there. It's what we do."
*Center Shaun O'Hara, who missed the last two games with ankle and Achilles injuries, said he is making progress and hopes to do some work in practice on Wednesday, a timetable Coughlin wouldn't commit to.
"I was extremely frustrated," said O'Hara, who has been dealing with the injuries since early in training camp. "I've never really gone through something that could be called a 'condition' or something that was continuous. … It was really testing me on a daily basis, and I tried everything I could to relieve the pain and it wasn't going away. So I just decided that I would play with it and deal with it. I think after the Indy game (on Sept. 19) I think we realized that I couldn't do that. It wasn't going to be good for me. It wasn't going to be good for the team. So I'm just encouraged right now with where we're at and with the progress I've made even in the last five days. So I'm hoping that I can put it behind us."
"He seems to be more comfortable and not in quite as much pain and walking…right now walking without discomfort or without a lot of discomfort anyway but we'll see," Coughlin said. "I know he's saying he'd like to try to work Wednesday but we'll see."