EAST RUTHERFORD, NJ - Two weeks ago, the Giants appeared to be reeling after a 19-point loss to the Tennessee Titans left them with a 1-2 record.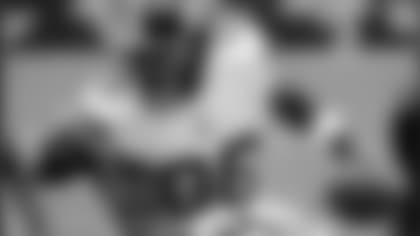 Since then, they've done a 180 degree turnaround with defeats of the Chicago Bears and Houston Texans by a combined score of 51-13. Their latest step forward was a 34-10 thrashing of the Texans yesterday in Houston. The Giants now look toward a home game Sunday against the Detroit Lions with renewed confidence that they are headed in the right direction.
Although they've received contributions from all three phases – Hakeem Nicks did catch 12 passes and score two touchdowns in Houston – the about-face has been led by a defense that is playing as well as any in the NFL. After a subpar outing last month in Indianapolis, where it surrendered 410 yards in a 38-14 loss to the Colts, the defense under new coordinator Perry Fewell has steadily improved. It is now ranked first in the NFL in yards allowed per game (244.6) and per play (4.1) and passing yards (146.0) and second in sacks (19).
Several defensive players today said the reasons behind the turnaround are simple.
"We are getting more comfortable in the scheme," tackle Chris Canty said. "Coach Fewell is understanding the personnel, and he's utilizing us and taking advantage of our strengths to try to minimize our weaknesses. I think guys are finally taking practice to the game on Sunday. A lot of the things that we're doing in practice - we're executing, but we weren't quite executing the way we should have been earlier in the season. Now I think you're starting to see us carry over some of that execution into game situations, which is important for any team. So you definitely have to attribute a lot of it to that."
"(We are) just going out there and executing your assignment, and most of all, just having fun," safety Antrel Rolle said. "When you have fun, everything else just seems to fall in. So we've just been out there and executing the game plan coach Fewell set out for us, and guys have been playing together. They've been playing very disciplined football."
Middle linebacker Jonathan Goff said, "I'd say it's us executing and also it's a great game plan. I mean everybody is on the same page. Everybody is playing fast. Everybody is playing physically, and up front I can't give those guys enough credit and on the back end everybody is covering."
The defense overwhelmed the offenses of Chicago and Houston. The Bears gained only 110 yards and six first downs (a paltry 51 passing) and absorbed 10 sacks, nine in the first half. The Texans entered the game Sunday averaging a league-leading 172 rushing yards and limped out of Reliant Stadium after running for only 24 yards.
In those two games, the Giants surrendered an average of 152.5 yards, 41.5 rushing yards, 8.5 first downs and 6.5 points. In the first three games of the season, those figures were 306.0 yards, 136.7 rushing yards, 18.3 first downs and 28.3 points.
But some members of the defense don't want to consider what those numbers mean.
"It's not really a statement to me," defensive tackle Barry Cofield said. "It should be the norm. That's what we strive to do week in and week out. So we can't take it week-to-week because after the Indy game, what statement did we make that week? That we don't deserve to be on the field and all that? You could take it that way. So I'm not going to get too down or too up over any individual win or any individual loss, but we just played the way we expect to play week in and week out."
The defensive players have been excited about playing for the energetic and vocal Fewell and executing his schemes since they first met him in the offseason. But all the enthusiasm in the world can't mask the fact that installing and properly executing a new scheme doesn't happen overnight. Those players who were here in 2007 well remember the defense's first two games under Steve Spagnuolo, who, like Fewell, had just been imported from another team to run the defense. The Giants allowed 80 points and 846 yards in season-opening losses to Dallas and Green Bay. Two weeks into the season, the Giants were last in the league in scoring and passing defense and 29th in total yards allowed.
History tells us, of course, that the defense – and the team – rebounded nicely, and that's understating it. The defense finished the season ranked seventh in the NFL and the 2007 Giants went on to win Super Bowl XLII.
So how long does it take for players to learn a new defense under a new coordinator?
"I don't know that I would say an exact amount of time, but it's a process and we're certainly a part of this process right now," Coach Tom Coughlin said. "It's constant repetition, constant study. The thing that happens in a game plan is that you hope that the majority of what is being introduced has already been introduced at a previous time, an earlier time, maybe in camp or some other time, so you can have recall. All these plans that we have: offense, defense, special teams, hopefully you've touched on them before. They're designed specifically for the opponent that you're going to play. His strengths, his weaknesses, and that's the interesting part of it. You have to master the way in which the scheme is adjusted to fit the opponent, and that's where the process is ongoing."
The Texans' strength was clearly their rushing attack, which averaged an NFL-leading 5.5 yards per carry. Arian Foster was the league's leading rusher. Fewell and Co. studied Houston's zone blocking schemes and how Foster thrived on cutbacks and devised a plan to thwart him. Whatever they planned worked, because Foster ran for only 25 yards on 11 carries (though he still leads the league with 562 yards after the Giants stonewalled him).
"Our defense did a great job of shutting the run down," Coughlin said.
Several defenders said afterward they were more inspired than usual to shut down a ground game that came so highly touted.
"It almost works against you as a team when people talk too much about how successful you are," Cofield said. "As a professional, when you hear that and you come in and face a team like that, that's all you focus on. We know that they're a top rushing offense, so we're going to do whatever it takes to stop the run. And obviously some teams are good enough that they're going to execute regardless, but we made some plays out there. We maintained our discipline, but we could play better. This isn't the best we can play. We definitely made mistakes. They definitely piled up a little bit of yardage at the end of the game. We set out every week trying to shut the team out. We don't want to give up any points or any yards. So anything short of that, we've got stuff to work on."
It's that attitude that will continue to fuel the Giants' defensive players as they prepare for the Lions and the season beyond.
*Coughlin said he had nothing new to report on defensive end Mathias Kiwanuka, who has missed two games with a bulging disk in his neck, or center Shaun O'Hara, who has sat out three straight games with ankle and Achilles injuries.
*Both running back Ahmad Bradshaw (ankle) and safety Kenny Phillips (knee) played and came through the game without aggravating the injuries that kept them out of practice last week.