EAST RUTHERFORD, NJ - The Giants have reached an interesting juncture in their schedule. Their next road game is against the Dallas Cowboys. So is their next home game.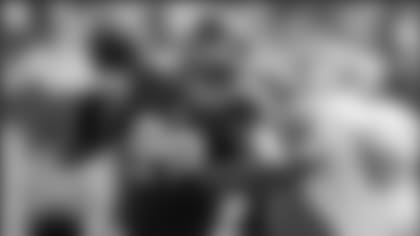 After compiling a 4-2 record against teams from outside the NFC East, the Giants will face their first division foe Monday night when they play the Cowboys in Dallas. This is the latest they've played their first division game since the 1970 merger, when the NFC East was formed.
After their bye and a trip to Seattle, they will face the Cowboys again at home on Nov. 14. The contest next week begins a stretch in which the Giants will play six of their final 10 games against division opponents Dallas, Philadelphia and Washington.
The Giants' first game each of the three previous seasons, and in four of Tom Coughlin's first six years as Giants head coach, was against an NFC East rival.
"This is much different for us, because we've opened for a lot of years in the division," Coughlin said today. "I understand it. I know what the commissioner is trying to accomplish (playing more division games late to increase the importance of games toward the end of the season) – I think we all do. And it was very different for us, but as you see, they come rapid fire here pretty quick."
"It's a little different," defensive tackle Chris Canty said. "We're six games in and we haven't played a division opponent. So obviously we've got some tough challenges ahead of us, but I think this team is looking forward to improving. I think we're looking forward to the challenges, working together as a team to get the job done."
This seems to be a good time for the Giants to start playing their NFC East opponents. They have won their last three games, including a 28-20 victory yesterday over the Detroit Lions. They are 4-2 after a 1-2 start.
"Putting three wins in a row, putting that together is definitely giving us confidence heading into our first divisional game," tight end Kevin Boss said. "(We're) just looking forward to hopefully keeping this thing going. (There is) a whole different feeling about everyone from the lunch room to the locker room. It's just a much happier place to be around." 
The Giants know they will probably run into a desperate Cowboys team next week. Dallas dropped to 1-4 with a 24-21 loss yesterday in Minnesota and likely can't afford to fall into a deeper hole in the division race. The Cowboys were widely considered to be the NFC East preseason favorites, so their early struggles are as unexpected to the some of the Giants as they are to anyone.
Boss was asked what he would have thought if someone had said the Cowboys would be 1-4 when they first played the Giants.
"Oh man, I'd be very surprised," he said. "I can't believe that they're 1-4 with all the talent they've got on that team. Something's not right there, but we definitely know they're still a very good football team. It just gives us a great opportunity to put some more distance between the two of us. If we can go there and put them to 1-5 and us go to 5-2, that's going to be very beneficial when it gets close to December and January." 
The Giants still consider the Cowboys to be the same dangerous team that won the NFC East title last season. They're not about to say anything that would incite their longtime rivals.
"I'm happy we're in our position, and that's all we can really worry about," wide receiver Steve Smith said. "They're still a great team, and the season's not over. So we know they're going to be ready to play."
Canty, who played his first four NFL seasons in Dallas, was reluctant to discuss the team he left behind.
"I'm not answering any questions about the Dallas Cowboys this week," said Canty, who missed the Giants' 2009 game in Dallas because of a calf strain. "How about that? Alright. So anything concerned about our football team and the challenges moving forward, no problem.
"The Dallas Cowboys are obviously a good football team. We like to think we're a good football team up here as well. We've got some things we've got to improve from the Detroit game moving forward to get to the point where we're executing the way we want to be executing in this season. So we've got some clean-up work to do today and tomorrow and obviously a lot of preparation work to do with the very big challenge going down there to play."
Although the game was probably closer than they would have liked, the Giants had a lot to like in their victory over the Lions. They had a perfectly balanced offense – 167 rushing yards and two Brandon Jacobs touchdowns and 167 net passing yards and two Eli Manning touchdown passes. The defense allowed only 64 rushing yards, including 30 on scrambles by reserve quarterback Drew Stanton, who was Detroit's leading rusher.
"We saw a lot of good things," Coughlin said. "I think you have to start with the fact that we won, that we did win the battle of turnovers, that we did rush the ball for considerable yards and we were able to stop the Lions and their rush attempts reasonably. We did give up the big play (an 87-yard touchdown pass to Calvin Johnson), which we were concerned about going in. It was our number one goal to prevent it, and we did give up the big play to the outstanding receiver.
"We did give up a 21-yard return and a 58-yard return on kickoff, the 21-yarder was on a punt, to an outstanding return man (Stefan Logan), but that's something that we'd rather not see, obviously. Saying that, I think it's important to recognize that Deon Grant in that case did make a touchdown saving tackle for us, too, right there at that spot. Our penalties were down, and we felt good about that. Felt very good about our ability to control our emotions, particularly down at the goal line when they did pick up that one penalty. That could've been like a powder keg where both sides were both sides were penalized, but I thought our guys maintained themselves and remained very cool under that circumstance."
Although they're playing better than they did earlier in the season, the Giants are far from satisfied.
"As far as our identity, I think we know what's the winning formula for us - stop the run, rush the quarterback, create turnovers and disrupt their passing game," Canty said. "I think that's who we are as a defensive unit. We're a physical group, and we want to try to dominate the line of scrimmage and harass the quarterback and disrupt their passing game. I think we know who we are from that perspective. I think that execution-wise, we have a long ways to go. There are a lot of things that we can continue to work on to improve from an individual standpoint and as a group because we've got a lot of individuals and we've got to put our games together collectively to create the kind of performance that we want to have."
With division opponents comprising the majority of the remaining schedule, the Giants need to continue their recent improvement to realize their lofty goals.
*The Giants today were awarded offensive tackle Jamon Meredith off waivers from Detroit and released kicker Shayne Graham, who was signed Saturday and kicked four extra points vs. the Lions.
Meredith, a 6-4½, 304-pound second-year pro, played in eight games with four starts for the Buffalo Bills in 2009 – three at right tackle (Oct. 18 at the Jets, Oct. 25 at Carolina and Nov. 1 vs. Houston) and one at left tackle (Jan. 3 vs. Indianapolis).
Meredith, who played at South Carolina, entered the NFL as a 2009 fifth round draft choice by the Green Bay Packers, the 162nd overall selection. He was waived at the end of training camp and signed to the Packers' practice squad. The Bills signed Meredith to their roster on Sept. 22, 2009.
Meredith played the first two games of the current season for Buffalo before he was waived on Oct. 4. He was claimed two days later by the Lions, who waived him on Friday.
At South Carolina, Meredith started 38 games – 19 at left tackle, 11 at right tackle and eight at left guard. A native of Simpsonville, S.C., Meredith was born on May 11, 1986.
Graham was signed after Lawrence Tynes sprained his left ankle on Friday. But Tynes has improved and is expected to kick in Dallas.
*Center Shaun O'Hara played the entire game yesterday after missing the three previous contests with ankle and Achilles injuries.
"He came out okay," Coughlin said. "To be expected, he's sore. He hasn't been in there for a couple of ball games, but he came through it well and he played well."
*The plethora of helmet-to-helmet hits that have been in the news and has the NFL office concerned has not gone unnoticed by Coughlin, who suggested he is not opposed to suspensions to deter the dangerous plays.
"I don't get a chance to catch up on a lot of things, but if we play at home I do get a chance to watch highlights and that type of thing on Sunday night," Coughlin said. "I know that one of the recommendations or the strongest one has been that since the money does not seem so be a deterrent, then it has to be more than that. Always it is quite frustrating, to be honest with you, if a player is forced to leave a game because of an illegal hit and the other player continues and what have you – that doesn't really seem right. I'm sure there will be stronger measures taken."
*Offensive lineman Kevin Boothe, who has been on the physically unable to perform list all season, is eligible to begin practicing this week. But that doesn't mean he will. The Giants have yet to make a decision on Boothe, who had surgery in the spring to repair a torn pectoral muscle.
Coughlin also updated the status of tackle Will Beatty, who had foot surgery last month.
"We do have the ability, starting Tuesday, to put Kevin on the field and I'm not going to tell you for sure that it's going to be done this week, so you'll just have to stand by with me on that one," Coughlin said. "Any other updates: (Will) Beatty – out of the boot, still very much in the recovery/rehab process. You'll see him walk around with his shoe on, not a boot, so there's progress being made, but how soon we'll get him back…hopefully fast."
*Fullback Madison Hedgecock, who has been sidelined with a hamstring injury, is "not out of the woods, but he's going to run tomorrow and they're going to see what his status will be for the week," Coughlin said.