EAST RUTHERFORD, NJ - It took Victor Cruz just one half of his first NFL preseason game to accomplish a feat no Giants wide receiver had done in three years: catch three touchdown passes in a game.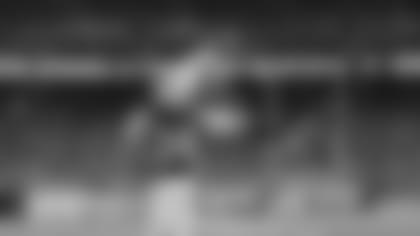 Cruz, the rookie free agent from Massachusetts, reached the end zone on catches of 64, 34 and five yards Monday night as the Giants opened the New Meadowlands Stadium with a 31-16 defeat of the Jets.
According to the Monday Night Football crew, Cruz was the first player with three touchdown receptions in a preseason game since Terrell Owens did it with San Francisco in 1998.
"You never come into a game thinking you're going to have three touchdowns," Cruz said. "I just wanted to come in, work hard. I've been working hard all camp and just wanted to come in and kind of show what I can do on the main stage."
At his postgame news conference, Tom Coughlin stressed Cruz's work ethic and his ability to perform in every practice. The Giants thought they had a hidden gem in Cruz, but it's hard to keep someone under wraps when he scores three touchdowns in 15 minutes of game action on national television.
The last Giant with three touchdown receptions in a regular season game was Plaxico Burress at Dallas on Sept. 9, 2007, when he scored on catches of 60, four and 10 yards in a Cowboys victory. No Giants receiver has three scoring receptions in a victory since Dec. 22, 2002, when Amani Toomer scored on catches of 82, 21 and 27 yards in a rout of the Colts in Indianapolis.
Cruz scored twice on throws from Jim Sorgi and his last touchdown on a pass from Rhett Bomar. The first was a spectacular one-handed grab that Cruz executed while fending off cornerback Dwight Lowery late in the third quarter. He padded the Giants' lead in the final quarter by getting the best of cornerback Drew Coleman before hauling in Bomar's short pass to complete the scoring.
Cruz finished with game-high totals of six receptions for 145 yards, a 24.2-yard average.
"I hope it means a lot," said Cruz, who is competing with several other receivers for limited roster spots. "I got a chance to show what I can do and just show that I'm a pretty good player. I just want to come out and just hopefully make the team. All I can do is leave it up to the coaches and the guys up top and they make the decision."
Cruz was the second rookie receiver in as many years to post big numbers in the annual preseason game against the Jets. On Aug. 29, 2009, Hakeem Nicks had six catches for 144 yards and touchdowns of 71 and 22 yards. Nicks, of course, was the Giants' first-round draft choice last year. Cruz wasn't drafted at all, but is receiving the same kind of praise.
"(He) makes me look great," Sorgi said. "Catching those balls you're not supposed to catch and taking them for touchdowns. I'll tell you what, he's a quarterback's best friend is what he is. He's the kind of guy who goes out there and works hard every day, makes plays in practice and you just kind of know he's going to transfer to the game field and that's exactly what he did."
"When a guy makes plays like that it just comes down to what does he do in practice, and that's exactly what he does," fellow receiver Derek Hagan said. "He's in practice making plays left and right."
It was suggested to Sorgi that a free agent receiver from UMass is a longshot to make the Giants' roster.
"He' not a long shot any more," said Sorgi, a seven-year NFL veteran who is in his first Giants season. "He's definitely an NFL player. He's a guy that's going to make plays for you. He knows what he's doing on the field. He's smart. He runs great routes, and he just gets open. You've got certain guys in the NFL that just have a knack for getting open, and he's one of those guys."
He was at Massachusetts, where Cruz played in 31 games with 22 starts. He finished his career with 131 receptions (all but one of them in his final two seasons) for 1,958 yards (15.0-yard avg.) and 11 touchdowns, and had six career 100-yard games. Cruz was a two-time first team All-Colonial Athletic Association selection. As a senior in 2009, he played in 11 games and caught 59 passes for 868 yards and five scores. The previous season, he compiled career-high totals of 71 catches for 1,064 yards and six touchdowns. Cruz had his best game at James Madison on Sept. 13, 2008, when he tied a school record with 13 receptions, broke another mark with 262 yards and scored on a career-long 69-yard catch.
The list of receivers who posted gaudy numbers in college and never made it in the NFL is lengthy. Cruz believes he can stay off it and become a productive pro player.
"The transition from college is a lot different," he said. "There's a lot more attention to detail. The playbook is a lot thicker so you have to get in your playbook a lot more and be mentally sharp. If you're mentally sharp, then the physical should kind of take care of itself."
Cruz starred at Paterson Catholic High School, a short distance from the Meadowlands. His mother, younger sister, high school coach (Benjie Wimberle) and "a bunch of guys" were in attendance for his big debut.
Because he's a local talent, Cruz was asked what it means to play for the Giants.
"It means a lot," he said. "It's definitely a surreal feeling to even be up on this podium talking to you guys. It's just growing up watching the Giants, seeing that blue all my life and things like that. I feel like I'm dreaming right now."
Tomorrow, he will return to the reality of trying to secure a roster spot when the Giants hit the practice field in Albany. The next game is Saturday against the Pittsburgh Steelers. To keep the arrow pointed up, Cruz must prove he has the consistency Coughlin craves.
"It kind of boosts my confidence a little bit, but I've got to just stay humble, stay grounded and just stay on the right path because nothing is guaranteed in this league," Cruz said "So I've just got to keep grinding, keep putting the work in throughout my entire career. Hopefully I can have a long career and just keep putting in the groundwork and everything will kind of take care of itself."
*Coughlin would not predict whether Eli Manning will play Saturday's home game vs. Pittsburgh. Manning needed 12 stitches to close a laceration on his head. He underwent tests today at the Hospital for Special Surgery in Manhattan.
"The nature of the exact tests was not communicated to me," Coughlin said. "I would say this, whatever is available to the doctors in terms of…he's in New York and he's going to go through the battery of tests that any player has who experiences any kind of a head injury. They're not going to leave any stone unturned so they are going to go ahead and do all of the tests, the MRIs, and all of those things and then at that point in time I'm sure they'll get a hold of me.
"I texted Eli earlier this morning and I think that the normal discomfort that a guy goes through when he has stitches and what have you was the experience. He didn't talk too much about pain, but I don't have a whole lot of information because any time you have any injury that is a head injury they're going to do all kinds of tests so they're in the process of doing that right now."
The coach conceded Manning might need something to keep his helmet off the stitches.
"Initially, with Eli being the kind of guy he is, the idea for me going forward was, gee how are we going to make it so that he can practice and play with the stitches?" Coughlin said. "I think that there is naturally concern there from the doctor's standpoint as well, because just the nature of where the helmet sits according to where the stitches are could create a problem in terms of healing and so I'm sure that that was brought up last night. (team physician) Dr. (Russell) Warren brought that up as well. Again, I'm just waiting to hear all of this information."
Coughlin said he expected Manning to return to Albany tonight for the final three days of training camp.
"(Linebacker) Chase Blackburn is an MCL," Coughlin said. "There is not an ACL involvement there. I would not put a number on how long he would be out, but obviously he's going to have to work himself back into being able to practice and play and it will take some time.
"He'll be a couple of weeks probably – I don't know how long – but there won't be any surgery.
"(Wide receiver) Ramses Barden has been experiencing some lower back issues and they are trying to determine the extent of that, whether it's muscular or whether there are other things involved as well."
*Coughlin was not thrilled with the play of the starting offense, which gained minus-four and three yards in its first two non-goal line possessions
"I think it would be safe to say that we're disappointed in the play of our first offense," Coughlin said. "Our defensive team – the irony of the first half was that as you schedule all of the numbers of snaps in, the defense had a lot of snaps, didn't necessarily get the Jets offense out or off the field, and the offense didn't keep the ball so we kind of had a distribution of snaps somewhat different from what we expected."
Coughlin was more pleased with the defense.
"I thought our defense did a good job in the red zone of turning back touchdowns and forcing field goals and we did turn one ball over at the end of the game in the tight red zone as well," he said.
*Starting tomorrow, Wednesday, August 18, a limited number of individual game tickets for the Giants' eight 2010 regular season games will go on sale at ticketmaster.com. 2010 is the team's inaugural season in its new home, the New Meadowlands Stadium.
There will be a presale of these tickets for current PSL holders on Wednesday, August 18 and Thursday, August 19. That presale will be followed by an opportunity for wait list members and former season ticket holders to purchase the available seats on Friday, August 20 and Saturday, August 21. Any remaining seats after the presale will be available for purchase by the general public starting on Monday, August 23.
Individual game tickets are $25 higher than the PSL holder price per game ticket and the range of prices available is from $110-$725.
These individual game tickets are available because we are now able to release single seat locations, those tickets we have held back to insure that we comply with the Americans With Disabilities Act regulations, and those tickets we were holding to address issues that may have arisen during the process of assigning seats in the new stadium. Typically more tickets are held back for those purposes in year one of a new facility than you do in year two, and many of those seats that have been held will be sold as PSLs in the future.
Current PSL holders, wait list members and former season ticket holders are being made aware of this opportunity via email from the team.
All transactions will be online only at ticketmaster.com.
--- ](http://www.nyg2010.com/)**