EAST RUTHERFORD, NJ - Eli Manning will practice tomorrow without wearing a helmet, which is not an indication Tom Coughlin has lost his head.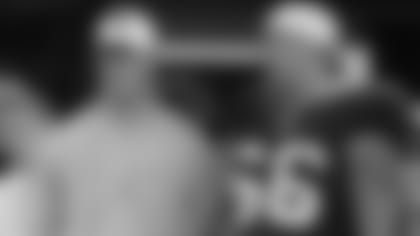 Manning, who missed the Giants' 24-17 preseason loss to Pittsburgh last night, had the 12 stitches he received in his forehead last Monday removed late in the week. Manning was hurt in the Giants' preseason opening victory over the Jets.
Last week, he watched most of practice wearing a baseball cap. Tomorrow, he will be on the field wearing the same headgear, Coughlin revealed on a conference call today.
"They say he can practice," Coughlin said. "He will not wear a helmet, but he can practice."
Asked when Manning would wear a helmet, Coughlin said, "Not sure. The projection is for this week."
The Giants play Saturday night in Baltimore. Coughlin would certainly like his quarterback on the field that night, because the third preseason game is traditionally the one in which the starters play the longest. Coughlin has usually had the first team work into the third quarter.
Whether Manning plays will depend on how much work he gets this week and, of course, if he can wear a helmet. Coughlin said he doesn't foresee Manning having any practice limitations because he's wearing a baseball cap.
"But we're certainly going to be very, very careful," Coughlin said. "We do not allow anybody to touch the quarterback, we don't like coming down the bow, it happens once in a while, but not too often. Most of our guys are really good at – if they do get free, they come up the field past the quarterback. We don't allow them to put their hands up or put their hands anywhere near where the quarterback's arm or release point would be. The guys are pretty much aware of that. I think that when you practice under those conditions, you're going to have to be very sharp. I'm sure we'll pick our spots, perhaps in the first practice anyway, as we get a feel for what is best."
Manning will likely take some ribbing from his teammates for his headgear, but everyone will welcome him back to work.
"I think we would all like to have him back," O'Hara said. "He's certainly a big part of our offense. I know he's itching to get back out there. It's kind of one of those things where he's out but he's not really hurt. I think it's been good for him, too, though. He's had a chance to kind of help out with some of the other guys and sometimes it's good to get a little breather. Now he can come back in and hopefully we can get a bunch of other guys back and get back to full strength."
Backup quarterback Jim Sorgi will again be sidelined with the shoulder injury he suffered against the Jets. Rhett Bomar, who played the entire game last night against Pittsburgh, would back up Manning against the Ravens.
Coughlin praised Bomar for his gritty effort. The first-year pro completed 13 of 26 passes for 167 yards, no touchdowns and an interception.
"Rhett Bomar hung in there," Coughlin said. "He's a tough kid. He took some hits and still stayed in command. We thought he did a better job as the game went along. He missed a few things early on, but as I say, accuracy is an issue."
Center Shaun O'Hara said it was unusual not having Manning in the huddle. Manning has started 87 consecutive regular season games and was not in uniform for the first time since the 2005 preseason finale.
"It was definitely different," O'Hara said. "I think probably the biggest difference was just that (Bomar) played the whole game. Usually in the preseason you're trying to get as many guys in as you can and get them plays. For Rhett, it doesn't get any better than that. I think you could almost see him kind of get into a little comfort zone as the game progressed, and I think that's natural."
*Running back Brandon Jacobs should be another returning starter. He missed the Steelers game with a stiff neck, but an MRI revealed no damage.
"I think they'll get him out to practice," Coughlin said. "He felt a little bit better today. He had some issues in terms of flexibility and movement in the neck in terms of the muscle contractions but I think that the expectation is that he'll be able to practice.
"Don't ask me how this (the stiffness and soreness) was provoked, but it's the first time we've ever seen this. According to the MRI, it was nothing of a structural nature, it was muscle."
*Running back D.J. Ware and safety Sha'reff Rashad both suffered concussions last night.
"There is great concern," Coughlin said. "As with each individual that has that injury, both Sha'reff Rashad and Ware are going through the series of tests (tomorrow)."
*Shawn Andrews, the two-time Pro Bowl offensive lineman signed late last week, will practice for the first time tomorrow. But Coughlin wasn't sure where his new player would line up when he spoke with the media today.
"We're talking about that right now," he said. "I'm not really done talking about that, so I'm going to hold off on that. You can hit me with that one tomorrow, but we're going to get him on the practice field tomorrow, which will be a good thing, and work him a little. He hasn't practiced in quite a while, but he is in pretty good shape, so we feel like we're going to be able to move forward with Shawn."
*Safety Michael Johnson and wide receiver Ramses Barden are both dealing with back issues. Johnson has a chance to play this week, but Barden apparently does not.
"It didn't sound that way downstairs (where the Giants' athletic trainers treat the players)," Coughlin said. "Michael Johnson is the same way – trying to battle themselves back from some pain in the lower back and some inability to be able to run and to run consistently. So progress is being made, it's a little bit slow, but it's being made.
"I hope (Johnson) can get out there, but right now I don't have the green light."
*The sale of a limited number of individual game tickets for Giants 2010 regular season games continues. Current PSL holders were given the first opportunity to purchase those tickets, followed by wait list members and former season ticket holders. The team stated last week that whatever tickets remained following the pre-sale to those groups of people would then be made available to the general public through Tickemaster. That sale to the general public, originally scheduled to start Monday morning, has been pushed back one day and will start at 10 a.m. Tuesday at ticketmaster.com.
"Initially we made approximately 1,400 tickets per game available," said Giants President John Mara. "We have had a very positive response from our current PSL holders in particular. As you might suspect, for games like our season-opener against Carolina and Dallas, Philadelphia and Washington, very few seats remain. We are pleased with the response to the sale. It has been essentially what it has been in years past."
--- ](http://www.nyg2010.com/)**