EAST RUTHERFORD, NJ - Tom Coughlin likes to say that the Giants have 15 starters on defense and if the unit continues to play as well as it did in the second half yesterday, the opposition is going to feel as if they're all being deployed at the same time.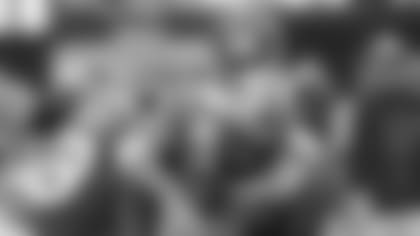 The defense held the Carolina Panthers to 72 yards on 31 second-half plays (2.3 yards a play) as the Giants overcame a two-point halftime deficit to win their season opener, 31-18, in the New Meadowlands Stadium.
With three end zone interceptions, a fumble recovery and four sacks, the defense made plenty of big plays in stifling Carolina's attack. But what was perhaps most striking about Perry Fewell's defense was the multiple personnel combinations, both up front and in the secondary, the coordinator used. He started the game with Mathias Kiwanuka – who played right end throughout training camp and in the preseason – at weakside linebacker. Osi Umenyiora started at end. Fewell moved tackle Chris Canty outside in some packages. He lined up all four of his defensive ends together on some passing downs. In the backfield, he frequently employed three safeties – Antrel Rolle, Kenny Phillips and Deon Grant – together. Phillips and Grant each had interceptions.
The personnel groupings could well change again on Sunday, when the Giants will face Peyton Manning and the Indianapolis Colts in a prime time game in Lucas Oil Stadium.
"It's game-to-game," Coughlin said today when asked about the deployment of defensive personnel. "The players did a good job of digesting everything that was thrown at them last week.
"We did a nice job of communicating, substituting," Coughlin said. "I was a little concerned about that in the first game, because we hadn't shown that. But the guys did a real good job."
Because so many players can contribute in so many ways, Coughlin isn't interested in designating a strict 11-man starting lineup.
"There are 15 guys that start," Coughlin said. "They've all done a good job of trying to understand. We're going to use the players to the best of their ability. And it's going to be based on what we're facing. They know it's for the betterment of the team, the way the thing is structured
"We've spent a lot of time talking about this. We've been on this subject since last winter, to be honest with you – that we would use our guys to the best of their ability and we would do the best we can to determine, for our team, what we're playing against, the structure that we need to give us the edge. We have a lot of guys. We have the guys that play the run very well and still are not necessarily a part of one or two packages. It's just the way it is."
Michael Boley perhaps best personified the current defensive mindset against Carolina. Boley started all four preseason games at weakside linebacker, but yielded yesterday to Kiwanuka, who the coaches deemed a better fit to meet their goal of stopping the Panthers' rushing attack. Kiwanuka was one of the best players on the field, with four tackles, two sacks, a tackle for a loss and a forced fumble. And the Giants held Carolina to only 89 rushing yards, including six in the second half.
But Boley also made a major contribution, with five tackles (four solo) and a quarterback hit.
"First and foremost, it's whatever is going to benefit the team," Boley said of his reserve duty. "All the other stuff is secondary. Of course, we all want to be on the field at the same time, but you can't put everybody on the field at the same time. They put us in the right position and putting players where it's going to give us the best chance to win."
To the players, the strong performance yesterday was a first step in returning the defense to the discussion of the NFL's elite defenses.  The Giants were ranked seventh and fifth, respectively, in 2007 and 2008, but slipped to a tie for 13th last season, when they allowed 427 points, the third-highest total in the NFL.
With Fewell now calling the defensive shots, the players believe they will continue to improve and regain their status as a unit no sane offensive player would want to face.
"I felt we were heading in the right direction," cornerback Corey Webster said about the Carolina game. "I felt that there are still a few things that we need to clean up on, and it's going to come with just us getting more comfortable with each other, just getting used to each other, getting used to the system. But I think we're making the right steps in the right direction. I think we had a lot of opportunities to get our hands on the ball. I think we left a couple of them out there, but I think overall we did a good job of flying around to the ball, playing physical and trying to dictate and not let the offense just sit back and react to them-making them react to us. I think we did a good job of that."
Defensive tackle Barry Cofield said after the game that the defense has a much different feel than it did a year ago.
"Just the turnovers, creating the turnovers and holding teams to field goals instead of touchdowns - that's what we didn't do last year," Cofield said. "Last year, we didn't create enough turnovers, and we gave up far too many touchdowns. So the fact that we pretty much flipped that (yesterday) made it feel like a completely different team. The big plays the secondary made, that was something that we didn't have as much as that last year, and we didn't have as great of pressure last year as we were accustomed to. So being able to do those things just gave me flashbacks to when we were really playing good defense."
If they keep building on that first game, it will seem as if the Giants have 15 players on the field at all times.
*Coughlin revealed that second-year backup tackle William Beatty suffered a fracture of his fifth metatarsal in his foot and will undergo surgery. The coach did not give a time frame for Beatty's recovery and return.
"He walked into the locker room after the game and said his foot was sore," Coughlin said.
Beatty is the Giants' top reserve tackle and he played tight end for much of yesterday's game after Kevin Boss suffered a concussion early in the first quarter. Coughlin would not say who would be the No. 3 tackle in Beatty's absence. The other linemen on the roster are recently-signed Shaun Andrews, Adam Koets and rookie Mitch Petrus.
*Coughlin said Boss, who had a concussion last year, will go through the battery of tests required of all players who suffer that injury before a determination can be made about his return date.
Boss was hit in the head from behind by safety Sherrod Martin.
"That was as blatant and obvious as anything you see - no call, no nothing," Coughlin said. "We lose a player a few plays into the game and now we wait to hear what his status will be."
Coughlin would neither commit to nor rule out adding a tight end to the roster this week. Travis Beckum is currently the only healthy tight end on the roster. Bear Pascoe and Jake Ballard are on the practice squad.
Beckum is known more as a receiver than a blocker, but he's going to get work on the latter skill as long as Boss is sidelined.
"Some of the things (he did yesterday), that's kind of my first time at it," Beckum said. "Some of the guys are harder to move than the others, but other than that, I did alright."
"He tries," Coughlin said of Beckum. "He works at it. Yeah, he'll stick his nose in there."
*Linebacker and special teams captain Chase Blackburn left the game with a sprained right MCL, the same injury he suffered in the preseason opener. He missed the final three preseason games.
"Are you kidding me? That was basically my thought," Blackburn said. "But it is what it is. It's part of football. Injuries happen, and like I said, I just have to rehab and bounce back."
Blackburn is hopeful he will not miss three games with his new injury.
"We've got good trainers, so as quick as they can get me back, I'll be doing everything I can to get there," Blackburn said.
*Coughlin was not pleased with the Giants' special teams. The coverage teams didn't cover well, though Coughlin did single out one player for a fine performance.
"Our special teams play really needs to be upgraded all around," Coughlin said, "although I will say this, Jason Pierre-Paul is a force. If you're ever running down on kickoff coverage with him, you know you've got a chance because you're not going to get doubled. You know where the double is coming from. This guy ran down field – I saw the last kickoff, one of their players grabbed him by the back of the collar to hold him back like that and he still went and made the play…of course there's no flag."
Rookie punter Matt Dodge did not fare as well. He had a net average of 16.0 yards after his third kick was blocked and went out of the end zone for a safety.
"We need to see the consistency," Coughlin said. "You know, there was a 28-yard return in there. I mean, the line drive punt that doesn't go very far, it looks like we're all clumped in there together where no one really even has a chance to disperse the coverage and that ball got outside it like nobody's business so that's what you try to make the young punter and everyone else understand, that it's a team operation here. You've got to give our people a chance to get out there and cover."
*Coughlin said cornerback Aaron Ross should practice this week. Ross missed the Carolina game with a plantar fascia injury.