EAST RUTHERFORD, NJ - Having just been soundly beaten by the Indianapolis Colts, the Giants can find inspiration from … the Indianapolis Colts.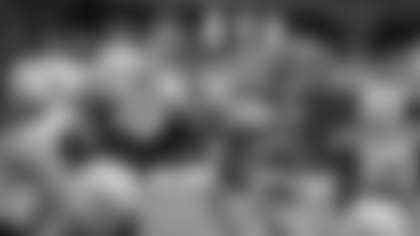 After all, it was just a week ago that the favored Colts were licking their wounds after a one-sided season-opening loss at Houston. They regrouped last week and reversed their fortunes with a 38-14 trouncing of the Giants last night in Lucas Oil Stadium. So now the Giants must follow the Colts' model by putting in the necessary preparation this week and rebounding in their next game, Sunday at home against the Tennessee Titans.
"You learn from what the Colts did," quarterback Eli Manning said. "They got beat pretty good last week by the Texans. They came out this week and had a little fire under them and played real well and obviously improved. So that's what we have to do. We have to get better and learn from our mistakes, learn from what we did wrong, and see how we can get better, see how we can improve on offense and as a team and go out next week and play our best football."
Coach Tom Coughlin reminded his team immediately after the game that quick turnarounds are possible in the NFL.
"I told the team after the game that the Colt team a week ago was in the same spot we're in today," Coughlin said, "and we can do something about this, this particular week."
Since 2005, the Giants are 5-3 in games following a loss of 20 or more points (not including the 2009 season finale in Minnesota). They most recently did it late last season, when they followed a 26-6 Thanksgiving night defeat in Denver with a victory over Dallas 10 days later.
So can this week's Giants emulate last week's Colts?
"You have to go ahead and take that mindset," tackle Kareem McKenzie said. "You can't go ahead and develop yourself or develop a mindset of, 'Okay, well that's just one week.' We have to go out and do something about it now. We can't wait and say, 'Okay, that's just a misnomer. It just happens.' We have to go out there and improve this week, plain and simple."
"On any team, you're going to have losses," Manning said. "That's a part of it. You have to understand that we have to get better. Any team is going to go through a bad loss where you get beat, and you can't let it affect your confidence, preparation, or mindset. We have to come in on Wednesday and get back in here, start our preparation, have a great week at practice, and get ready for the Tennessee Titans."
But it won't occur simply by showing up. Coughlin noted that the Giants' special teams improved from their poor showing in the season-opening victory over Carolina. But as for the other two units…
"Looking at the defense and the offense, we did not execute," Coughlin said, "and certainly the other team did execute very well."
The offense gained only 257 yards, had 13 first downs and held the ball for just 24:54. Manning, who was sacked four times and was constantly pressured, completed 13 of 24 passes for 161 yards, including second-half touchdowns to Mario Manningham and Hakeem Nicks.
The Giants' defense could do nothing to stop the Colts' offensive onslaught or alter the game's momentum. Indianapolis rushed for 160 yards on 43 carries one week after running for 44 yards on just 10 attempts vs. Houston. Peyton Manning was sacked only once while completing 77 percent of his passes (20 of 26) for 255 yards and three touchdowns.
"Any loss is tough, but especially to come out and not really show up like we did (last night), that's tough," defensive end Justin Tuck said. "It's a humbling game. The only thing I know how to do is come back and start working again. We have a great challenge next week and we have to put this loss behind us. I said last week we can't get too high after a win and now we can't get too low after a loss. We have to come in, take our medicine and get ready for Tennessee. We'll find a way to get this right. It's a long season and we have a lot of games left. We have to learn from this one and make sure it doesn't happen again."
Coughlin is counting on his veteran leadership to help steer the Giants through this latest challenge. Manning, Tuck and Chase Blackburn (who missed the Colts game with a knee injury) are the team captains. The team has several other influential veterans, including Shaun O'Hara, Keith Bulluck and Deon Grant.
"I spoke very definitely about it after our opening game, about the quality of our leadership on the sideline during the course of the game," Coughlin said. "I thought it was outstanding. I think we'll see it again this week.
"After a game in which you lose and don't play particularly well, obviously you're looking for strong people to get you in the right direction and no doubt that happened – we've talked about the Colts – it happened last week for them."
The Giants need a similar turnaround this week.
*Brandon Jacobs did not speak to the media today, but he was a hot topic of conversation. Jacobs carried the ball four times for eight yards in Indy. He also accidentally threw his helmet into the stands, for which he apologized for after the game.
In addition, a published report today said Jacobs would ask for a trade.
"As far as I know, there has been no request for any trade," Coughlin said. "That one was a surprise for me and I didn't even learn about that until about five o'clock today, but that's the first I'd heard of that one."
Coughlin was asked if Jacobs had requested to talk to the coach about his role.
"His role has been defined," Coughlin said. "That was I don't know how many weeks ago that you brought that up and we did talk about it at that time. I'm not sure why that keeps coming up.
"The response two weeks ago when I gave you the position that I had on it and the fact that we had discussed it hopefully solves that answer for you. I mean, there has been no request to come and talk to me about anything. I'd be more than happy to talk to anybody…any individual and their role and that has been expressed and it's expressed by his position coach."
Coughlin did not condone the helmet toss.
"The whole incident upsets me," Coughlin said. "Now, if you remember, I was looking…I didn't know anything about this until after the game. It really makes no sense. It's a senseless act. I don't know what you're going to accomplish by that. Even if it was an accident, the frustration, you've got to learn to deal with it. You've got to have poise, you've got to have some patience, you've got to have some control, and you've got to be able to control those kinds of situations. The only reason that I emphatically say that is God forbid someone would have been hurt."
Asked if Jacobs would be disciplined for the helmet toss, Coughlin said, "We'll allow the league to take precedent here."
Manning said he ate lunch with Jacobs today and stressed he supports the running back.
"The whole helmet situation was just an accident," Manning said. "I didn't see it happen. He was frustrated, obviously, and threw his helmet, and he didn't mean for it to go up high, unfortunately. He felt bad about that, and that's all I know about the subject."
Jacobs, the starting running back the previous three seasons, is now behind Ahmad Bradshaw on the depth chart. Manning believes they can co-exist.
"I think Brandon and Ahmad are great talents and they have done great things for us," Manning said. "They can be a great tandem in the NFL, and they work well and they know the offense. They know what they're doing. We have to give them the opportunity to go out there and do their job."
Coughlin conceded Jacobs can feel frustrated, but there's a safe outlet for him to deal with it.
"That's fine, but there's a way to go about that," Coughlin said. "Go out on the field and prove it. Talking about it and constantly bringing this up is not the answer."
*Tight end Kevin Boss, who missed the game last night because of the concussion he suffered vs. the Panthers, said he is feeling better and will practice this week.
"Tomorrow we're going to start doing some things exercise-wise and just get back into it," Boss said. "They just want to get me back out there and do some activity to see if it's going to give me any headaches or anything, but I haven't had headaches for awhile. So I'm ready to go this week."
Coughlin was more cautious when asked if Boss will practice.
"We'll see," he said. "First, he's got to go through the exams."
*When asked about any injuries coming out of last night's game, Coughlin said: "Michael Johnson's back reappeared and Shaun O'Hara continues to treat and work with the Achilles/ankle situation."
The coach said Aaron Ross, "was sore, but I think they expect that he will be okay." Kenny Phillips, who was hit in the head with a knee or a foot, "was fine (last night) and fine this morning."