EAST RUTHERFORD, NJ - Several Giants players today said they planned to watch the Monday Night Football game between Chicago and Green Bay. It is more than just a relaxing way to spend a night or savor their favorite culinary treats. "It's all about the wings on Monday night," Chris Canty said.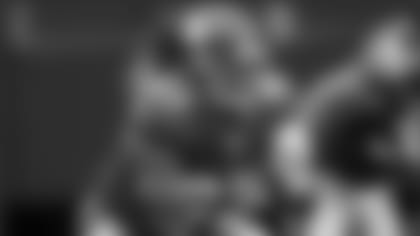 More importantly, the Giants host the Bears Sunday night. Watching Chicago Monday night is a big step in helping them focus on what lies ahead and further distancing them from the ugliness they endured yesterday.
"It's my business to watch that game," Canty said. "I'll be honed in watching the game. It's an early study and you get to watch it in the context of a live game with situations and things of that nature. You get a feel for what the team likes to do in down-and-distances. That's very important for a player to get a feel for how they operate."
Before they could sit down in front of their televisions, the Giants today put to rest their 29-10 loss to the Tennessee Titans. They watched the tape and reviewed the positive points, like an offense that gained 471 yards and a defense that held NFL rushing champion Chris Johnson in check most of the game.
But the negative aspects of the game sabotaged their good work. It started with poor special teams play, continued with three momentum-sapping turnovers and failing to come up with a single takeaway against a team that coughed up the ball seven times in its previous game, and was capped by an 11-penalty flag-fest that included five personal fouls (plus another that was part of offsetting penalties).
"I think that it was a shock for all of us to have the penalties the way that they were, as was expressed," Coach Tom Coughlin said. "The setback in regards to that alone has to be corrected.
"I just didn't think we played smart and when we ended up with the penalties and we ended up with the turnovers, it didn't really give us a chance to accomplish what we set out to do."
The turnovers and penalties were among the examples the Giants cited for feeling they had done more to hurt their cause than the Titans had.
"(There was) a lot of good stuff to see, and a lot of bad stuff," said quarterback Eli Manning, who completed a career-high 34 passes, but threw interceptions on tipped passes on each of the Giants' first two series. "It makes it hard after a game to watch it because we saw a lot of opportunities and chances we had to win the game, but we just didn't do it.
"There's a little frustration because we felt we beat ourselves on this one. It wasn't like they just came in, and we couldn't move the ball and execute. We executed really well on a lot of stuff. We moved the ball up and down, we just had too many self (inflicted) mistakes that caused us to lose the game."
So today they swallowed their medicine. They listened as a confident Tom Coughlin dissected their miscues and detailed what needs to happen going forward. And they looked forward to reversing their fortunes against the Bears.
"We're a resilient bunch," linebacker Keith Bulluck said. "At 1-2, we're not panicked. We have a great opportunity this week coming up against the Bears. As a matter of fact, we get to watch them this evening and see what they're going to do, see how they play. They have Jay Cutler, who is coming off a great game last week, but we've got to see how he comes back and responds this week. So we have our work cut out for us, but that's what we're here to do – work and get better, just shut our mouths and perform on the field."
"(It's) not alarming at this point," said defensive end Mathias Kiwanuka, who has four of the team's six sacks. "We understand what corrections we have to make. At this point, it's just a matter of getting it done. There's no panic in this team yet. We've been in situations before where we lost a couple games in a row, and we were able to step up and turn the ship around. And that's just what we have to do."
The review today was unpleasant for Coughlin. He has become one of the NFL's most successful head coaches by stressing to his players that they should play disciplined, intelligent and error-free football. He got none of that yesterday as the Giants lost for the first time in New Meadowlands Stadium.
"I can't imagine how it is for a coach, especially the things we put on film yesterday," linebacker Michael Boley said. "It wasn't Giants football. It's one of those things that has to be corrected. We left countless opportunities out there on the field – opportunities to score and to create turnovers for us on defense. It's all a matter of us taking that extra initiative to make things happen."
What was perhaps most upsetting to the Giants was they succumbed to Tennessee's efforts to goad them into penalties. Several players said the Titans have a reputation for chippy play. But as Coughlin said again today, it's the retaliator and not the initiator that the officials most often see and penalize.
"Any time you're distracted by virtue of that type of thing, it's disappointing because that's what you spend your time talking about during the course of the week," Coughlin said. "The fact that it happened…especially when it did take place (is disappointing). I mean, let's face it, it was second- and-10 and we ended up with the personal foul (tackle Kareem McKenzie's second of the fourth quarter). It was a missed field goal that ended up at midfield. It was after the fumble at the six, the ball was at the 20 (after David Diehl's unnecessary roughness penalty). We didn't even put them in a position where they had to worry about how they were going to get the ball off the goal line. So…disappointing is probably the best word that I could use. The frustration level was high and the frustration level was attributed to the fact that we hadn't had success offensively – we'd take it up and down the field but not get it in the end zone – and turned away a couple – really twice – where points should have been on the board."
McKenzie was yanked from the game by Coughlin after picking up two unnecessary roughness penalties in the fourth quarter. As he did after the game, McKenzie today stood at his locker and said his actions were unacceptable.
"It's just the basis of a bad day all around for myself as far as not exercising good judgment, plain and simple," McKenzie said. "We all are at times less than our best selves, and situations can get the best of us. The key is to go ahead and learn from that experience, and to be a better man for it."
McKenzie was asked if he was thinking about what the Titans did to provoke him.
"You're not really thinking, that's the basis of it," he said. "If I was thinking clearly, it wouldn't have happened, I would like to think."
Coughlin and McKenzie discussed the incidents today.
"Just to go ahead and express myself for what transpired and not helping the team win a game yesterday," McKenzie said, "because my actions in no way shape or form displayed the character or the way we expect each other to play football or to coach football."
"Well, we did speak and it's just like anything else," Coughlin said. "Kareem is a very sincere, very intelligent young man who recognizes the error of his ways and realizes that he flat out got too upset. He lost his poise and you just can't get to that point."
Coughlin is more concerned about his special teams than his longtime right tackle. The Giants missed two field goal attempts, one after a delay of game penalty pushed them back five yards.
"I didn't expect a delay of game on a field goal," Coughlin said. "That's bad football, that's all that is. (Holder Matt Dodge) is not the only one responsible; you've got a group out there. Let's get up and go. Get up there and go. We have a holder, we have a snapper, we have veteran players around that team. Everybody can see the 40-second clock – it's right in front of you – let's go. But I didn't expect that one."
The coverage teams couldn't prevent Tennessee from getting favorable field position. Most notably, after the Titans scored on a safety, Dodge's free kick traveled only to the Tennessee 27-yard line. Marc Mariani returned it 22 yards to the 49, setting up a short Titans touchdown drive.
"I was upset with the free punt," Coughlin said. "That should not have been like that – there's no pressure, you've got to get the ball out of there.
"We had an unfortunate safety and were to punt the ball down the field and I've seen Matt punt the ball 70 yards, there was no pressure, he comes away with a bad punt and they had the ball at midfield again. Too many times the ball was at midfield. Let's not let the other guys start at midfield.
"Tennessee's average starting position yesterday was the 38 yard line. Ours was the 23. We provided them with exceptional field position on any number of occasions and even though for a long time during the game we played good solid defense, we never forced them out of their comfort zone. We never forced them do to something that is not a part of their game. It just never took place. And they didn't have to because they were playing in the lead and they were able to take advantage or be the recipients of yardage and turnovers that put them in good standing."
The return teams also did nothing to help the cause. The Giants are 31st in the NFL with a 15.9-yard kickoff return average and 26th with a 5.9-yard average on punt returns.
"We certainly have not done anything with our return game," Coughlin said. "We did not cover. We talked about coming out after the half and covering the kick and then being able to play good solid defense, get the ball back, that type of thing. They got the ball at the 48-yard line."
Coughlin hinted he will consider placing some starters on special teams.
"It may be that way, yeah," he said.
That might help in the future, starting Sunday night against Chicago. But the Giants can't do anything to alleviate their frustration over the Tennessee game. All they can do is move on. And Coughlin said he does so confident that the Giants are a good team that will improve.
"We're obviously very humble, we're very quiet today, we're down, but we'll be back up," he said. "I told the team that, just like you would like it to be, let's move on, let's learn from it, get yourselves rested and ready to go for Wednesday. I think we'll definitely respond."
*Manning has thrown six interceptions. Four have hit and bounced off the hands of his intended receiver. Twice the culprit has been Hakeem Nicks.
"Why this is taking place with Hakeem - you've got to catch that ball," Coughlin said. "I can tell you, yeah, the routes should have been this way and the quarterback should have put it here and so on – you've got to catch the ball. If you throw the ball inside the numbers in this league and it is tipped, it's intercepted. That's all there is to it. The goal line interception, acrobatic as it was (Manning threw it with his left hand) –we had a couple of other balls that were tipped that I was holding my breath on and they weren't surprises. It wasn't a surprise. You expect a guy at this level, if he gets his hands on the ball, he better catch the ball. Period."
Manning didn't seem too upset about the tipped pass issue.
"We had one drop," he said. "It wasn't like it was tipped up in the air. It was dropped and it ricocheted into a D-lineman's hands. Unfortunately, that happens. When you throw it 47 times like we did, you're going to have a drop every once in a while. You just hope it's a drop and not an interception."
*Adam Koets, who played the entire game at center for the injured Shaun O'Hara, was asked what he learned in the first extended playing time of his four-year career.
"It's really one play at a time out there," Koets said. "Whatever happens, you just can't let it affect what you do on the next snap. And sometimes we let ourselves be agitated a little bit. Whether good or bad, you've just got to go out there on next snap and say, 'What are we going to do to get this one?'"
Coughlin said, "Adam in the middle of the line had a couple of occasions where he could have done better, but he was pretty solid in there. We certainly think we can go forward with Adam at center, we've played him an awful lot, he's had a lot of preseason work, he's had game work now."
*Coughlin had nothing new to report on O'Hara's ankle/Achilles injury.
"He's still in the boot and we'll see," Coughlin said. "I'm not sure where this is going to lead. He is seeing another doctor today."