EAST RUTHERFORD, N.J. –** Tom Coughlin has no magic wand to wave over his team, no secret elixir to give the players and no clear path to follow as he searches for a way to end the Giants' early-season slide.
For the head coach, the only way to improve is through hard work, dedication and teamwork.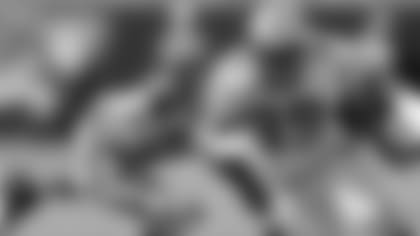 "Ours has always been 'damn the torpedoes, full speed ahead,'" Coughlin said today. "Basically, the way we've tried to do it is to be more focused ourselves and more driven and try to transfer those objectives directly toward our players. We've done nothing more than dive in and try to solve whatever issues we have and we'll continue to do that."
Coughlin and the Giants certainly have numerous issues to address in the wake of a 38-0 loss yesterday to the Carolina Panthers. The defeat dropped the Giants to 0-3. They have allowed the most points in the NFL (115) and have the most turnovers (13) and the worst turnover differential (minus-9). The Giants also have the fewest rushing yards (133) and are tied with Pittsburgh for the fewest sacks (three). They have allowed 11 sacks, tied for second in the league, and on Sunday they travel to Kansas City to face a 3-0 Chiefs team that leads the league with 15 sacks.
That's a lot of concerns to address in one work week.
"Can we accomplish everything at one time? I'm not sure," Coughlin said. "I can give you a laundry list of things. We talked last week about playing four quarters. That still is there. We talked last week about supporting and being in harmony with one another. That's not there, or that has to happen."
Coughlin held nothing back at a team meeting and later told the media, "I did challenge our pride a little bit today." Earlier, he said, "the one thing that I did stress with our team following the game was that what we really need to do during this point in time is to make sure we stick together, that we stay together. That we act, that we speak, and that we are one. We don't finger point. We don't blame anybody either. There is no excuse for what happened. It happened. We're a team and I think the stressing of remembering even in a situation such as yesterday's game is very important. Today we talked in here and we don't try to soft pedal anything."
The players are embarrassed by what happened in Charlotte. They have pride, though some conceded they must play with more passion. To them, the key to turning around their season lies with another point Coughlin made. The Giants practice well during the week, but that good work is not apparent on game day.
"To be honest with you, I know Thursday's practice was pretty good," Coughlin said. "Wednesday's practice was good, so it's not that part of it. It's the transfer of that over into the game situation and then being hardened and mentally tough enough to withstand some things that don't go your way and come back and make something happen in a positive way."
The players are as mystified as Coughlin as to why there hasn't been a positive correlation between the work in practice and the performance in games.
"We've got to have greater energy and greater enthusiasm," quarterback Eli Manning said. "We have to play better technique and make better decision making. There are some plays out there that we left on the field and sometimes we just got flat-out beat. It's not a big surprise of what we have to do to fix it. We've just got to go out there and play better football."
"Guys are eager, we don't take this job lightly," linebacker Spencer Paysinger said. "We're eager to come in to learn, win and play hard in practice. You guys (reporters) see us in practice going through the dog days – the fact it doesn't resonate on the field – there's something missing. We have to find what's missing and not wait for it to come, we have to go out and get it."
The Giants insist that intangibles like pride, desire and team chemistry are not issues. Simply playing poorly is the problem and that alone is what must be corrected. But perhaps a component of that is playing with more emotion.
"We need to have more passion, we need to have that fire," linebacker Mark Herzlich said.
"I think it's more mental now than anything," defensive tackle Cullen Jenkins said. "I think that, right now, we just have to get in our heads a sense of confidence, a sense of believing, just expecting things to go well instead of just hoping that things go well.
"There's a lot of chemistry between the guys in here. Games have not gone the way people want them to but you don't want to see people fighting or arguing with each other. Everyone's trying to come together to find a solution."
No one's working harder on that than Coughlin.
"Each year is a new year," said Coughlin, who has not had an 0-3 team since 1995, when his expansion Jacksonville Jaguars started 0-4. "Each situation is a totally different situation. We're scratching and biting to try to find answers as well, to see what we want to see in our team."
What he wants to see more than anything is a victory in Kansas City on Sunday.