EAST RUTHERFORD, N.J. – When Justin Pugh makes his NFL debut at right tackle Sunday night in Dallas, he will be the first Giants rookie offensive lineman to start a season opener since guard Chris Snee in 2004. So it's only fitting that the player lining up next to him will be Snee, who will make his 139th regular-season start.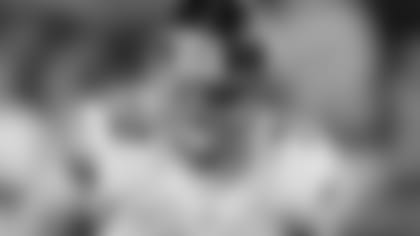 VIEW: Today's Practice Photos "I'll be there this whole week, making myself available to him, talking through things with him now, that way we're not doing it during the game," Snee said today. "It's good for him to have a guy like me who's been through it before."
Snee is not the only veteran who has helped accelerate the development of Pugh, who was the 19th overall selection in the 2013 NFL Draft. David Diehl, whose injury opened the door for Pugh to step into the starting lineup, David Baas (also sidelined) and Kevin Boothe have provided a lot of assistance.
"I lean on them tremendously, because they've been in these situations before, they've been in the biggest games," Pugh said. "I try to watch the way they carry themselves on and off the field, get in there with film and see what they see and try to use that to my advantage and try to take little parts of their games and use that."
But it's Snee who lines up next to Pugh in practice and who will be there on Sunday.
Like Pugh, Snee debuted in a road game against an NFC East opponent, facing the Eagles in Philadelphia.
"I was excited," Snee said. "It was in Philly, I had a bunch of my family there and friends, being a PA (Pennsylvania) guy. Obviously, I knew it was a big game. I didn't fully understand the whole division thing at that point in time, but I knew how big it was. Maybe I was a little nervous, but when I got out on the field I was fine. I read comments from peers saying the same thing. Leading up to the game, certainly you're nervous and rightfully so, but once you get out there you just kind of let your instincts take over."
Pugh insists his nerves won't be a big factor as game time approaches Sunday.
"I do get a little nervous right before I go out," said Pugh, who started all 34 games in which he played at Syracuse. "I think all week I won't be nervous. Then I get into the locker room, waiting to go out. Until I get out there and get that first hit in, I'll probably be a little nervous. I always have been that way. I think that's how offensive linemen naturally are. You get nervous, you feel it in your stomach like you want to throw up and then once you're out there and hit somebody you feel a lot better."
Funny he should mention that. Snee famously – infamously? – vomits on the sideline just before the opening kickoff of every game. "I still do it, even before the preseason games," he said. "I didn't think it was going to happen but it did. That's just more excitement; I'm not nervous at that point in time."
Pugh doesn't quite go that far.
"I dry heave and then once I get that first hit out of the way, I'm good to go." Pugh said.
Well, okay, there's your difference between the veteran and the rookie.
Pugh stepped in as the Giants' starting right tackle after Diehl hurt his thumb in a preseason game against Indianapolis on Aug. 18, an injury that required surgery. Diehl is expected to be sidelined another several weeks. In his absence, the Giants lose much experience; Diehl has played in 153 regular-season games, starting 149.
But the team has confidence in Pugh, who will be the first Giants first-round draft choice to start a season opener since Jeremy Shockey in 2002 and the first rookie since linebacker Greg Jones in 2011. The last Giants offensive rookie to start an opener was tight end Michael Matthews in 2007, also at Dallas.
Pugh, however, is trying not to treat the game Sunday night as a major milestone in what he hopes will be a long and successful career.
"You never want to have that moment where you think you've arrived, because I haven't arrived," Pugh said. "I'm getting a great opportunity to play the game I love. To go out there and to prove that I belong, I think that's the biggest thing. I don't think I'm ever going to say I've arrived until I've accomplished what a Chris Snee or a Dave Diehl have and I have Super Bowl rings. I think right now I have a great opportunity to earn the respect of the guys in this locker room by my play and I think to go out there and play for them is what I want to do."
According to Dallas' depth chart, Pugh should be blocking Anthony Spencer, the left end in the Cowboys' new 4-3 defense. But Spencer didn't practice today and hasn't since undergoing arthroscopic knee surgery on July 25. If he misses the game, George Selvie, a fourth-year player out of South Florida, is expected to start.
"I didn't actually play against Selvie - I was a redshirt freshman - but I watched him on film and I know who he is," Pugh said.
Pugh is not the only neophyte on the offensive line. James Brewer will make his first NFL start at left guard, a move necessitated because center David Baas is sidelined with a knee injury and Kevin Boothe moved over to take his place. Will Beatty is the left tackle.
"Justin's excited about the start, Brewer is excited to get the nod and then you have three guys who have played a lot of football," Snee said. "Sounds like a good combination to me."
The Giants think so. They and everyone else will find out how good the recast line is Sunday night in Dallas.