EAST RUTHERFORD, N.J. –** The Giants' offense was underwhelming in the first quarter of the 2013 season, but that didn't prevent Victor Cruz from confirming his status as one of the NFL's best wide receivers and setting himself up for what could be the best year by a wideout in Giants history.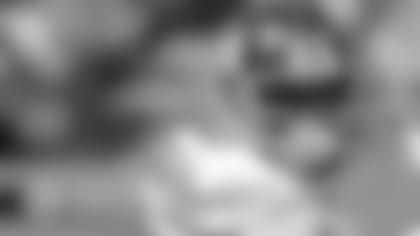 Know Your Opponent: Eagles Roster Cruz has 26 receptions for 425 yards and four touchdowns. He has 10 catches, 195 yards and three touchdowns more than any of his teammates. Last Sunday in Kansas City, Cruz caught 10 passes for 164 yards and scored the Giants' only touchdown on a 69-yard catch and run.
"He's playing as well as we've seen him play," Coughlin said. "Thank God for it."
As the Giants prepare for their home game Sunday against the Philadelphia Eagles, Cruz's 26 catches tie him with four other players for 10th in the NFL. He is fourth in the league in receiving yards and tied for third in touchdown catches. Cruz's full-season numbers project to 104 catches for 1,700 yards and 16 touchdowns. The first figure would leave him just shy of Steve Smith's franchise record of 107, set in 2009. The latter two would be Giants' records. Cruz holds the yardage mark with 1,536 in 2011, and Homer Jones owns the touchdown receptions record with 13 in 1967.
"I think Victor is playing great," quarterback Eli Manning said. "He played well this week. He's played well all season. He's making a lot of plays and winning his one-on-one battles. I think he's done a great job of coming in and continuing to play at a high level. That's great and hopefully everybody else can catch up to that level."
Cruz said putting up impressive numbers is what he's paid to do.
"I guess I'm just getting open," he said. "Catching balls that are thrown to me and making something happen. That's all I can do, to do what's expected of me and get myself open and be an outlet for Eli to hit. It's not just about me. It's about this team getting on the same page and us clicking on all accords and getting this offense back on track."
The Giants' offense is ranked 23rd in yardage (325.5 a game) and is 30th in scoring (15.3 points a game).
But Cruz is again performing at the high level he established the previous two seasons. Two years ago, he set the franchise yardage record and scored nine touchdowns and last year he had 86 receptions and 10 scores and was selected to play in his first Pro Bowl.
Cruz opened the season with back-to-back 118-yard games against Dallas and Denver. He scored touchdowns on three of his five catches against the Cowboys, including a 70-yarder. No NFL player has caught as many long touchdown passes as Cruz in the last three seasons. Last week, he had the second double-digit receptions game of his career. And that's with the opposition focused on stopping him.
"They'll do some special coverages or try to get a second guy to kind of double him on certain things," Manning said. "That should open up opportunities for other guys as well."
Cruz is reluctant to discuss his individual accomplishments, because the team is struggling. The Giants are seeking their first victory of the season this Sunday against the Eagles.
"This game's always intense," Cruz said. "Us against Philly is always intense, no matter what the records are, no matter how each team is playing. It's an important game for us no matter what the records are, no matter how we're playing or they are. This game is important in the division. We have to get this victory by any means necessary."
The Giants are facing the Eagles one week after Philadelphia lost to the Denver Broncos, 52-20. This week, Denver is at Dallas, which is in first place in the NFC East. If the Giants win and the Cowboys lose, the Giants will be just a game out of first place.
So it's not surprising that Eli and Peyton Manning conferred this week about their upcoming opponents.
"I talked to him yesterday," Eli said. "I talked to him about Philly. I gave him my thoughts on Dallas. That's who they're playing this week. I watched their game. You ask some questions and just see some general thoughts and I'll do the same helping him with Dallas."
Asked what the best advice he received from his brother was, Eli said, "Not advice. It's just scheme or some ideas or just some general thoughts on their team."