EAST RUTHERFORD, N.J. –** Perhaps no one has a better gauge on Terrell Thomas' practice than the receiver he covers in practice.
"If you didn't know he had surgery, you couldn't tell," Victor Cruz said today. "He still has the same competitive edge out there. He's still out there playing, he's not tentative at all, and he's out there going and getting after it and playing. It's good to see and it's good for all of us, good for our team as well."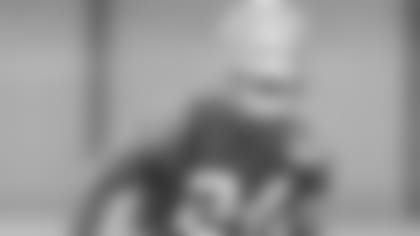 Photos: Training Camp Practice](http://www.giants.com/photos/photos/Training-Camp-Practice-Photos---814/c2dc8ef7-a498-4a80-8e05-c6992743805e) "The only way I'm going to get out there and be able to play Week 1 against Dallas is covering our best wide receivers," Thomas said. "(Cruz) definitely gives me everything I need as far as getting ready and as a challenge, and it definitely builds my confidence."
Thomas is attempting a rare – and for the Giants unprecedented - comeback. He missed the previous two seasons after undergoing surgery to repair torn anterior cruciate ligaments in his right knee, the same surgery he had at USC in 2005. Carolina linebacker Thomas Davis is believed to be the only other NFL player to return to the field after three reconstructions on the same knee.
Thomas isn't looking to make history. He just wants to again play the game he loves.
"I am totally confident," Thomas said. "I have made the cuts and I think watching it on film, seeing myself, I'm not looking down, I'm not hesitant to put my knee on the ground. I think yesterday was a big day for me to get out there on the turf (in the Quest Diagnostics Training Center field house) and make cuts and wasn't hesitant. Each and every day I want to come back and practice. My knee's not swollen up, it's not hurting and that's the biggest thing. I've been healthy throughout the whole process so that's a great sign."
So is his work against Cruz. Thomas has been lining up in the slot as the nickel corner. He's been regularly covering Cruz, who is arguably the NFL's best slot receiver. A Pro Bowler in 2012, Cruz caught 168 passes and scored 19 touchdowns the previous two seasons.
If Thomas can stick with Cruz, he can probably cover almost any NFL receiver.
"He's very explosive and that's what I need," Thomas said. "Going against a bigger wide receiver is easy. I'm a big guy, but going against somebody that's quick and explosive and being able to get my hands on and react to somebody like him that is very good in the slot. It definitely builds a confidence in myself and in the coaching staff and I think overall in the team that they feel confident with me out there.
"I want to cover all of them. You want to cover a guy like Rueben (Randle), Hakeem (Nicks), a quick slot guy. You want to mix it up. You want to be able to cover all types of wide receivers. But Victor definitely poses every threat I need in the slot to cover somebody".
Cruz believes Thomas will return to the level of play that enabled him to lead the Giants in tackles, interceptions and passes defensed in both 2009 and 2010.
"I see him progressing," Cruz said. "It's still a little bit of a progression for him. You can still see him getting his feet under him and working on his lateral movement. But he looks good, he looks quick, he looks fluid out there. He jammed me up pretty good one day out there, I'm not going to lie. But I got him back. There's a little back and forth, just a little competitive stuff to get each other better. But I definitely see him moving in the right direction."
Cruz said he is improving because of Thomas' coverage skills.
"More than his feet and his footwork," Cruz said, "he's smart, he's cerebral, he gets it, he understands how to approach the wide receiver, whoever was lining up on the line, whether they go inside, outside, what hand to shoot. So he's a very smart player and it's definitely competitive for myself and for him."
Defensive coordinator Perry Fewell was asked yesterday about Thomas' performance in the previous day's practice.
"He showed burst," Fewell said. "He showed the ability to come out of a break when he was covering in man coverage. So we're going to take it day by day with him. We're going to bring him along as the trainers and as Terrell speaks to us about how he feels on a daily basis, but it was exciting to see him back in action."
Thomas began training camp on the physically unable to perform list because of a hamstring strain he suffered during a conditioning test on July 26. He practiced for the first time on Aug. 6 and did not play in the preseason opener last week in Pittsburgh. Thomas doesn't know if he'll make his debut Sunday at home against Indianapolis.
"We're just taking it one day at a time," Thomas said. "What's today, Wednesday? We've still got a lot of time before Sunday, still got the last minute, still got two more preseason games. There's no rush in getting me out there but if I'm ready to go, I'm ready to go.
"We have a great plan to get ready for Week 1, and the plan is just to keep getting better every day. Wake up every day with no soreness, get through a practice, get through a week, get through two weeks, and get through a preseason game, you just keep building like that. The mental aspect of the game, and I'm a veteran, that's the easy part. It's the physical being out there. And once I can prove that to the coaches and the medical staff and myself, I think everything else will take place. "