EAST RUTHERFORD, N.J. – As if the Giants' offense hasn't had enough bad news this season, now Victor Cruz has had his knee scoped and been declared out of the game Sunday against the Lions in Detroit. The team's leading receiver suffered a concussion and an injury to his left knee last week vs. Seattle.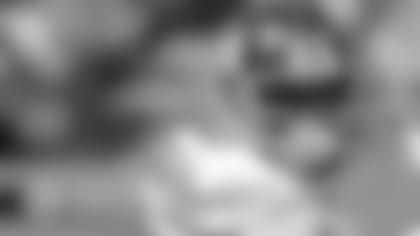 Go inside the Giants locker room Cruz today underwent an arthroscopic debridement of the knee. The procedure was performed by Dr. James Andrews in Pensacola, Fla.
Per the NFL's protocol, Cruz yesterday was cleared of the concussion.
Cruz had been among the Giants' most durable and productive players. He has played in 46 consecutive regular-season games, which is tied with Mathias Kiwanuka and Steve Weatherford for the fifth-longest streak on the team behind Eli Manning (149), Zak DeOssie (110), Antrel Rolle (62) and Kevin Boothe (54).
Despite facing constant double coverage, Cruz this season had team-high totals of 73 catches for 998 yards, just two shy of his third consecutive 1,000-yard season. He scored four touchdowns, including three on opening night in Dallas and none since Sept. 29 in Kansas City.
The Giants have 12 players on injured reserve, including seven on offense who started a game this season: running backs David Wilson, Da'Rel Scott and Brandon Jacobs, fullback Henry Hynoski, guard Chris Snee, and centers David Baas and Jim Cordle.
Rueben Randle will likely start in Cruz's place and offensive coordinator Kevin Gilbride said
Jerrel Jernigan will replace Cruz as the slot receiver.
In part because of all the injured players, the Giants have struggled on offense much of the season. They rank 28th overall (311.6 yards a game), including 28th in rushing (83.5) and tied for 18th in passing (228.1). The Giants' 19.9 points per game place them 30th in the NFL. Last week, they were shut out for the second time this season; no other team has been blanked once.
Offensive coordinator Kevin Gilbride is reluctant to discuss injuries, because he doesn't want to use them as an excuse. But it's impossible to dismiss their impact on the offense's performance and production.
"It's been a challenge, there's no question about that," Gilbride said. "It's been difficult. It's part of the thing going into this thing, knowing that you want to compete, you want to beat the challenges that you've been dealt. Sometimes it's the quality of the opponent, sometimes it's the injury factor, sometimes it's the situation in a game, or the situation you find yourself in, in a season. This one, there's no question that has been a factor in our play and we just keep trying to do whatever it is we can do to adjust, so we can give our guys a chance this Sunday to win this game."
The large number of missing players affects not only the performance on game day, but the planning leading up to it. Gilbride would like to construct a game plan that is as normal as possible, but that is not always realistic.
"You try to the best of your ability, but you have to factor in what can your guys do," he said. "The governing factor has to be, what can you do? Part of the reason that we made more mental errors than we normally do is because you are adjusting, you are putting in new things, so you're not as good at it. You're never going to be as familiar, so they don't do it as well. It's all part of it."
It will get no easier this week in Ford Field. The Lions have what is likely the NFL's most formidable defensive tackle tandem in Ndamukong Suh and Nick Fairley, plus speed rushing ends Ziggy Ansah and Willie Young.
"They're good," Gilbride said. "We faced a terrific front last week that could rotate eight or nine guys and have a totally different flavor to them. They're going to have the same guys in more often. Their line coach likes to make mass substitution changes, but you have two of the best defensive tackles in the league and they're a physical presence that you have to deal with. Like in any game, how do you help the guys where the matchups are going to be challenging and most challenging for your team? You try to slide and double as best as you can, just like you do with your tight ends and your receivers. What do you do to give your guys the best chance? Then the problem is they have a couple of ends who are rushing up the field and are very effective. If they can get your quarterback to step up, you have those two monsters upfront that are pushing the pile back. There's a reason people haven't run the ball very well. There's a reason they get after people very well with their front. They're good."
Statistically, the Lions have the league's best third down defense; their opponents have converted just 30.1 percent of their opportunities (55 of 183).
"It's not as necessarily as complex as they know they can just pin their ears back," Gilbride said. "That's all it is. It's like last week. It wasn't very hard to figure out what they did, but it's how do you handle it."
That's been the story for the Giants' offense all season.
Four players who did not practice yesterday returned to the field today: guard James Brewer (ankle), defensive tackle Cullen Jenkins (shin/quad), cornerback Terrell Thomas (knee) and Jernigan (knee).
Five players did not work: guard David Diehl (knee), running back Peyton Hillis (concussion), cornerback Trumaine McBride (groin), defensive end Jason Pierre-Paul (shoulder) and safety Cooper Taylor (hamstring).
Tom Coughlin said he thinks Diehl will work tomorrow. But the outlook for Hillis was not as positive. "He still has issues," Coughlin said.
If Hillis can't play, the Giants will have two available running backs (Andre Brown and rookie Michael Cox), plus fullback John Conner.
The top seven rushers in this week's NFL statistics are LeSean McCoy, Adrian Peterson, Matt Forte, Jamaal Charles, Alfred Morris, Marshawn Lynch and Eddie Lacy. All of them gained between 26 and 67 yards vs. the Giants. A run defense that was 25th in the NFL in 2012 (129.1 yards a game) is now 13th (98.6).
"Inside we're better," defensive coordinator Perry Fewell said. "Our tackles have been good. Linval Joseph, Cullen Jenkins, Hank (Johnathan Hankins), Mike Patterson, those guys have been really good inside and that's helped us tremendously in the run game. With the addition of Jon Beason, he's a very smart football player. We keep saying to you guys that he's been a voice for us, he's brought some good stuff to us, so that has been really good for us. We've tackled well throughout the season. If we can keep that combination going for the next two weeks, our run defense is improving as it is night and day."
The Giants trail in their series with the Lions, 20-19-1. But they will attempt to stretch their winning streaks to three games in the series and five in Detroit on Sunday. The teams last met on Oct. 17, 2010, when the Giants defeated the Lions in MetLife Stadium, 28-20. They last faced each other in Detroit on Nov. 18, 2007, a 16-10 Giants victory in Ford Field. The Giants also won in Detroit in 1988, '96 and '97. They last lost there in 1983. Although they've played the Lions there just once, the Giants are 2-0 in Ford Field. They defeated the Minnesota Vikings there, 21-3, on Dec. 13, 2010 in a game that was moved to Detroit after the Metrodome roof collapsed in a snowstorm.