Field position is big. So Washington is using size to gain all it can in a game of inches.
Upon Further Review
The Giants players are still motivated to compete and win the final games...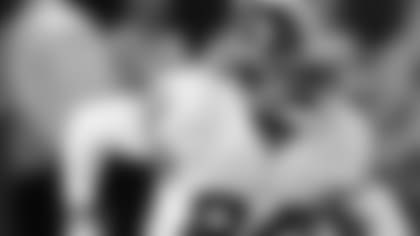 Know Your Opponent: Washington When the Giants line up against the Redskins for the first time this season, they will likely see third-year tight end Niles Paul back returning kickoffs.
At 6-foot-1, 233 pounds, Paul is the only tight end to regularly return kickoffs this season. His frame is not the typical tall and lanky or short and compact that you're accustomed to seeing, but his speed is. Paul ran the 40-yard dash in 4.45 seconds at the NFL Scouting Combine in 2011 before the Redskins drafted him in the fifth round.
"He's a fierce guy," said linebacker Spencer Paysinger, who leads the Giants in special teams tackles this season. "Whenever you have a person on the roster that is technically a tight end and is back there returning the ball – he's a gunner on punt team – that's a special athlete. He's a fierce competitor."
Paysinger can't recall ever seeing a tight end in that position.
"Truthfully, no," he continued. "I haven't seen anybody that big be able to do it productively. Obviously we'll have some guys back there as blockers and to tell the returner to stay in or go out. But to see somebody, what, 6-1, 230, back there fielding the ball, it's going to add a different element to our kickoff team."
No arm tackles for the Giants on Sunday.
And the one man the Giants don't want to see tackling at all is kicker Josh Brown. That's never a good thing for your team.
While it is unusual to see a player with Paul's size when he's running up to the tee, Brown doesn't pay much attention to the returner. He's only concerned with booting it high and deep.
"I look at the guys and I understand what they're capable of doing," Brown explained. "But I feel like regardless of the returner, as long as I do my job, we can control him. So I don't go over the top about who's standing back there catching the balls."
There are always exceptions, though.
"Now obviously you're going to give other guys more attention – [Chicago's] Devin Hester, the kid from Minnesota [Cordarrelle Patterson, who leads the NFL in average return yards and has two touchdowns in his rookie season]. You're going to try to do some things to pull them one way or the other to slow them up," said Brown, who is 13th in the NFL in touchback percentage. "But I just, personally, don't pay a tremendous amount of attention to who's back there. As long as I'm kicking them nine-deep and getting hang time, they should stay. If they don't, they don't."
The NFL's rule change that moved kickoffs from the 30-yard line up to the 35 a couple years ago has only bolstered the approach to his craft, even if the returner is a fellow Nebraska product like Paul.
"That even put more emphasis on 'as long as the kicker does his job, it's irrelevant who's back there,'" said Brown, an 11-year vet. "If you get a favorable wind, you smash them out. If you happen to fight the wind, you definitely put it in the corners, drive the ball a little more. We were able to accomplish that last game a few times."
But another Cornhusker will have to mind the versatile Paul, who is a converted wide receiver and even started last week at fullback. Giants cornerback Prince Amukamara was drafted out of Nebraska the same year as him.
"When I played him [in practice], he was a wideout, a great wideout," Amukamara said. "I'd say he gave me the most problems at wideout than anybody I ever faced in college. I don't know if that's just because we battled each other and knew each other, but man, everyone knows Niles is physical and always works hard."