5) The shoulder pads came on for the first time at training camp, and that set the physical tone for Tuesday's practice at the Quest Diagnostics Training Center. Things will be ratcheted up again on Thursday when they put on full pads after a players day off in between.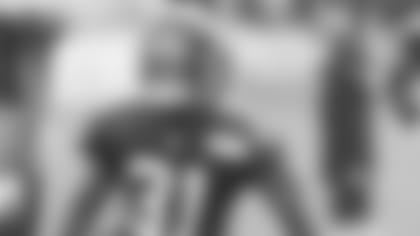 4) Junior Mertile made the countdown for the second-straight day with another interception in practice. Today the rookie defensive back out of Florida International picked off rookie quarterback Ryan Nassib on a deep ball intended for Brandon Collins.
3) Victor Cruz came up with two big catches in practice today. The first came with him falling out of bounds on the sideline during one-on-one drills, and the other was a touchdown from the red zone toward the end of practice.
2) It would be tough for cornerback Aaron Ross to top his interception from the previous practice, but he did his best to try to on Tuesday, coming down with another – this time off Eli Manning during seven-on-seven work.
1) Wide receiver Rueben Randle topped the list after the Giants' fourth practice of training camp. The second-year wide receiver came down with a jump ball heaved by Manning deep down the field.