EAST RUTHERFORD, NJ - A lengthy injury list that affects several positions will necessitate a reshuffling on the offensive line when the Giants practice today.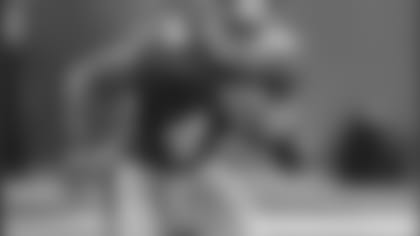 Centers Shaun O'Hara (ankle/Achilles) and Adam Koets (knee) will not practice today as the 2-2 Giants begin preparations for their game Sunday against the 3-1 Houston Texans. Rich Seubert will move from left guard to center, David Diehl from left tackle to left guard and Shawn Andrews will step in at left tackle. Coach Tom Coughlin said Diehl and Andrews could switch spots tomorrow.
O'Hara, who missed the last two games, tried to run yesterday, but "the results were not all that good," Coughlin said. Koets, who hurt his medial collateral ligament in the 17-3 victory over Chicago Sunday night, is wearing a brace and feels better, but is not practicing.
Running back Ahmad Bradshaw, named yesterday as the NFC Offensive Player of the Week, is working through a sore ankle.
"We're going to see what he looks like – he's taped and he went to the jog thru here," Coughlin said. "He seems to feel a little bit better under that circumstance, but we'll see. We'll see how much we can do with him today."
Safety Kenny Phillips is on the list with a knee injury, but Coughlin said it's no cause for alarm.
"We started to actually do a little bit less with him on Wednesdays," Coughlin said. "We started that last week. He calls it tired and sore. According to the training room, it has nothing to do with the past surgery or anything of that nature. We're just trying to maintain it."
Linebacker Keith Bulluck (toe), fullback Madison Hedgecock (hamstring) and defensive end Osi Umenyiora (knee) will not practice. Coughlin said Umenyiora will work tomorrow.
Coughlin said there was "nothing that I can report" from the tests done yesterday on Mathias Kiwanuka's neck. Kiwanuka was diagnosed on Friday with a bulging cervical disk. Coughlin did not offer a prognosis.
"Really, all we're doing is getting information from the doctors – that's all," Coughlin said. "I think that there will be at time frame if it's a wait deal and then we'll have to – once that time frame is met, then a decision would have to be made."