EAST RUTHERFORD, NJ - The Giants experienced both successful returns and disappointing departures on the injury front today.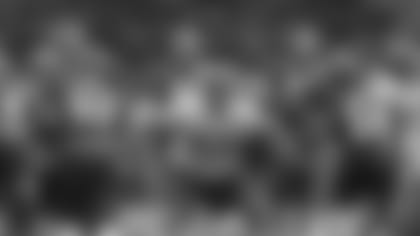 Most notably, Eli Manning's brief tenure as a spectator has ended. Manning practiced today, sans helmet, and expects to start Saturday night in Baltimore.
"I'll play on Saturday," Manning said. "So I'm excited about that."
Also returning to the field were running back Brandon Jacobs, who missed the Pittsburgh game with a stiff neck, and guards Rich Seubert and Chris Snee, who had missed game and/or practice action, the former with a broken hand and the latter with a swollen knee. With the starting guards participating in practice, David Diehl returned to left tackle, his preferred position. Diehl started at left guard in the first two preseason games.
Having Manning, Seubert and Snee on the field was a welcome sight for Tom Coughlin, but he still had far less than a full squad available for practice. Wide receiver Ramses Barden and safety Michael Johnson remain sidelined with back issues, and cornerback Aaron Ross (foot), tight end Travis Beckum (neck) and safety Michael Greco (knee) were new absentees. In addition, running back D.J. Ware and safety Sha'reff Rashad were undergoing tests after suffering concussions in Saturday's 24-17 preseason loss to Pittsburgh.
Manning, of course, was the most notable returnee. The durable quarterback was not thrilled watching the entire Steelers game from the sideline. But Manning had no choice after sustaining a laceration the previous week against the Jets that required 12 stitches to close. The sutures were removed on Friday, but he didn't play in the game because he couldn't wear a helmet.
"It's not fun," Manning said of sitting out. "I don't like missing practice. I like being with my teammates and going through everything with them. Like I said, I'm kind of happy last week was at least a short week and I didn't have to miss too much, but I'm excited about getting back out there today."
Manning returned to the practice field this afternoon wearing a baseball cap. He participated in every drill he normally would have, he just didn't wear a helmet.
"He looked sharp," Coughlin said. "I liked his tempo right away. He got the ball out of his hand quick and made some real good decisions and so we're glad to have him back on the practice field."
Asked if he thought Manning would face the Ravens, Coughlin said, "If everything goes according to plan, yes."
Manning might require some extra padding on the afflicted area before wearing a helmet.
"We'll work with it," Manning said. "We'll get a little plan. I haven't put a helmet on yet, but I kind of plan to put the helmet on Wednesday. We'll figure out a best the plan to get it protected."
Manning learned that practicing in a camp is infinitely preferable to watching the workouts, as he did last week.
"It's no fun sitting out in our practices," he said. "Last week was a short week and I didn't miss too much. I like being out there for the games, and it's preseason, so (we're) just trying to be smart and get it to healed up now where you have a little time so you don't have to keep dealing with it week after week."
An MRI of Jacobs' neck revealed no structural damage and today he was again taking handoffs from Manning.
"The neck is good," Jacobs said. "The neck is really good, actually. I can turn it in every direction that it goes in. It's fine. It's doing good. It's right on track to be where it needs to be."
Jacobs first felt pain in the neck while working in the weight room last Thursday.
"I knew right away, but I didn't think it was going to be up to the point of missing the game," he said. "I just thought that it was something that was going to go away and I could be right out there, but it was so close to the game, which is probably why I ended up having to miss it."
Snee missed two weeks of practice and the first two preseason games with his swollen knee. Seubert has practiced with his broken hand, but has sat out the games. He expects to play Saturday night.
"In my mind, I'm playing against Baltimore," Seubert said. "That'll work because the plan was, when it happened, wait a couple weeks and see how it feels and is recovering and healing. In my mind, it feels good. We'll see how it goes this week in practice."
Seubert prefers to play guard with Diehl next to him instead of watching Diehl step in at his position with Will Beatty at tackle.
"That's my plan - Dave at tackle, me at guard," Seubert said. "I'm looking forward to it. I miss being out there with those guys playing. It's not fun to see the game from the sidelines."
Diehl, who played right guard, right tackle and left guard his first three seasons, is entering his fourth year as the team's left tackle. He played the entire Pro Bowl at tackle last season.
"That's the first position that I've really played extended time at in my entire career here over the eight years," Diehl said. "So having the last three years under my belt, it's given me the experience. Like I said, I've got that mentality and the physicalness to play the position and I've played at a high level. I think all those things play a factor in it, but I'm looking forward to just keep improving each game and each week this preseason and then just getting ready for the season because we're playing these games to get us ready for Sept. 12."
While the offensive line had all five starters back, the defensive backfield was more muddled.
Ross, who didn't miss a practice in Albany and returned a punt 45 yards against Pittsburgh, has plantar fasciitis, an irritation and swelling of the thick tissue on the bottom of the foot. Manning had the same injury a year ago and didn't miss a game.
Ross was limited to four games last season because of hamstring issues, but had played well as the third cornerback and punt returner this summer.
"Well, it's a big swollen heel," Coughlin said. "But hopefully – I mean, Eli got it under control pretty quick and played with it, but it's a different position."
Coughlin said Ross was not hurt on his long punt return.
"He was complaining about the tape job," Coughlin said. "That's the only thing I knew about it, and now all of the sudden, the next day, it was…this."
Johnson has a disk issue in his back. "They tried one treatment, obviously that one didn't work, now they're going to go ahead and try another," Coughlin said. "But in the meantime we're all standing here and we could use him."
Johnson and Rashad were already sidelined when Crecco was unable to suit up today because of a sprained knee, leaving the Giants short at safety. The beneficiary was Kenny Phillips, who got many of the additional reps he's been clamoring for.
Barden has a stress fracture of a transverse process, the bony structure that protrudes from each side of the vertebrae in the back, but Coughlin is hopeful he will return soon.
"Maybe in a week he can go back," Coughlin said. "It's a pain thing, as I understand it. If you can handle the pain, you can go."
Beckum, who missed much of the three-week camp in Albany with a sore hamstring, is now dealing with another issue.
"Travis has some kind of a thing in his neck." Coughlin said. "It's not anything to do with his hamstring or anything. He's had a little muscular problem in his neck earlier today. They thought they had it worked out, he comes out here and whatever happened. happened."
*Keith Bulluck, who had been playing middle linebacker, took some reps on the outside, where he played for 10 seasons with the Tennessee Titans.
"(It's) just to make sure he's familiar – he's played there all his career – so to make sure he's familiar so that he can be more versatile," Coughlin said. Asked if he considered Bulluck a middle linebacker, Coughlin said, "I consider him a linebacker."
*Coughlin said Clint Sintim, who has been starting at strongside linebacker, "attacked the line of scrimmage the other night. I just think that the competitive aspect of it is the way we've gone at it all camp and if that creates a little bit of competition over there, then so be it."
*Shawn Andrews, the former two-time Pro Bowler signed late last week, practiced for the first time. He worked at left guard in team periods and at left tackle in some pass block drills. Andrews played right guard when he was one of the NFL's best offensive linemen from 2005-07.
"I like what he did," Coughlin said. "He set a couple of times with his partners when he was playing guard and the T (defensive tackle), he was coming at him, and he jammed the T and backed him up into the E (defensive end), and so there was no stunt. The coaches have met with him since Friday – Friday, Saturday, Sunday – so he's starting to be spoon-fed the offense, which is foreign to him. He's got to do some analogies and some comparisons just to put the thing together. But he's been working at it, so hopefully it'll come quickly."
Andrews said he is comfortable on the left side.
"I played right tackle my whole college career, and I played right guard my whole career in Philly (with the Eagles)," Andrews said. "Being on the left side, I don't know if it has anything to do with being left-handed, but it feels more natural."
*The Giants will host their seventh annual Stuff the Bus school supply drive on Thursday, Sept. 2, 2010 when they play host to the New England Patriots. The drive will benefit Tools 4 Schools, a program of the Community FoodBank of New Jersey. Fans attending the game are encouraged to drop off new, unused school supplies with volunteers located at each stadium entrance prior to the start of the game.  Tools 4 Schools provides brand new school and office supplies to teachers in New Jersey schools and after-school programs with 70% or greater participation in the Free & Reduced Price lunch program.
Some of the most needed items are: pencils, notebooks, backpacks, glue & gluesticks, composition books, crayons, markers (including dry erase), pens, filler paper, copy paper, staplers & staples, and rulers.
--- ](http://www.nyg2010.com/)**