EAST RUTHERFORD, N.J. – Eight years after his death, the life and achievements of Giants Hall of Fame owner Wellington Mara continue to be acknowledged by those who knew him and whose lives he influenced.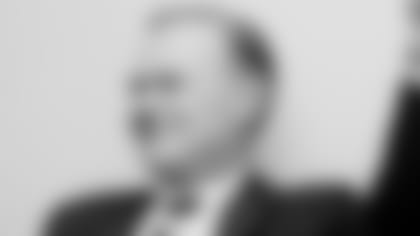 View the 2014 HOF Semifinalists
Tomorrow, Mara will be recognized by the Pro Football Hall of Fame and Allstate Insurance Company in New York as part of "Hometown Hall of Famers," a national program honoring the hometown roots of the sport's greatest coaches, players, and contributors with special ceremonies and plaque dedication events in local communities.
Mara will be honored with his "Hometown Hall of Famer" plaque during a ceremony in the auditorium at Loyola School in Manhattan, where the plaque will be permanently displayed. Mara was a graduate of the school before attending Fordham University and joining the Giants fulltime in a career that spanned more than 80 years.
The presentation will be made by John Mara, the oldest of Wellington's 11 children and the Giants' current president and CEO. The ceremony will be attended by Loyola School students, faculty, staff, alumni and Mara's family members and close friends. Loyola School President Tony Oroszlany will serve as the Master of Ceremonies.
In addition to the plaque, a commemorative Wellington Mara "Hometown Hall of Famers" road sign will be on display in New York.
"This recognition would have been very meaningful to my father," John Mara said. "He spoke often about his days at Loyola and the experiences that he had there, growing up in New York City. So I think being recognized and having this plaque at this school that he loved so much in the city he loved so much would have been especially meaningful."
Wellington Mara is one of the most respected, knowledgeable and successful executives in pro football history. Thanks in large part to his extensive experience and skill in organization, player personnel, trading and drafting, the Giants became a powerhouse team in the late 1950s and early 1960s. From 1956 to 1963, the Giants won six divisional championships and the 1956 NFL title. Mara helped produce 16 NFL/NFC divisional titles and four NFL championships.
From 1984 to 2005, Mara served as president of the National Football Conference. He had also served on the Hall of Fame and realignment committees, as co-chairman of the long-range planning committee and on the NFL Management Council's executive committee. Mara was inducted into the Pro Football Hall of Fame in 1997. He passed away in 2005 at the age of 89.
One of Mara's defining character traits was his extraordinary patience, even when his Giants struggled.
John Mara learned many lessons from his father and the importance of having patience is near the top of the list. Mara's was tested early this season when the Giants lost their first six games. They have since rallied and will take a 4-6 record into their home game Sunday against the 5-5 Dallas Cowboys.
"We were all disappointed and surprised by the slow start," Mara said. "I am proud of the way this team stuck together. We always want to play meaningful games around and after Thanksgiving, and that's exactly what we have this Sunday in MetLife Stadium. I'm proud of the way the team has stuck together. That is a tribute to the head coach and the leadership in the locker room.
"As the players and our head coach have said repeatedly over the last month, we are taking it one game at a time. We're moving forward and, as our coach has urged the team to do, doing our best to keep the dream alive."
Wellington Mara is the 87th Hall of Famer to be recognized by Allstate and the Pro Football Hall of Fame as part of the "Hometown Hall of Famers" program, which is in its third year. More than 120,000 high school students have enjoyed receiving the "Hometown Hall of Famer" plaque from Pro Football Hall of Famers.