The NFL Scouting Combine, which becomes a bigger event every year, gathers the football world in Indianapolis for one week a year.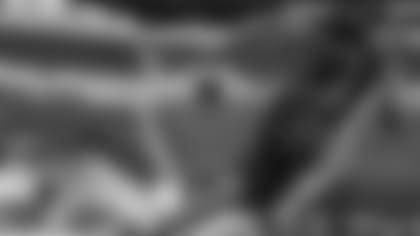 That includes the media storm that follows.
And as part of our coverage on Giants.com, we caught up with some of those who made the trip, asking for their expert analysis on all things Big Blue. While the front office plays it close to the vest for the next few months leading up to the draft, here's what the biggest names from the outside are saying about the Giants:
On where he could see the Giants going with the No. 12 pick in the draft:
"I think that there's probably going to be an offensive lineman at 12. Whether the Giants would like him or not remains to be seen. I think there's enough depth at that position that there may be one there that they like. I think there may be a defensive back or two there that they like. I think those would be the two positions that [they would like]. There might be a defensive linemen or two, too, at that point."
On what the Giants will look like under new offensive coordinator Ben McAdoo:
"I think the thing you hear about Ben McAdoo, from people who knew him well in Green Bay, is that he is an adapter, that he is not sold on doing his thing at the expense of the other talented people in his offense. And to me, I think that when you look at what a coach should be, a coach should be a guy who if he has firm belief about what he should do on offense and he doesn't have the exact players he needs for that, then he's got to adapt his offense to his players. He's not going to tell Eli Manning that, look, I want you to roll out every play and throw on the run. I look at Ben McAdoo and I think he's going to do what's right for the talent he has on hand."
**On where need and value could meet for the Giants at No. 12:
"I think receiver could be a surprise pick for the Giants just because the receiver group is so rich at the top of the draft -- three premier receivers at the top of the draft. That wouldn't surprise me, but I think it's probably more logical to think of the offensive line because [NFL Network analyst] Mike Mayock came out this week and said something that I thought was really intelligent: 'There are starting tackles in this draft through three and four rounds but there are two or three tackles up at the top of this group who potentially are franchise guys.' So from listening to John Mara at the end of the year, John Mara has basically put everybody in the building on notice. Paraphrasing him, 'We are not going to stink on offense the way we stunk on offense this year.' And so that's why I wouldn't be surprised if it was a tackle or one of the really good receivers."
On offensive line prospects:
"I certainly expect the top two guys -- Auburn's Greg Robinson and Texas A&M's Jake Matthews -- to be off the board [at No. 12]. If either of them are available to the Giants at No. 12, I think the guy runs to the podium because you're talking about two very, very talented players. But Michigan's Taylor Lewan makes a lot of sense. Notre Dame's Zack Martin also makes a lot of sense, not only very successful in pass protection but also maulers in the running game. And considering the struggles the Giants have had on the offensive line in recent years, I think each of those players, due to their all-around skills and due to their durability, would make a lot of sense."
On which player the Giants will draft:
"It's tough to say just because this is such an extraordinary draft class. I think that there is certainly going to be great value at the No. 12 spot, whether it be an offensive lineman like Taylor Lewan from Michigan. To me, he makes a great deal of sense at that spot. He plays with the physicality and the durability that you're looking for, especially in the NFC East division. You certainly need that as well as a cornerback. If Justin Gilbert is available, obviously cornerback has been an area of concern, especially considering the high-flying passing attacks you see in the NFC East. That makes some sense. And even at wide receiver, if somehow a Sammy Watkins falls all the way down there, he would be the best player available at that spot."