Jerry Reese is known for not tipping his hand in press conferences. It's just good practice for NFL general managers.
](http://www.giants.com/news-and-blogs/article-1/Eli-Manning-vs-Defensive-Coordinators/8abca107-66ab-45ef-971d-492fd966975a) * Mel Kiper Predicts NYG Pick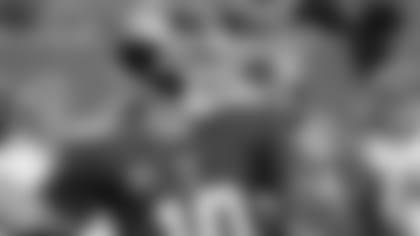 CLICK HERE for the latest Giants News](http://www.giants.com/news-and-blogs/index.html) Nevertheless, he will hold his annual pre-draft session with the media tomorrow afternoon at the Quest Diagnostics Training Center. And while you'll be hard-pressed to hear him mention a prospect by name, Reese will field questions about the personnel department's biggest day of the year as well as broader topics surrounding the team.
Giants.com looks ahead at those subjects and what fans may find out at Thursday's pre-draft press conference, which will be streamed live on Giants.com beginning at 12:30 p.m. ET.1. Addressing the offensive line.
The tone was set the day after the Giants' 2013 season ended when president and chief executive officer John Mara said, "I think our offense is broken right now and we need to fix that," while pointing out that the offensive line was his biggest concern. The Giants began the process of correcting it when they waived/failed physical an ailing David Baas and signed offensive linemen Geoff Schwartz, J.D. Walton, John Jerry, and Charles Brown in free agency. Expect Reese to be asked about where the organization stands at that position as well as what he sees from the linemen coming out in the draft.2. Complementing Cruz.
In the wake of Hakeem Nicks' departure in free agency, Victor Cruz recently said, when asked to play GM on an NFL Network segment, he would go wide receiver with the No. 12 pick to help fill that void. He's not the GM, but Reese is. Let's hear what he has to say on the receiving corps.
3. Quarterback moves.
In the last month the Giants have announced procedures undergone by quarterbacks Eli Manning and Curtis Painter, while shoring up the position room with free-agent additions Josh Freeman and Rusty Smith. We'll see what led to those decisions from the general manager's viewpoint and how he envisions the competition behind Manning.**
The effect of a new offense on draft day.** While we won't fully see Ben McAdoo's system until Week 1, it will be interesting to hear Reese talk about working with a new offensive coordinator for the first time since 2007 in regards to the draft. Speaking back in February, McAdoo said the offense "depends on what type of personnel you feed it" and that the system is built around the roster, not the other way around. We're getting closer to seeing the next crop. 5. Trading up or down.
This year's prospects have been heralded as one of the deepest groups in recent memory. First, we'll get a sense if Reese sees it the same way. If he does, then what effect does it have on teams trading up, trading down, stockpiling picks, etc.? But in the end, something tells us that Reese will say the Giants evaluate everything in looking for the best player available. After all, it's a rite of spring.