Eli aims for training camp. **Giants quarterback Eli Manning, who underwent an ankle procedure on April 10, said on Tuesday that it was the safest bet to get it done and be ready for training camp. "I think I'd be safe to say that I should be 100 percent by training camp," said Manning, who was less certain about this Spring's Organized Team Activities and minicamp. "Again, I would hope so. I would think, for sure, that I would be ready for training camp."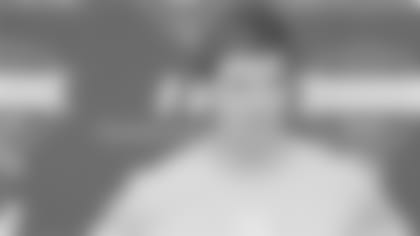 CLICK HERE for Giants News](http://www.giants.com/news-and-blogs/index.html) 2. Lighter JPP is 21 again. Defensive end Jason Pierre-Paul, who battled injuries most of 2013 and started in just six games, admitted on Tuesday that last season was very hard for him. But as he continues to rehab and train, Pierre-Paul said he feels healthy while dropping from 285 pounds to 270. "No doubts, no doubts," Pierre-Paul said. "I'm going to go out there and play the game like I was 21 again."
3. The offense will resemble Green Bay's but have its own style. It's only natural for former Packers quarterbacks coach Ben McAdoo to bring over traits from Green Bay to his new job as offensive coordinator of the New York Giants. But it won't be a replica. "That's where Ben came from, so I think it will be pretty similar to that offense," Manning said. "I've never been in a West Coast offense, so I don't know if this is exactly West Coast or a form of it or not anything at all like it. I think it probably has some tendencies to it in some of the protections and stuff, but I think every offense has its own style, its own uniqueness that makes it work."
4. Faces change, goals don't.Turnover is part of every NFL season, but the Giants have seen more than most this year. Welcoming 15 free agents who played elsewhere last season has made the offseason workout program as much about meeting and greeting than strength and conditioning. But one thing remains the same. "I've been working out with a lot of faces -- some new, some old," safety Antrel Rolle said. "Faces change, goals don't."
5. Thurmond isn't conceding anything. Walter Thurmond III, fresh off a Super Bowl victory with the Seattle Seahawks, said he can bring a mindset of competition to his new team and its secondary, which also includes the additions of Dominique Rodgers-Cromartie and Quintin Demps. "They don't really have a nickel cornerback, so most definitely going to be inside," the cornerback said of his role on the Giants. "But I love playing both. Outside corner and inside corner are two different worlds, and I just love the opportunity of challenging them both."
6. David Wilson and the Giants are playing it by ear. Running back David Wilson said the doctors have given him some limitations to speed up the healing process after undergoing a fusion of the vertebrae to repair the herniated disc in his neck on January 16. His goal is to make Organized Team Activities (May 28-30, June 2-3, June 5, June 9-10, June 12-13), but he has to first be cleared. "Right now I'm just trying to be healthy for the season," Wilson said. "I'm looking forward to getting cleared and being ready to go for training camp and OTAs."
7. Beatty is thinking positively. Offensive tackle Will Beatty, who broke his leg in the 2013 season finale, updated his status for the season. "The doctors are saying good, positive things," he said. "I'm hanging on every word that they say -- so positive thoughts. But I'm feeling good. I'm out here moving around. We haven't gone in contact yet. We're still starting things up just in the weight room working out. I'm trying to make sure that upper body is stronger than ever and use this time widely."
**
Cruz has been reprogrammed.** With the hiring McAdoo comes a different philosophy. And as the Giants install the new scheme this offseason, Victor Cruz explained the differences through the eyes of a wide receiver. "As far as my route-running was concerned as a slot position [in the past seasons], a lot of my routes were determined against what the secondary was doing, what type of coverage they were in, and that would dictate my route," Cruz said.
"As far as this offense in concerned, it's lot more of just 'your route is your route' and you can dictate that off the coverage and you know what you have and Eli can find you within those different holes. Now it's a lot less dependent on what my body language is and Eli reading that. It's more so him reading the coverage and finding me in those open holes."
9. Snee is going 100 percent. Longtime Giants offensive lineman Chris Snee, who is coming off hip and elbow injuries, is fully participating in offseason workouts until June when we will reevaluate his health. "I'm doing everything," he said. "I ran with the team this morning, and I lifted with everyone. So I'm back at it, 100 percent."
10. Ayers wants to join the pass-rushing tradition.With the departure of Justin Tuck in free agency, the Giants had a void at defensive end. So they brought in former Denver Bronco Robert Ayers, who like Tuck, can be versatile along the defensive line. He is relishing his opportunity with Big Blue.* *"That's the main reason I decided to come here -- the opportunity that presents itself here. It's a great chance for me to come in, build on my career, and establish myself in this league. There's a great tradition here that I want to be a part of."