Training camp practice No. 2 is in the books.
Weather forced the Giants indoors for Friday's session at the Quest Diagnostics Training Center, but that didn't stop them from making some big-time plays. Here are the players who stood out today:
S LANDON COLLINS: Collins wanted to say his arm is 110 percent, but the reality of 100 percent works just as well. The two-time Pro Bowl safety, who missed the first game of his career in the 2017 season finale, underwent two surgeries to repair the fractured arm. He was limited in the spring, but that is not the case any longer. A day after cornerback Janoris Jenkins notched the first interception of training camp, Collins got on the board today. Speaking before practice, Collins didn't give the typical answer of "everything" when asked what he wanted to improve this season. Rather, he have a specific response and said his man-to-man coverage skills.
"Most of the time I am sticking to the best tight ends on the other teams," Collins said. "So my concept is always to work on man-to-man technique stuff. I want to be one of those dominant safeties all around."
Giants tight end Evan Engram gives him plenty of opportunities to hone those skills.
CB GRANT HALEY: The undrafted rookie came to play today. During "half-line" drills, which in today's case were essentially three-on-three drills plus the quarterback, Haley made a great play to intercept a pass as he hit the ground near the sideline. Shortly after, the quarterback went right back at him at nearly the exact same spot. He didn't intercept it the second time, but once again, he made a diving play and knocked it away. Haley, who was and is again teammates with Saquon Barkley, played in 49 games with 36 starts for Penn State, where he was a team captain.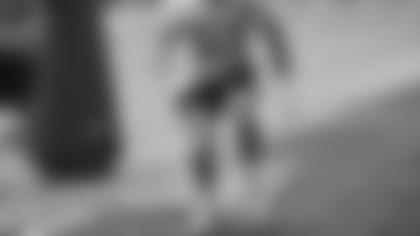 LB CONNOR BARWIN: General manager Dave Gettleman said it's not about quantity with the newest member of the team; it's about quality. Barwin spent four of his nine years in the NFL with the Eagles, but now he is wearing Giants blue. On Friday, he flashed those "quality" reps and found his way into the backfield a few times. Barwin, who said he is here to compete for a starting role, was asked what he brings to the team.
"It's to rush the passer, be a veteran presence, be a leader, be available to play Sam or Will and definitely mentor the younger [guys]," he said. "I haven't played in [Defensive Coordinator James Bettcher] Bettch's defense but it's a 3-4 and I've played in a number of different 3-4's. They are all similar so that kind of covers my role."
WR ODELL BECKHAM JR.: Odell is back to doing Odell things. After returning to team drills on the first day of camp, he made the highlight of the day with an over-the-shoulder catch on a deep pass from Eli Manning. Beckham had to stretch out at the last second and used his world-famous hands to secure the ball in stride.