Before the Giants began 11-on-11 work at Thursday's practice, running back Saquon Barkley huddled up the offensive skill players. The 2018 AP NFL Offensive Rookie of the Year told them that even though the third and final practice of minicamp practice was condensed, they should jam-pack it with plays. That's the type of competitive spirit that coach Pat Shurmur has liked about his team's spring practices, which included organized team activities (OTAs) that will resume Monday and conclude Thursday. Barkley's words fired up the offense, but the defense reciprocated.
"I see good, competitive play," Shurmur said in his recap of minicamp. "Both sides of the ball are making plays; I think that's important. I just see their interaction as a team, the communication on defense, the communication on offense. We got a lot of offense, a lot of defense in. You don't see a lot of busts. You see just a lot of competitive, good football."
Here are the players who stood out at the final practice of minicamp:
CB JANORIS JENKINS: A veteran in a young defensive back room, Jenkins isn't there just to be a mentor. The man nicknamed "Jackrabbit" began the final day of minicamp with two big plays in goal-line situations. He covered Sterling Shepard on an Eli Manning fade pass in the back-left corner of the end zone, forcing the wide receiver to catch it without keeping his feet inbounds. Then on the very next play, Jenkins got his hands on another Manning pass intended for, who else, Shepard. Jenkins later came close to an interception during red-zone drills as he and Shepard continued to duke it out throughout practice.
"To be honest, I've never been surrounded by a lot of young guys," Jenkins said about the DB room earlier this spring. "But like I said, I have to come out and do what I have to do, lead by example and just show them how to be a pro."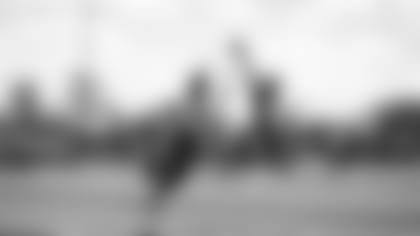 CB COREY BALLENTINE: The rookie sixth-round pick has been increasing his workload as he recuperates from a gunshot wound to his glute that he suffered the night he was drafted, and today marked another step in the right direction. Ballentine broke up a pair of passes, the first coming during red-zone drills. The second was an incredible, leaping play to get his hands on a pass intended for wide receiver Russell Shepard. The ball deflected up in the air, and rookie cornerback Julian Love nearly caught it for an interception. He was just a step too far away to grab it.
WR REGGIE WHITE JR.: Shurmur singled out Darius Slayton when asked about rookies standing out this spring, but there's another young receiver to pay attention to in this year's class. White, who set Monmouth's single-season receiving yards record in 2018 and the receptions mark the year before, added to an already productive OTA and minicamp season with a handful of catches on Thursday. One that stood out was an intermediate pass from Alex Tanney over the middle, where White showed impressive elevation to go up and get it. He had another catch on the next play. What his teammates on offense appreciated the most, though, was his play on the final snap of minicamp. The offense went against the defense in a third-down situation to decide which side had to do pushups, and White caught a pass from Kyle Lauletta for a first down. A former All-Maryland defensive back, White was coached in high school by his father, Reggie White Sr., a sixth-round draft pick who played four seasons in the NFL for the Chargers (played in Super Bowl XXIX) and Patriots.
Other plays of note: S Kenny Ladler had an interception in the end zone off a short pass that bounced around like a Plinko chip. In a live game, it likely wouldn't have gotten that far. OLB Markus Golden came screaming off the left edge and probably would have had a strip-sack…As he battled Jenkins for much of the morning, Shepard made a pair of difficult catches during a blitz period. He reminded everyone about his "strong hands" after missing yesterday's practice with a wrist issue...FB Eli Penny had a couple nice gains on screen passes from Lauletta.