Over the weekend Bill Parcells became the 278th member of the Pro Football Hall of Fame and the 19th who spent all or a significant portion of his career with the Giants.
That has everyone asking, 'Who will be next?'
Eisen's Mailbag: 's role
Michael Eisen answers fan questions about Rookie Eric Herman...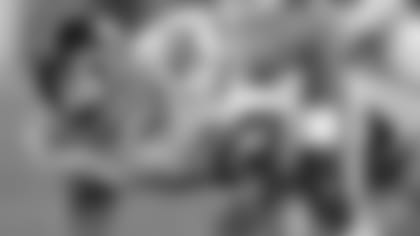 NFL.com tackled this issue in The Next 50, which predicts the next generation of busts in Canton. Michael Strahan topped the list as not only the next Giant to make the Hall, but the next player overall with the best chance of being enshrined next summer. Strahan, in his first year of eligibility, was one of 15 modern-era finalists for Class of 2013 but ultimately was not elected.
"Many league observers were surprised that one of Big Blue's best players of the past 25 years missed the cut this year," Elliot Harrison wrote. "My sense is that no player is more of a lock in 2014 than Strahan, an opinion shared by colleague Gil Brandt. Strahan racked up 141.5 sacks over his 15-year career, setting the single-season record with 22.5 in 2001. And you can bet your G-Men (or X-Men) underoos that the magical title run in Strahan's final season sealed the deal for his inclusion in the Hall of Fame."
Joining him as classmates, NFL.com predicted defensive end/outside linebacker Charles Haley (49ers, Cowboys), linebacker Derrick Brooks (Buccaneers), wide receiver Marvin Harrison (Colts), tackle Walter Jones (Seahawks), and head coach Don Coryell (Cardinals, Chargers).
ALL-TIME SACK LEADERS
1. Bruce Smith (200.0)
2. Reggie White (198.0)
3. Kevin Greene (160.0)
4. Chris Doleman (150.5)
5. Michael Strahan (141.5)
*Sacks didn't become an official statistic until 1982.