WR Victor Cruz is optimistic about his return from injury on Monday night vs. the Bengals.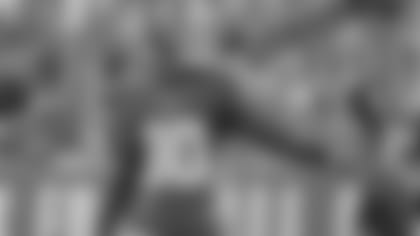 EAST RUTHERFORD, N.J. – Victor Cruz did not practice today, but hopes to play Monday night when the Giants will put their 3-game winning streak on the line against the Cincinnati Bengals.

"That is the idea," Cruz said. "I want to play in every game, but we will see how it goes, see how it feels tomorrow, and then take it from there."
Cruz was hurt making his only catch of the game – a season-long 46-yarder - in the second quarter of the Giants' 28-23 victory against Philadelphia last Sunday.
"Yeah, it was hurting on that play," Cruz said. "Right when I got up, as energized as I was as the next play came about, I was like, 'Oh, that hurts a little bit. That doesn't feel good.'"
Three plays later, Odell Beckham, Jr. scored on a 1-yard reception to extend the Giant's lead to 21-10. Cruz was still on the field and joined in the wide receivers' dance celebration.
"And then I was like, 'Alright, let me go to the sideline and figure this out,'" he said. "So I was good up until that play and then on the sideline it kind of hurt to push off of it and things like that. Again, today feels better than yesterday, it feels better than it did on Sunday, so we just want to continue on that upward path."
Coach Ben McAdoo said he doesn't know if Cruz will be on the field tomorrow.
"He didn't work today," McAdoo said. "He's working off the field and on the field a little bit with the training staff."
Before he was hurt against Philadelphia, Cruz played a bit less than he had prior to the Giants' bye. Rookie Roger Lewis, Jr. stepped in for him.
"I think coach is just taking care of me a little bit," Cruz said. "He came up to me and said that they were going to move some guys around, and just making sure that everyone is fresh and that they are using all of our tools out there. If you saw, Dwayne Harris got in as well in the slot there, giving Shep (Sterling Shepard) a break and things like that. So it is just a matter of keeping everybody healthy and using all of our weapons."
Which is what McAdoo said would happen.
"Again, we talked about using all 46 of our players as much as we can during the bye week, and try to spread the reps around," McAdoo said.
The Giants will certainly be cautious with Cruz, given his recent injury history. He missed the final 10 games of the 2014 season after tearing his right patellar tendon, and the entire 2015 season with a calf ailment. Cruz is certainly familiar with the routine, which almost always involves X-rays and MRI's.
"Especially with me, we are going to get every picture that we possibly can just to make sure that everything is on the up and up," Cruz said. "But once the X-ray came back negative, it was a good sign. And then we got the MRI and it showed that there was not significant swelling or damage to ligaments. So we just want to stay in front of it, stay ahead of it, and make sure that we are icing it, resting it and all of that good stuff."
The real good stuff would be returning to the field as soon as possible.
"If I can go the rest of my career not having to lay on that (MRI) bed for 45 minutes, I will take it," he said. "But obviously it is part of the game, it is part of the nature of this business. Anytime that you get an injury, they want to get a closer look and make sure that everything looks good and looks the right way, the way it is supposed to be and you take it from there."
*McAdoo on Landon Collins, who became the first Giants player to win conference player of the week awards in consecutive games:
"He's making a lot of production. He's all over the field, he's playing fast, he's playing aggressive, he's tackling well and he's doing a nice job with his ball skills."
*In addition to Cruz, guard Justin Pugh (knee) and defensive end Kerry Wynn (concussion) did not practice. Safety Andrew Adams (shoulder) and quarterback Ryan Nassib (right elbow) were limited.
Three Bengals did not practice: linebacker Rey Maualuga (fibula), defensive tackle Domata Peko (not injury related), and wide receiver James Wright (hamstring).
A look at the expected starters for the Giants' Week 10 opponent