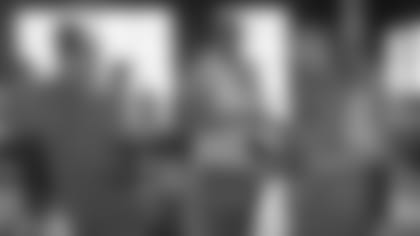 ](http://www.giants.com/media-vault/photo-gallery/Giants-return-to-facility/0f432fed-980a-45d9-97a5-a2a782774538)
PHOTOS: PLAYERS WORKING OUT
When David Wilson and Rueben Randle last sat across from each other in the locker room, they were packing up with a bittersweet taste in their mouths. The Giants had just been eliminated from the playoffs in the final week of the season, but they helped the team go out on the right note.
The top two 2012 draft picks capped their rookie campaigns by scoring the first three touchdowns – two by Randle and the third by Wilson – in a 35-point rout of Philadelphia in Week 17. If the Giants' season were to end there, they at least made sure they set the tone for their sophomore years.
Reconvening Monday for the start of the Giants' offseason workout program, they continued that momentum and sat at their lockers not as new faces trying to find their way around the Timex Performance Center, but rather as second-year players poised to factor into the offense.
"[We're] just getting a grasp of the whole thing so when the season starts and it's time for training camp, I'm not a rookie anymore," Wilson said. "I just want to get a grasp so I can start playing like a vet."
Randle already cut that rookie tag.
"That's gone now," the wide receiver said. "I can't say I feel the same as I did coming in here last year. So I'm more comfortable in understanding what I need to do."
Wilson, who finished 2012 with 358 rushing yards and four touchdowns on 71 attempts, will have a chance to increase his numbers with the departure of veteran running back Ahmad Bradshaw. With that in mind, Wilson spent his time training mostly in New Jersey since the end of the season, focusing on his footwork and other facets to make him a more rounded back.
But now it's time to get back with teammates for Wilson, who felt like he had an especially long offseason.
"For me anyway, it's been a long offseason. You work out, but that only takes about two or three hours out of your day and then the rest of the day you're kind of free. All my life, ever since I was eight, I've been playing year-round sports," said Wilson, who also competed with both the Virginia Tech indoor and outdoor track teams. "So it's kind of weird to have this long break. But it was definitely good to get in here and see everybody's face. I think everybody is excited for what we can do this season."
Meanwhile, Randle was previously working out in his home state in New Orleans and came back feeling like a "different player."
"This week is just about getting back into the swing of things, refresh some things in my head and get comfortable with that," Randle said. "Then it's working with Eli [Manning] and the receivers and get our timing down, get to that game speed, getting that conditioning so we're allowed to play fast."