EAST RUTHERFORD, NJ - When Jimmy Robinson packed for his trip to Chicago for the NFC Championship Game, he dressed in his standard jacket and tie and packed his usual personal and work-related items. But the Green Bay Packers wide receivers coach also wore a special memento on the team flight – the conference championship ring he won as a member of the Giants coaching staff when they played in the Super Bowl 10 years ago.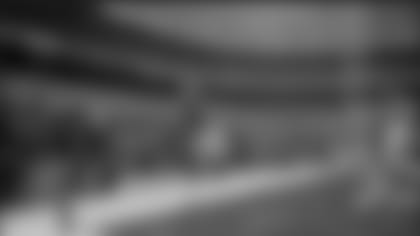 "I've worn that ring a little bit the last few weeks," Robinson said Tuesday. "I wore it to Chicago. I wanted to remind myself what it felt like to win that game and remember that we've got to get the big one this time. I want the big ring this time. I don't want the consolation ring."
Robinson was an assistant on Jim Fassel's staff when the Giants lost to Baltimore in Super Bowl XXXV. A decade later, he's back in the title game with the Packers, who will face the Pittsburgh Steelers in Super Bowl XLV on Sunday. Robinson is trying to win his first championship in his 27th NFL season (21st as a coach). He hopes to impart some emotional wisdom to his new players regarding his unpleasant experience 10 years ago.
"You learn from it the first time," Robinson said during Media Day at Cowboys Stadium. "Obviously, it's not a great memory. It's great to have been there, but it's about the game. And the game didn't go well for us. What strikes me more than anything is how hard it is to get here. After being in the league 27 years as a player and a coach, this is just my second time. It's just very, very difficult. Everybody is aiming for the same prize when you start out. When you get here it is pretty incredible. Hopefully, once you get here, everybody settles down to the fact that this thing is about playing a football game. It's not about all the other stuff that's going on. It's about beating somebody else that earned the right to get here as well. It's about the game. Keep the game the main thing."
Robinson left the Giants following the 2003 season. He coached the New Orleans Saints receivers before joining Mike McCarthy's Green Bay staff in 2006. Despite all the games he's coached in the last 10 years, the only loss the Giants have suffered in four Super Bowl appearances still bothers him.
"What stands out is that we weren't very competitive in the game," Robinson said. "Whether we had put too much into the championship game against the Vikings, I don't know. We didn't execute very well on either side of the ball. As an offense we didn't get much going – turnovers, tipped balls. That's the disappointing thing, to get there and not play very well. That's the thing that's always stuck in my craw, the disappointment of getting to the most important game of the year and not executing the way we were capable."
Robinson has stressed to his players that they don't want to have the same feelings Sunday night.
"It's something to draw on, something to share with them," Robinson said. "There's a place during the week to talk about, 'This is peak performance at the right time.' Peak performance has to show up on Sunday. And this particular week, Sunday happens to be Super Bowl Sunday."
Robinson absorbed another bitter defeat three years ago, but that one was delivered by the Giants. He was with the Packers when they lost to the Giants in the 2007 NFC Championship Game in overtime in frigid Lambeau Field.
Both those Giants and the current Packers won three road games to advance to the Super Bowl. The Giants won in Tampa Bay and Dallas before traveling to Wisconsin for the championship game.
"It all seemed to be falling our way," Robinson said. "The Giants went on the road and beat the Cowboys, who were the number one seed. That put us at home for the championship. When you see how this year has fallen, maybe it is better the other way, where you have to fight for everything you get and you're on the road all the time, and it's not working out like it's the best possible scenario, like it did in '07. For me, it was a tough one to swallow, to lose that game at home. We got outplayed by them. They really outplayed us. I think they had 90 plays in the game on offense and we had about 50 (it was actually 81-49). We didn't get them off the field on defense, we didn't move the ball, our passing game was pathetic. We just didn't get much done. We weren't in sync and we didn't throw and catch the ball well at all."
Robinson used that game to help to motivate the Packers before they faced the Giants on Dec. 26.
"The assistant coaches speak to the team once a year before a game and my game happened to be the Giants game," Robinson said. "We do that right before Friday practice starts. And in talking to the team I tried to draw on the memories of the last time we played the Giants. Because the last time we played them was the championship game. I said, 'Let's remember the lessons we learned. We have them here at home. Let's go take care of business and put our best foot forward on Sunday afternoon.' And we did that."
The Packers defeated the Giants to seize control of the race for the NFC's final playoff berth, which they clinched with a Week 17 victory over Chicago.
Robinson will always own a small piece of Giants history. A wide receiver for the team from 1976-79, he scored the team's first-ever touchdown in Giants Stadium on a 30-yard pass from Craig Morton on Oct. 10, 1976.
"I was fortunate to be in the right place at the right time," Robinson said. "Craig threw me the ball and I was able to get into the end zone. It was a huge thrill at the time, but it's also nice to be the answer to a trivia question in Giants history."
Robinson later played single seasons with San Francisco and Denver. He returned to the Giants as the receivers coach in 1998 and stayed six years. Robinson is now a Packer, but part of his heart still belongs to the Giants.
"When you spend as many years as I did with the organization as a player first and then as a coach, it's a special place, a great organization with great people and great tradition," Robinson said. "That will always be a very, very important part of my life and one I have great memories of."
The Giants' wide receivers reached new heights under Robinson. Amani Toomer set several franchise records and Ike Hilliard was a steady contributor for many years. They combined for 113 catches and 15 touchdowns in the 2000 NFC championship season.
"I was fortunate to have Ike and Amani, two mainstay guys, for all of my six years there," Robinson said. "Amani didn't start until my second year there. He developed into a really, really consistent player – Ike did as well. They were a pleasure to coach. It was a good group – Joe Jurevicius, Ron Dixon – we had a mix of older and younger guys. We got to the playoffs a couple of times when I was there and we let one get away in San Francisco (the 2002 NFC Wild Card Game). That should never have happened. That was a huge disappointment. But they were a good group of guys and I enjoyed working with them."
One of Robinson's protégés is now coaching; Hilliard was recently named the Miami Dolphins assistant wide receivers coach.
"I talked to Ike the other day," Robinson said. "I'm really happy for Ike and proud of him. He's plugged along the last few years and now he finally got a shot to get back in the league as a coach. He'll do well. Ike is a bright guy and he'll relate well to the players and I think he'll be very effective."
Robinson's current corps of receivers has helped fuel Green Bay's run to the Super Bowl. In three postseason games, Donald Driver, Greg Jennings, James Jones and Jordy Nelson have combined for 47 catches and three touchdowns.
"I feel we're playing our best football right now," Robinson said. "We've had our ups and downs during the season as a group. We're a pretty solid group. We have what we consider four starters that we rotate in and out of there. It's a great group to coach. They're all excellent players, but beyond that they're great individuals. They're a pleasure to coach. Hopefully, we put our best forward on Sunday."
And get Robinson that ring he's chased for 10 years.