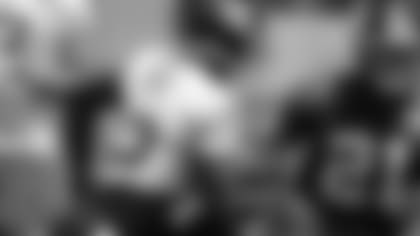 ](http://www.giants.com/media-vault/photo-gallery/OTA-Practice-4/2eebe346-3577-4349-9950-6aec90abf818)
VIEW OTA PRACTICE PHOTOS
EAST RUTHERFORD, N.J. –
The Giants currently have 90 players competing for jobs, honing their skills or rehabbing injuries, but arguably none of them is having as significant a spring as Rueben Randle.
The second-year wide receiver has been lining up with the first team during the organized team activities (the Giants held their fourth today), largely due to the continued absences of Victor Cruz and Hakeem Nicks from the voluntary workouts. Randle has taken advantage with several good catches and a growth in confidence from Tom Coughlin and Eli Manning.
Asked today if Randle has made the progression that Coughlin wanted to see, the head coach said, "He's moving in that direction. He certainly has had many, many opportunities, and if there's a guy that really has a chance to step his game up and really show what he can do, it's happening right now for Rueben."
Randle didn't need to hear Coughlin's comments to know the OTAs are important for him.
"I understood that going in anyway," Randle said. "I think that's why they drafted me. They wanted me to come in and make an impact. I've just got to go out there and get my job done and do it to the best of my abilities.
"You've just got to go out there and do what you're supposed to do. It's not really a blessing or anything like that. It's just football. Two guys are gone, but the rest of us have got to step up and get the job done."
Randle was a second-round draft choice in 2012 from LSU. As a rookie, he caught 19 passes for 298 yards and three touchdowns (two in the season finale vs. Philadelphia). He also led the Giants with 15 punt returns for 108 yards (7.2-yard avg.). He expects to post much bigger numbers this year.
"I'm a lot more confident in what I do going out there," Randle said, "and making more plays and understanding the offense and on the same page with Eli and also getting more trust from the coaches and go out there and get more reps so I can show my ability more."
*Newly-signed linebacker Kyle Bosworth, who started five games at outside linebacker and played in all 16 games last season for Jacksonville, is a multitalented player who expects to contribute on defense and special teams. He led the Jaguars with 14 special teams tackles.
"I can definitely play all the (linebacker) positions," Bosworth said. "I just got here today. It was my first day of OTAs. I've still got to do a lot of learning in the playbook, but I'm able to fit in with the Will, Mike and Sam (weakside, middle and strongside linebacker). I'm very versatile. I've played and started. I've been on every single special team, so basically wherever they need me I'll be able to do it. Whatever they ask and I'll be ready to go."
Cornerback Aaron Ross played with Bosworth last season in Jacksonville.
"He's definitely a hard worker," Ross said. "I think he's a player that knows the game. I think he's a really smart player. With that combination, I think we're getting a great player.
"I did (enjoy playing with him). He was easy to play with, very coachable and he picks up on the defense really well. He works really hard. He's one of the guys that improve day to day."
*With Henry Hynoski sidelined after undergoing knee surgery last week (he hopes to return for the season opener on Sept. 8), Bear Pascoe has been lining up at fullback, a position he has played frequently in the past.
"We're very confident that Bear, no matter what role we place him in, he does an outstanding job," Coughlin said. "We're very sorry about Henry's injury. Henry's a very optimistic young man. A day after he had the surgery he had three rehabs, so he's ready to go. He's trying to get ready to go and Bear has had opportunities to play in that spot, the B-Tight End and the Y-Tight End and he's always done a nice job. He's a guy that will learn it and he'll be very much into what's happening."