EAST RUTHERFORD, NJ -Most of the Giants players have scattered to various offseason venues and activities, but Zak DeOssie thought he might get a chance to play another football game. Turns out he was correct. DeOssie was selected by Atlanta Falcons coach Mike Smith to be the long snapper for the NFC Pro Bowl team a week from Sunday in Honolulu.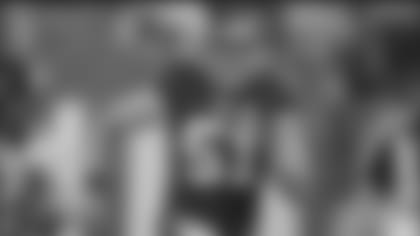 It will be DeOssie's second Pro Bowl. Two years ago, he was one of seven Giants Pro Bowlers.
"Through my experience from the last time I went, I understand that this is the time where they choose the long snappers," DeOssie said today. "In the back of my mind, I had a one-in-16 chance at the worst. So, I figured maybe I could be getting a call, maybe not. I don't know how it works and who it's up to ultimately, but apparently somebody down in Atlanta saw something that they like and they extended an invitation to me, which I'm very fortunate about."
With the addition of DeOssie, the Giants will have four players in the Pro Bowl. Guard Chris Snee will start and defensive end Justin Tuck and safety Antrel Rolle are reserves. Center Shaun O'Hara was also selected to the NFC team, but will not play because of his foot, ankle and Achilles injuries. O'Hara underwent surgery on his foot yesterday.
When DeOssie played in the Pro Bowl following the 2008 season, he was joined by two players he had worked with all season, then Giants punter Jeff Feagles and kicker John Carney. This year, he will work with specialists with whom he is not familiar, Dallas punter Mat McBriar and Philadelphia kicker David Akers. It is not known who will be the holder for the NFC, but DeOssie does not think it will present any problems.
"It is the Pro Bowl and it's a lot more laid back," DeOssie said. "We're all professionals; we'll be able to work fine together. It's certainly not a concern of ours."
DeOssie got accustomed to working with new teammates this season. After Feagles' retirement, rookie Matt Dodge was the Giants' new punter. Dodge also held for kicker Lawrence Tynes early in the season until he was replaced by backup quarterback Sage Rosenfels at Houston on Oct. 10. Rosenfels held for the remainder of the season.
Despite the changes, DeOssie continues to deliver pinpoint snaps on both punts and placekicks.
"I think I had my best year snapping," DeOssie said. "It all comes down to consistency, and again having Sage and Lawrence there helping me. Matt and I will keep working. I felt more confident this year than I have in the past."
DeOssie was the Giants' fourth-round draft choice in 2007 from Brown, where he was a first-team All-Ivy league linebacker. As a rookie, he was the punt snapper in all 20 regular season and postseason games as the Giants won Super Bowl XLII. DeOssie began snapping on extra points and field goals when Jay Alford hurt his knee in the 2009 preseason.
Long snappers often receive attention when something goes wrong. But DeOssie has again been recognized as one of the best at his craft in the NFL.
"It feels great," he said. "I'm just fortunate that these coaches thought of me again. No long snapper is used to getting any sort of recognition. I'm not complaining about that, but at the same time, it's a little different and not a bad thing."
DeOssie has 30 career regular season special teams tackles. He also had one in his first Pro Bowl, but that was not the week's highlight for him.
"Being there with Jeff and John meant a lot," DeOssie said. "Looking back, it was kind of a surreal moment to be able to share that with them. Jeff was one of the first people I called when I found out I was going again this time. I think that the first time, that was best part about it."
DeOssie also called his father, former Giants linebacker and snapper Steve DeOssie.
"He was psyched," Zak said. "They (his parents) were both screaming on the phone. We're trying to figure out how to get the whole family out there last minute."
DeOssie will fly to Hawaii on Sunday or Monday. This time, he knows exactly what to expect at the Pro Bowl.
"It is about half the intensity of a real game," DeOssie said. "It's just a bunch of guys hanging out. But don't get me wrong, if the game is on the line in the fourth quarter, you'll see the intensity pick up a little bit more because there is $22,000 on the line between a win and a loss. It's kind of a feel good, have fun time and no one is trying to get hurt. At the same time, people are competing and trying to get that extra check. It's a good dynamic that they have going."
And DeOssie is thrilled to again be a part of it.